Finalists announced for Australian Women in Music Awards 2019
The anticipation and build to this year's Australian Women in Music Awards reaches fever pitch with the triumphant announcement of the finalists across all award categories. After a gruelling process that began with public nominations, followed by judging by a prestigious panel of industry professionals and practitioners, the finalists for all fifteen award categories have been settled.
AWMA 2018 – Photos by Cheryl Gray
The AWMA Ceremony, Concert and Party will include a dazzling mix of music genres and some of Australia's biggest music names and most inspiring artists, with performances featuring RENÉE GEYER, KATIE NOONAN, CLARE BOWDITCH, MELINDA SCHNEIDER, NGAIIRE, KAYLAH TRUTH, CHERYL BARKER, TAMARA-ANNA CISLOWSKA and more.
In addition to the awards night, the AWMAs will host a two-day program at the Brisbane Powerhouse on 8 & 9 October that includes a series of thought-provoking forums and panel discussions (Visibility in Hip Hop: Women On The Front Line, The Art of Rebellion: The Intersection of Music & Politics, Image Making: The Changing Face of Music), and a keynote address by noted broadcaster, musician, writer, teacher and philanthropist EDDIE AYRES.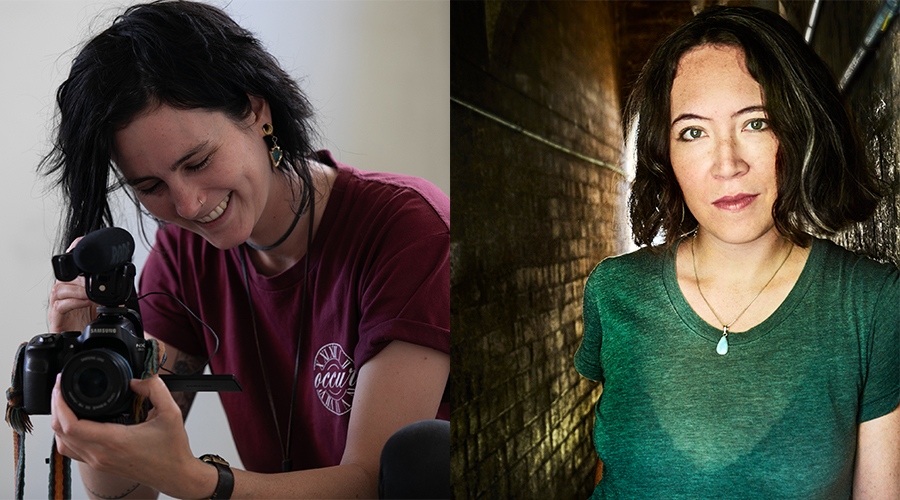 Filmmaker Award Finalists – Tashi Hall & Aimée-Lee Xu Hsien Curran
Producers, Engineers, Film Makers, Photographers, Songwriters, Industry Leaders, Artist Managers and more are set to be acknowledged and celebrated in their own right at this year's ceremony, and the likes of NGAIIRE, MOJO JUJU, CHRISTINE ANU, CLAIRE EDWARDES and ALICE SKYE are among the stellar list of finalists.
The Filmmaker Award, which celebrates the work of women in the world of music video and the presentation of music in film sees nominations going to prolific and stylistically acute CLIPPED MVF award winning director, Aimée-Lee Xu Hsien Curran, and multi-disciplinary creator of original and soulful works, Tashi Hall.
HERE IS THE FULL LIST OF AWMA 2019 FINALISTS:
ARTISTIC EXCELLENCE AWARD
Christine Anu
Nai Palm
NGAIIRE
CREATIVE LEADERSHIP AWARD
Claire Edwardes
Elaine Chia
Katie Noonan
DIVERSITY IN MUSIC AWARD
Christine Anu
Lisa Cheney & Peggy Polias (Making Waves)
NGAIIRE
EMERGING ARTIST AWARD
Alice Skye
Ella Fence
Lisa Caruso
EXCELLENCE IN CLASSICAL MUSIC AWARD
Caroline Almonte
Claire Edwardes
Sarah-Grace Williams
EXCELLENCE IN IMAGE MAKING AWARD
Chloe Jean
Melaine Knight
Ntombi Moyo
FILMMAKER AWARD
Aimée-Lee Xu Hsien Curran
Tashi Hall
HUMANITARIAN AWARD
Alison Hams
Dami Im
Lindy Morrison, OAM
LIFETIME ACHIEVEMENT AWARD
Joy McKean, OAM
Marcia Hines, AM
Vika and Linda Bull
LIVE PRODUCTION AWARD
Jenny Moon
Kait Hall
Laurie May
MUSIC JOURNALIST AWARD
Ange McCormack
Jane Gazzo
Jules LeFevre
MUSIC LEADERSHIP AWARD
Elise Reitze-Swensen
Lynette Irwin
Sue Telfer
MUSIC PHOTOGRAPHER AWARD
Jessica Vaini
Kerrie Geier
Tashi Hall
SONGWRITER AWARD
Mojo Juju
NGAIIRE
Thelma Plum
STUDIO PRODUCTION AWARD
Elise Reitze-Swensen (Feels)
Kathy Naunton
Virginia Read
TICKETS NOW ON SALE

Tickets to the 2019 AWMAs, to be held in Queensland at the Brisbane Powerhouse, are on sale now
Tickets for individual events, including music industry forums and keynote speaker, as well as the Awards Ceremony & Concert, are available separately or as part of discount packages. Concessions are also available.
The Australian Women in Music Awards are made possible with the proud support of the Queensland Government and Canon.
AWMA 2018 highlights video: