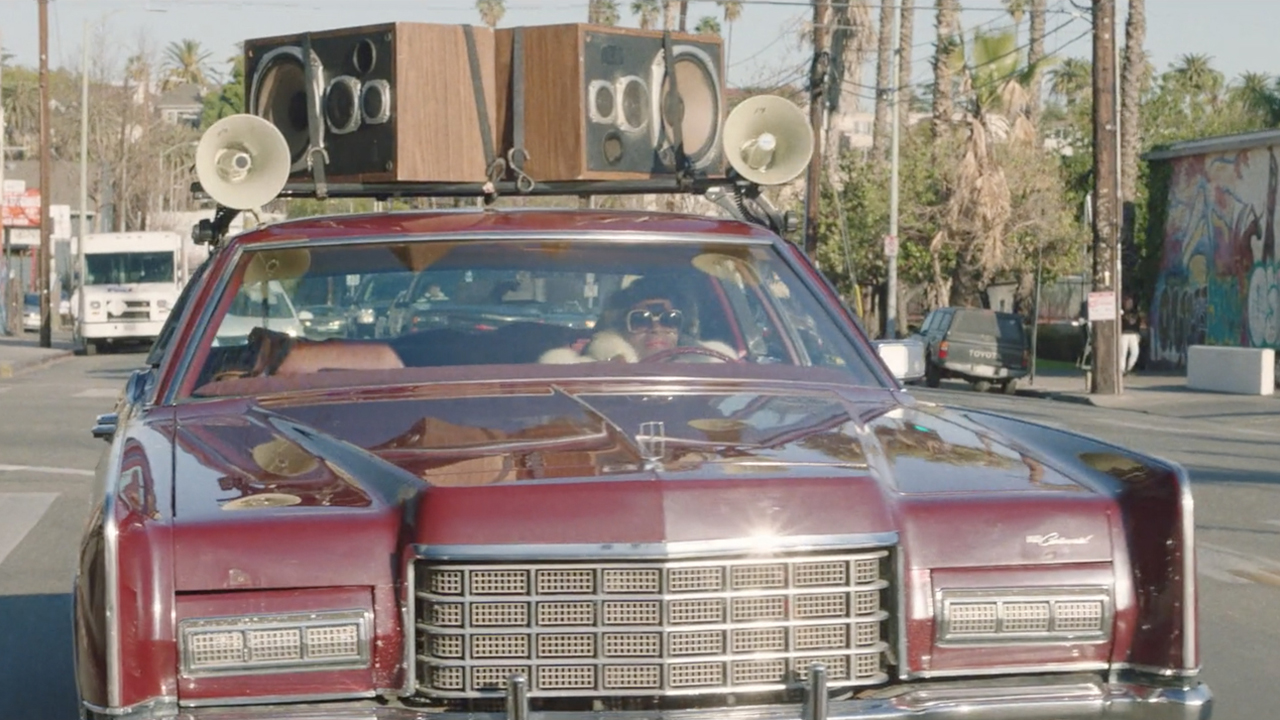 FEATURE: Born Dirty – 'Get Up Get Out' (Dir. Matt Devine)
As our hero takes her first steps out of the house, dressed to the nines and dripping with bling, we have an immediate sense of the journey director Matt Devine is about to take us on in his video for Born Dirty's "Get Up Get Out".
Sampling @JSTLBBY's now meme-famous carseat motivational speech, the song screams a pretty clear inspiring message. Get up. Get out. You can do it. Devine uses this mantra to inform his video, which depicts a street-guru blaring provocative phrasings from her car and exhilarating the entire neighbourhood to dance. 


Born Dirty – 'Get Up Get Out'  (BTS Photos)
"We actually had Amber (@JSTLBBY) playing the role of the lady at first. She was going to be in the car yelling the speech out through a Gold Microphone. But she ended up having to pull out of the shoot 3 days before due to personal reasons. So I had to re-write the idea 2 days before we shot as we couldn't just cancel the shoot." Devine continues, "I came up with the idea of the old lady instead and Mika (Born Dirty) really liked it. He loved the fact she was old and wise but also pretty cool to spread a positive word that was in modern style."
This contradiction and cohesion of modern and classic resounds in the production design. From the fur coat, to the jewellery, to the all-red pimpmobile, and especially the detail of the character using old hifi speakers and a tape recorder to blare her message. Devine spoke very fondly of the production design process. "Once we decided to go with the older lady as a lead character we changed everything to make it feel like it was hers, so that it would feel like she has been doing this for a long time… That way she had an authenticity to her,"
When asked about the wardrobe choices, Devine replied, "The wardrobe was designed by an amazing stylist in L.A named Carolina Salom. I wanted the lady to have a well dressed look that fit the statement she was projecting about being all you can be. So she would be well dressed in all her best jewellery, like she was going to church or spreading the Gospel… I also wanted her to look like a badass!"


Born Dirty – 'Get Up Get Out'  (BTS Photos)
When this superfly street-preacher is set loose on her neighbourhood, she comes across regular people doing regular things. Getting a haircut, security-guarding, washing cars. But as the influence of our protagonist invades them, they are compelled to join her in the celebration of life. All of this happens against a classic urban Californian backdrop, a setting which has an illustrious and storied history within Hollywood and film-making. With so many iconic films and moments to draw on for inspiration, the location is almost a character of its own. 
The shoot was originally scheduled for California as that is where @JSTLBBY is located. But even after the original cast protagonist fell through, Devine leaned into the connotations and characteristics of the landscape, utilising the oh-so Californian sun, natural light and shadows. All of which give that Authentic So-Cal feel. 
"The idea could have worked anywhere but I'm happy we ended up there. California has a great naturally diffused light that always looks great. Plus the lady, the car, the dancers all just fit in that space so well. I think it was a bit of a beautiful accident. But I did always imagine it being there." said Devine.
There is an indisputable feeling of fun that emanates from this video. It is as infectious for the viewer as our hero's proclamations are to her neighbourhood. When asked if this feeling was echoed on set and in production, Devine replied, "Haha! No not really it was really tough shoot with a very low budget. But the crew were good and we got it shot in about 8 hours. Shooting in L.A is really hard with no money, you have to really wing a lot of it and be creative with how you do things like rigging and lighting. There was no fancy Russian Arm vehicle on this. It was basically Martim Vian the D.P and a few of us in the back of a pick-up with harnesses on… But I think the rough and ready look of the filming added to the character of it all."

Born Dirty – 'Get Up Get Out'  (BTS Photo)
Embodying the sentiments of his preaching protagonist, Devine added "Sometimes you just have to roll with what you have and be confident the final result will be good."
@JSTLBBY would be so proud.
Here is the official video for "Get Up Get Out"
Music Video Credits
Director: Matt Devine. Cinematographer: Martim Vian. Editor: Dan Lee (thebutchery). Producer: Nathan Waters. Exec Producer: Saskia Whinney. Wardrobe Designer: Carolina Salom. Colourist: Greg (Elvis) Constantaras. Post production: Bonnie Law, Jamie Watson (Heckler).