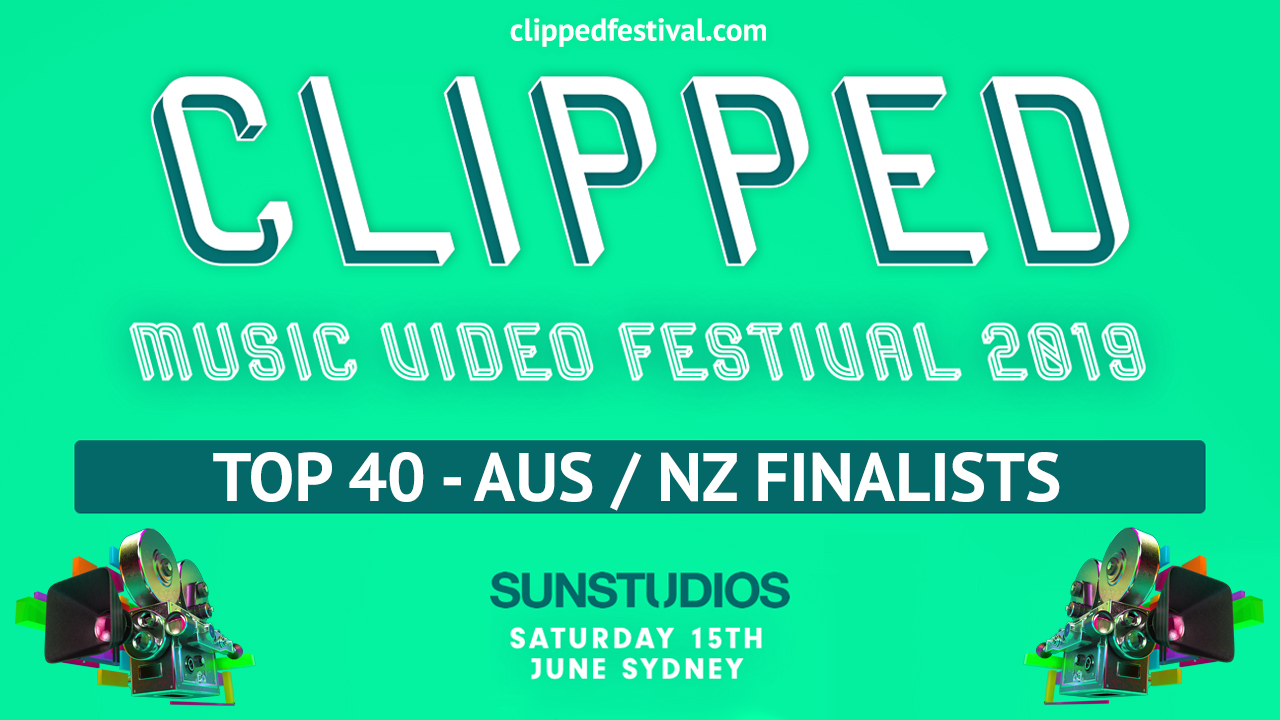 CLIPPED Music Video Festival 2019: Finalists Announcement
With CLIPPED Music Video Festival 2019 just over two weeks away, we here at CLIPPED.TV are very excited to be announcing the line-up of the Top 40 AUS / NZ Finalist music videos who will be vying for awards and a share in over $20 000 worth of prizes.
The CLIPPED Music Video Festival, now running in its fourth successive year, will be taking place at SUNSTUDIOS in Sydney on Saturday the 15th of June.
The festival will include discussion panels featuring Sing J Lee (UK), Sylvia Zakhary (UK), Washington, Nick Waterman, John Ogden and many more massive names from the industry. CLIPPED will also be presenting the June installment of their Premieres event series where brand new music videos are premiered in front of a live audience, followed by Q&A with the filmmakers and artists.
Wax Chattels – 'Career'
G Flip – 'I Am Not Afraid'
On the day there will be new tech displays and presentations from such companies as Atomos, Nuraphone, Digital Projection, BirdDog, Angelbird, LitePanels, Sachtler, Canon, Blonde Robot, Wacom, ARRI and Avid Media as well as CHORUS, a multiplayer VR experience like no other set to the tune of "Chorus" by Justice.
The day will culminate with the Awards Party where all of the Top 40 Finalist videos will be screened in their true cinematic form and also beamed around the venue like a giant mixtape for attendees to enjoy.
With a CLIPPED MVF record of over 400 videos coming in from around the globe, the job ahead for the judging crew, made up of international filmmakers, music video gurus and industry professionals, was nothing short of massive. The quality of entries this year was unprecedented and as such, with the goal of offering as much recognition of the incredible filmmaking talent on show, the decision was made at CLIPPED HQ to include 40 videos in the awards ceremony, rather than the usual 20 of previous festivals.
Kryder – 'Romani'
Clea – 'Cool Days'
Following the screening of the videos will be the awards ceremony where all 40 finalists will be in the running for awards in categories including: Best Video, Directing, Cinematography, Animation, Editing, Production Design, Choreography and more, with a massive list of prizes for winners and runners up, totalling over $20 000 from our incredible sponsors at Avid, Angelbird, ARRI, Atomos, BirdDog, Blonde Robot, Chris Chow Creative Lawyers, Digital Pigeon, LitePanel, Nuraphone, One Solutions, Panavision, Rode, Sachtler, SUNSTUDIOS, Timbuk2, VANDAL, Verbatim, Wacom & ZOOM.
Without further ado, we're very excited to announce our Top 40 Finalists for Clipped Music Video Festival 2019:
Alchemy – Infinite Forms Ov Torture (Directed by Kyle O'Beirne)
Beachwood – Miracle (Directed by Angeline Armstrong & Hayden Mustica)
Billy Fox – Let's Be Honest (Directed by Alex Campbell)
Blood Knows – Halo (Directed by Caitlin Moloney & Tom Mannion)
Bree Tranter – Twenty Two (Directed by Emily Dynes)
Clea – Cool Days (Directed by Jennifer Embelton)
Creature Fear – Please Me (Directed by Tim Eather)
Cursed Earth – Fear (Directed by Carl Whitbread)
Finn Andrews – One By The Venom (Directed by Alexander Gandar)
Frank James – Slowly (Directed by Sarah Jacquier)
G Flip – I Am Not Afraid (Directed by Lucy Knox)
Guy Sebastian   – Choir (Directed by James Chappell)
Ivy-Jane Brown – Savannah (Directed by Imogen Mccluskey)
Julia Jacklin – Body (Directed by Nick Mckk & Julia Jacklin)
Kryder – Romani (Directed by Julian Tuna)
Lazy Colts – Be The One (Directed by Suzanne Kim)
Leisure – Feeling Free (Directed by Jason Bock)
Liars – Murdrum (Directed by Riley Blakeway)
Mirrors – Damien (Directed by Ed Reiss)
Mosquito Coast – Skipping Girl (Directed by Hiball)
Mount Defiance – New Neighbourhood (Directed by Thomas Pike)
Nikkita Ra – 747 (Directed by DIRECTORP3E)
Olympia – Shoot To Forget (Directed by Leilani Croucher)
Parker – Can't Keep Waiting (Directed by Tash Parker & Jaymis Loveday)
Peking Duk – Reprisal (Directed by Ryan Sauer)
Polish Club – We Don't Care (Directed by W.A.M. Bleakley)
Porcelain – Eyes On You (Directed by Adam Kiers)
Retiree – Pumice Stone (Directed by Joey Knox)
Sahara Beck – Here We Go Again (Directed by Pernell Marsden)
Teddy Adhitya – Why Would I Be (Directed by Sanjay De Silva)
The Kite String Tangle – Give It Time (Directed by Imogen Grist)
The Living End – Not Like The Other Boys (Directed by Daniel Cooper & Reid McManus)
The Night Game – Bad Girls Don't Cry (Directed by Michael Hili)
The Veronicas – Think Of Me (Directed by Benn Jae)
These Guy – Heaps (Directed by Helena Papageorgiou)
Thundamentals – All I See Is Music (Directed by Aimee-Lee X. Curran)
Triple One – Showoff (Directed by Gabriel Gasparinatos)
Wallis Bird – The Ocean (Directed by Sinead McDevitt)
Washington – Claws (Directed by Nick Waterman & Megan Washington)
Wax Chattels – Career (Directed by Dylan Pharazyn)
Billy Fox – 'Let's Be Honest'
Nikkita Ra – '747'
With so many amazing entries that couldn't be squeezed into the Top 40, we will also be exhibiting dozens of other videos all around the venue throughout the day. International finalists will be announced immenently!
CLIPPED Music Video Festival
SUNSTUDIOS, Alexandria (Sydney) • Saturday June 15th 2019
Tickets: https://www.eventbrite.com.au/e/clipped-music-video-festival-tickets-58835580806
More info: https://www.facebook.com/clippedfestival