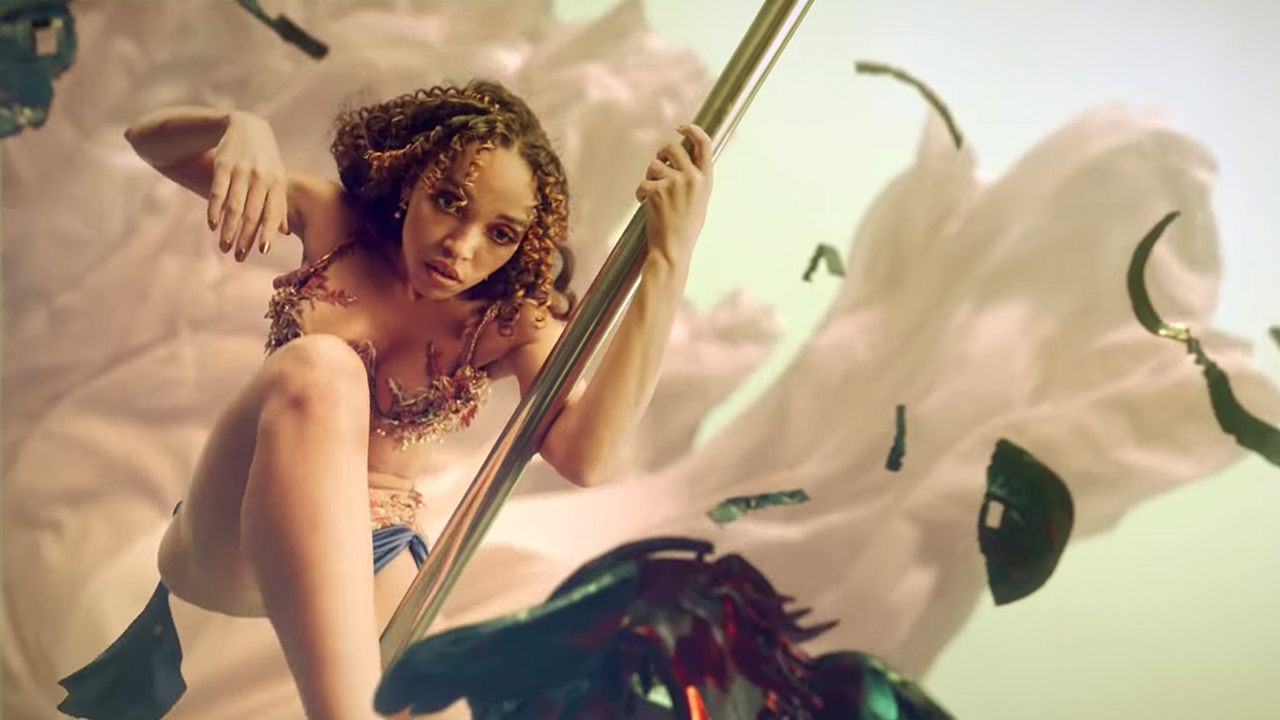 FEATURE: FKA twigs – Cellophane (Dir. Andrew Thomas Huang)
From backup dancer to international avant-pop superstar, the journey of FKA twigs is one pulled from the dreams of many, but it hasn't come without hardship. When conceptualising the video for "Cellophane", director Andrew Thomas Huang was so inspired by FKA twigs' story, that he felt the need to come up with a video that brought it all together.

"Twigs and I met in 2018 to discuss the concept for "Cellophane" as one of the leading tracks for her new album. After listening to Twigs' personal story and spending time with her in rehearsals as she was training in the art of pole dance, I created a vision for Cellophane that triangulated three components: Twigs' heritage as a performer and dancer; her personal journey of loss, vulnerability and recovery; and a visual symbolic dream language to interweave and unfold these elements into a single fantastic journey."

FKA TWIGS – 'Cellophane'
"The story you see on screen is a three-part Icarus-tale about a woman's ascent toward her ideals of perfection, her subsequent fall from grace and her ultimate rebirth. The story begins with Twigs as a pole dancer performing for an unseen audience. Her dazzling performance becomes an existential dance-of-death striving toward unattainable perfection, symbolized in the form of Twigs as an angelic winged sphinx flying above the stage."
"When Twigs finally encounters the sphinx, the creature unmasks itself, revealing her own visage staring back at her. Confronted with her self-image, Twigs pierces the beast, stepping through the creature's face with her stiletto heal. Her footing gives way as she careens through the creature's body and plummets through the atmosphere like a fallen star back to Earth. She crash-lands into the bowels of a cave. There she is nursed back to health and reborn a new woman."
Alongside being an incredibly powerful watch, especially when paired with FKA twigs beautifully dark and vulnerable delivery, "Cellophane" is visually stunning. The seamless composition of crisp and unique visual effects against the wonderfully stylish presentation of FKA twigs as at first a hardened performer and eventually an impuissant human being is truly remarkable.

FKA TWIGS – 'Cellophane'
When FKA twigs takes her fall, she tumbles through the empty black space. These shots are filled with energy and anguish, as the emptiness rushes past her, FKA twigs desperately reaches out towards the camera.
"We shot Twigs on a wire rig against both blue and black backgrounds depending on the shot angle. We shot on Arri Alexa. Twigs was a natural on the wire rig so it was great that she could do her own stunts as we shot both crane and handled shots of her twirling. Dani Abello (Cinematographer) also designed an LED rig of strobe lights flashing past her and we had a crew with special effects fans to add to the drama of the fall."
There are moments where FKA twigs grips onto the hand of an unseen person, seemingly within the camera, giving the audience this inimitable feeling that she is reaching out to the viewer. It's incredibly powerful and according to Huang, entirely unplanned: "The hand was a happy accident and belongs to my cinematographer Dani Abello who was holding her as we filmed. After seeing it in the edit we decided we liked it in the end and decided to leave it in there as a nice wink to the audience."

FKA TWIGS – 'Cellophane'
There is one aspect of this video that we found particularly interesting, and that is the use of sound throughout, from the sword-like swishes of FKA twigs' movements in the beginning, to the sounds of the sphinx creature and even FKA twigs' panted breaths when she hits the ground.
We asked Huang about this choice, especially when the convention in music videos is generally to have no audio outside of the music, he replies: "Sound is 50% of filmmaking and I think it's important for us to have the sound to understand the materiality of the world, to understand subjectively that Twigs' character in the beginning of the film is all about hardness – as a seasoned performer her body a finely tuned machine and the swishing blade sounds help us understand that. Yes, this is a music video, but I really see it as a film and want to immerse audiences in that story."

FKA TWIGS – 'Cellophane'
Andrew Thomas Huang was invited to take the incredibly prestigious role of lighting the iconic Sydney Opera House sails for this year's edition of the Vivid festival, and the magnitude of this role was certainly not lost on him: "It's been a real honour to do the Lighting of the Sails this year and a pleasure to collaborate with the Opera House team and my company of collaborators Kelsey Lu for the score, Bemo for the animation and choreographer Toogie Barcelo for the dance motion capture. When Ben Marshall, Head of Contemporary Music at Sydney Opera House, asked me to do the Lighting of the Sails back in fall of last year, it was a no-brainer."
"The concept for the design started with choosing some of Australia's most well-known floral gems, such as the New South Wales waratah, kangaroo paws, and red beard orchids to name a few. Focusing on the anatomy of these native species, we drew from the shapes, colour palette and textures to inform the overall design."

Sydney Opera House – 'The Lighting of the Sails'
"To bring humanity to the piece, it was important that we employed dance as a way of connecting these natural forms to the human body. We recorded one day in a motion capture studio with Toogie and her dancer Genna Moroni by projecting an image of the opera house on the studio floor so Moroni could respond to the architecture of the building real time. We then took this data and used it as the skeletal framework for the digital choreography, upon which we "dressed" the anatomy of the five species – petals, stamen, leaves and all."
"The result is a host of dancing CG avatars bearing the resemblance of the Australian flora but abstracting them through dance. My hope is that audiences can view these well-known flora in a whole new light."
Here is the official video for "Cellophane"
Music Video Credits
Director: Andrew Thomas Huang. Production Company: Object & Animal. Exec. Producer: Morgan Clement & Dom Thomas. Producer: Alex Chamberlain. Local Production: Radioaktive Film. Local Producer: Ira Nepomenko. Cinematography: Daniel Fernández Abelló. Choreography: Kelly Yvonne. Production Design: Fiona Crombie. Art Director: Vladimir Radlinskyi. Featuring: Efua Baker. Stylist: Matthew Josephs & Ed Marler. Hair: Virginie P. Moreira. Make-up Artist & Mask Design: Kabuki. Visual Effects by: Analog. Lead 3D: Matt Chandler. Lead 2D: Fabio Zaveti. VFX Producer: Rose Nicholson. VFX Executive Producer: Matthew Shannon. Editor: Andrew Thomas Huang. Sound: Ben Tomastik  @ Lime. Grade: Aubrey Woodiwiss @ Carbon.