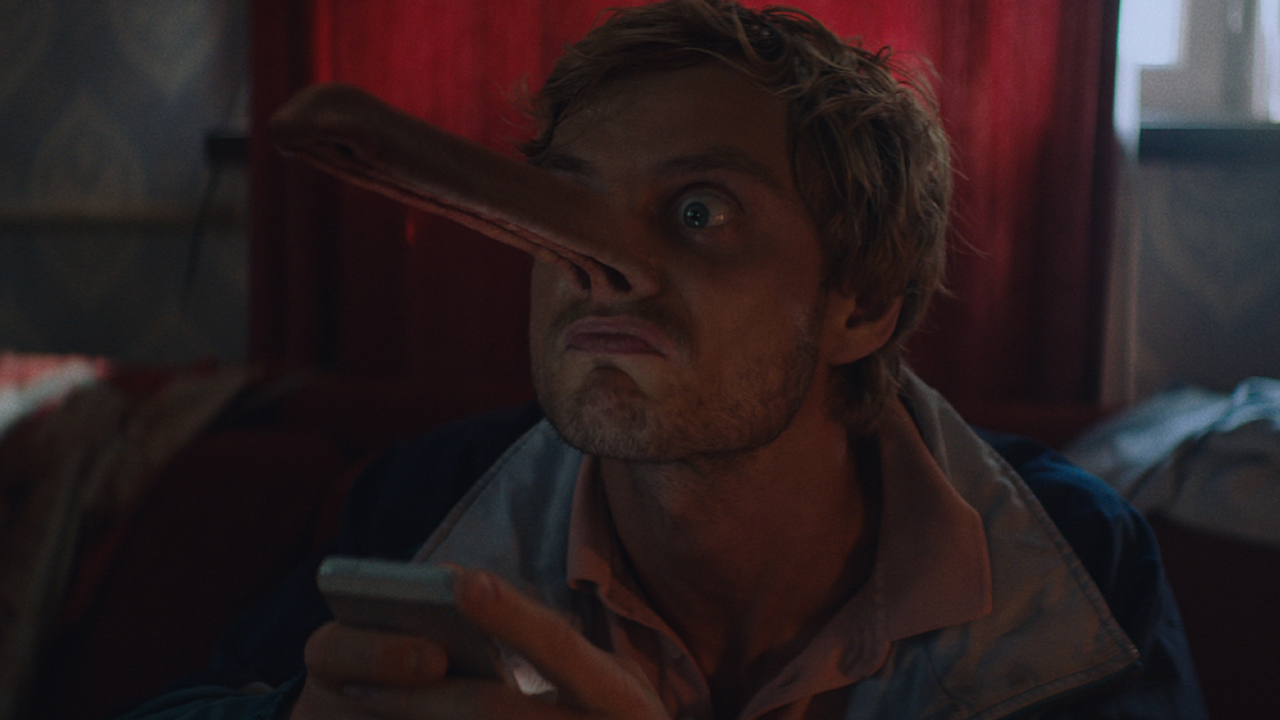 FEATURE: Beardyman – 6am (Ready to Write) (Dir. Ian Pons Jewell)
Hunter S. Thompson's legacy is endless. Along with having a revolutionary effect on writing and journalism, Thompson became a counter-culturalist icon for his abhorrence of authority and US power structures that sought too much control in the personal lives of its people. He was massively into guns and something else… Oh yeah. Drugs. He loved 'em. Thompson's relationship with drugs is the stuff of legend.

Beardyman – '6am (Ready To Write)' (BTS thanks to Natalie Rubin)
A while ago on his show, Joe Rogan recited the documented daily routine of Hunter S. Thompson and it is understandably insane, enough to put even the hardest of hard-nosed drug enthusiasts in the ground. In swooped British musician Beardyman to but this daily routine to a beat. A perfect match for the recital, '6am (Ready To Write)' is a thumping donking basement track that smells of sweat. It was here that director Ian Pons Jewell finally found the perfect foil for an idea that had been rolling around in his head for a while.
"I think it was around 2015 I pitched an idea about a compulsive liar whose nose would grow, Pinocchio-style, in these different situations. I liked the idea of a photo-real flesh Pinocchio visual. I pitched it to DJ Snake originally who didn't go for it, then Foals, who also didn't. So, this idea was "lying around". It was even in a sketch idea I had where this guy sits at home smelling things with his traveling nose, but not growing due to lying. Then this track came along due to the whole cocaine thing, the nose idea came back from the depths of discarded ideas. But this time it became a hybrid of both, it starts to grow due to him lying to his mum, then it goes around seeking out gear continuing to grow and grow."

Beardyman – '6am (Ready To Write)' (BTS thanks to Natalie Rubin)
The video begins with our protagonist trying to push back the early hours of morning, fighting the come down with kick-ons, as his mates all succumb to sleep around him. When the last of his bags is emptied, he wild-eyed texts his mum to let her know that he's just walking a mate's dog. The lie frees his nose from the constraints of his face and like a munted Mister Fantastic, it stretches away and careens around the neighbourhood in search of the next sniff. As Jewell explains: "My main focus was nailing the first half to be a very real post-sesh scene."
"I wanted to capture something that a lot of people will watch and remind them of themselves. The horror of the come down and one track mind wanting more and never calling it a night. This was by far the most challenging part of the idea and the thing I was shitting myself about getting right. The actor Jack Morris was the reason it was nailed though, he's a genius. The rest was technically more taxing but getting that first part right frightened me because you see a lot of poorly represented drug taking scenes even at the top level film wise. Dead Man's Shoes was our spirit animal for this."

Beardyman – '6am (Ready To Write)' (BTS thanks to Natalie Rubin)
It feels strange to discuss the importance of authenticity in a music video about an autonomous elastic nose exploring the world in search of cocaine, but this realistically dank opening setting makes for the perfect canvas for the fantastical. You can smell the stale vomit and ash trays and feel the 10kg bags under your eyes just watching this. But it is when this amazing fluid CGI nose comes to life that the video really pops. The credits show a massive list of digital artists and collaborators worked on this video and the results are extremely clear.
"The team at Electric Theatre Collective (Post-production house) were incredible. There wasn't tonnes of back and forth, they just nailed it from day one and I was seeing near perfect stuff from the start. It all started with James Sindle's amazing drawings over the video. A sort of crude animated cartoon. This was then the guide for the animators to work from. Another part of the process that was really interesting was working out the physics of it. What does the back end do when the nose moves forward? We toyed with the idea of it remaining in its path, like the original Nokia Snake game. But then Sindle played with the physics of it being like a rope in water. So, it had a sort of stretchy thing about it but also floating within its own physics in a way."

Beardyman – '6am (Ready To Write)' (BTS thanks to Natalie Rubin)
The nose looks so incredible and alive as it snakes its way through cars, corridors and apartments, trying out any bits of powder it can get it's nostrils on. When sniffs of make-up, dandruff and chalk dust leave it feeling unfulfilled, the nose finally meets the physical embedment of cocaine, a creaking, contorting, ghost-white "coke devil". It is then, as the protagonist's friends start to stir awake, that we realise none of this has happened and he is just tripping his arse off with a string of sausages. We had to know why Jewell wanted to end the video with this pretty grim reality check:
"The whole idea originally ended with the nose finding gear in a dealer's apartment. But I was really doubting the whole thing as I thought it was all a bit too absurd. So, the cut back was the missing piece, it needed something visceral to capture the come down. I also didn't want it to just be a really "fun" video about cocaine, there's plenty of those. It was about walking a fine line between humour and darkness. What wasn't planned in any way was the coke devil. It was going to cut from the nose finding the dealer apartment, to him with the sausages. But then it grew as we scouted, I had the idea of a pied piper, with a flute, tempting the nose toward it and into a room with other characters. But this ended up stripped down to the coke devil painted white. The devil actor is one of my favourites in Kiev, Zhenia Skizov."

Beardyman – '6am (Ready To Write)' (BTS thanks to Natalie Rubin)
"A big part of the success of it all working though is Jack Morris, our lead actor. He was mind-blowingly good, we all felt a bit sick watching him act high all day. He also stunk of sausages, sweat and cigarettes on the drive back post-shooting. It was all very authentic."
Here is the official video for "6am (Ready To Write)"
Music Video Credits
Director: Ian Pons Jewell Executive Producer: Medb Riordan Executive Producer: Simon Cooper Executive Producer: Leah Joyce Founder Radioaktive Film: Darko Skulsky EP Radioaktive Film: Sasha Bevka Commissioner: Elena Argiros Producer: Ash Lockmun Line Producer: Olya Kosenko Director of Photography: Mauro Chiarello Production Designer: Robin Brown Casting Director: Kharmel Cochrane Casting Director: Sergey Ristenko Storyboard Artist: Joseph Strachan Stylist: Staysa Monastyrskaya Location Manager: Dima Mikhailov 1st AD: Gryts Makarenko Production Manager: Antonia Vickers Production Manager: Julia Sotnikova Production Assistant: Ella Girardot Production Assistant: Volodymyr Altsybeev Bidding Producer: Georgina Smith Set Runner: Tolik Koval 1st AC: Kirill Shlyamin Steadicam: Max Salo Gaffer: Leo Sidorenko DIT/VTR: Valik Grib aka Mushroom Sound: Dennis Ryskal Art Director: David Kharaishvili Make Up: Marta Skalska Prop Master: Vasya Tkachuk Style Assistant: Dasha Lisyn Style Assistant: Kostya Goncharuk CAST Hero Guy: Jack Morris Sofa Guy: Dima Nalivayko Sofa Girl: Vera Koval Girl in Car 1: Esther Brown Girl in Car 2: Joana Garcia Guy in Car 1: Thomas Ngegba Guy in Car 2: Alex Dubrova Guy in Car 3: Pasha Gots Work Out Brother 1: Andrii Ostapenko Work Out Brother 2: Dmytro Ostapenko Work Out Brother 3: Yura Ostapenko Coke Devil: Zhenia Skizov Bedroom Girl: Alla Pryadko Pigeon Man: Tsoy Andriy Dandruff Man: Pavel Evchin Screaming Lady: Nina Galena POST PRODUCTION Edit: Whitehouse Post Editor: Tobias Suhm Assistant Editor: Steven Waltham Producer: Antonia Porter Executive Producer: Annabel Bennett Post Production: Electric Theatre Collective Producer: Alasdair Patrick, Sam Napper Creative Director: James Sindle Colourist: Luke Morrison CG Coordinator: Larisa Covaciu Sound Design: Tim Harrison & Seb Bruen at Aumeta Additional Sound Design: Jim Stewart & Lawrence Kendrick at String & Tins 2D Lead: Alex Grey 2D Artists: Adam Woolrich, Adrian Monroy, Alberto Pizzocchero, Alex Kennedy, CJ Gaikwad, Daniel Manning, Nicola Borsari, Ozgur Taparli. Flavio Kawamoto, Ryan Knowles, Stirling Archibald 3D Lead: Nick Turner 3D Artists: Alex Berweck, Dean Robinson, Elpida Kyriacou, Jake Cross, Jeffery Edo-Benson, Marko Mamula, Paul Cousins, Robert Reinschedl, Sergio Moralez, Roly Edwards, Thanos Kousis, Will Preston, James Waterhouse, Felix Chan, George Savvas, Stuart Whelbourn, Tobin Brett, Stuart Turnbull, Eddy Martinez, Adam Ledger, Florian Mounie, Ivan Xavier, Karin Mattson, Mack Knights, Jon Park, Remy Herrise, Toby Williams Ellis Rigger: Greg Martin Concept Artist: Romain Thirion SPECIAL THANKS TO Reset Content, Jon Adams