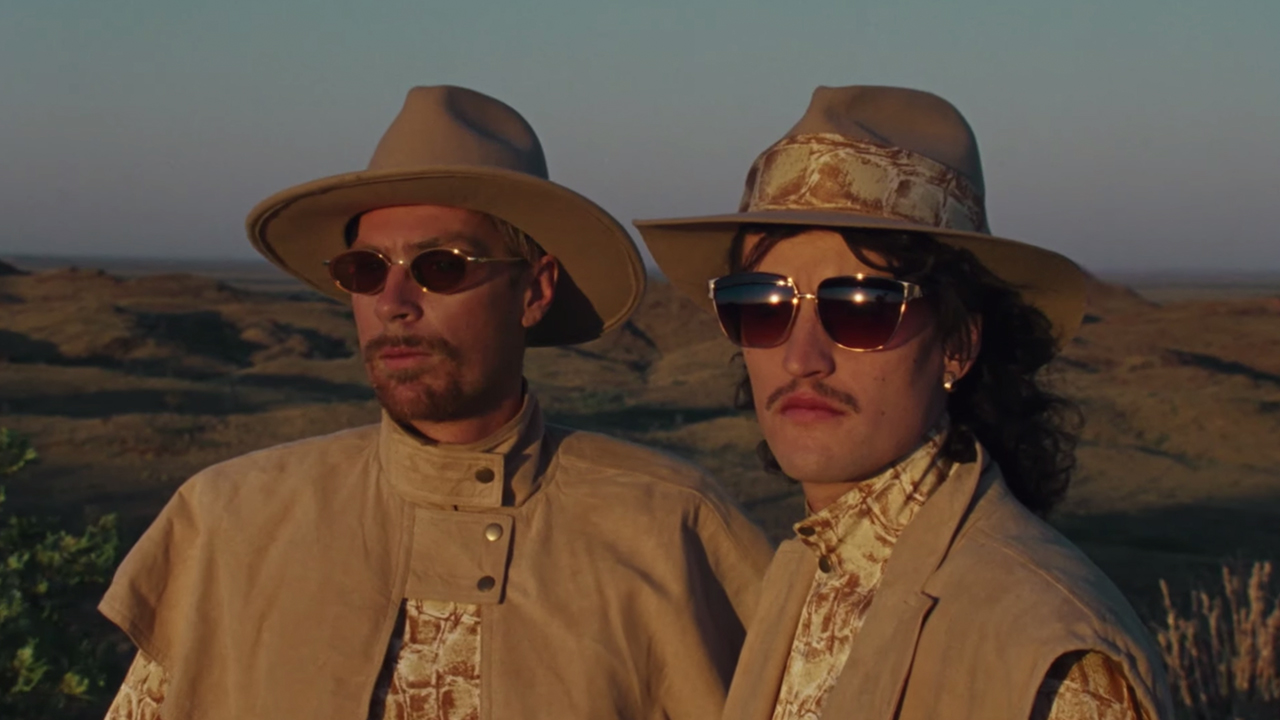 FEATURE: Client Liaison – The Beat Supreme (Dir. Lucy Knox)
Inimitable Melbourne electro-pop duo Client Liaison have always had a fair whack of nostalgia about them. Taking production, tonality and even fashion cues from the best of 80s pop and rock to deliver hit after hit of jiving emphatic synthy bop. With their latest track, 'The Beat Supreme' their sound has evolved a certain earthiness, particularly in the guitar work. That repeated arpeggiated octave just feels like steam rising from red dirt. Add to that some lyrics delivered with real confidence and bravado; It is diesel, dust and solid rock. It is kissing the dirt of a great southern land.

Client Liaison – 'The Beat Supreme' (BTS photos by SWAG)
And it was there that music video director Lucy Knox found her muse: "It really came from the lyrics which spoke to a lot of the band's references; artists like INXS, Yothu Yindi and Icehouse for example. And I loved that they had the homage so earnestly on their sleeve. The idea developed quite organically between us all that the earth was the keeper of this Great Australian sound, so 'the sound' became an almost mythic character within the land from which all these great bands came."
With the harsh Australian landscape as both their backdrop and their co-star, Client Liaison perform to a vast audience of scrub and stone, before finding themselves and a supporting cast of seekers amidst the dusty machinery of a working mine. Knox explains: "Through the band, we had access to a gold mine near Marble Bar in the Pilbara to shoot in, so the idea developed that we'd have the band and other characters searching for this sound within the earth; the music of the land being the real gold." This theme of 'The Beat Supreme' feels like a fun throwback to some early hip-hop, a fundamental and confident exploration of this all-important sound that they have been able to uncover from the past and reveal to the world.

Client Liaison – 'The Beat Supreme'(BTS photos by SWAG)
In the same way, Knox was able to evoke the aesthetic of some classic videos, using entirely practical lighting and a relaxed edit that harkens right back to the early days of music video. They even went as far as to shoot the video on film: "Because it was an homage to those clips, shooting on film felt right. Also because the location was so remote we were a micro crew – with just Bill Bleakley (Producer), Joey Knox (DP) and myself – so we wouldn't have had the infrastructure for all the shade boards or floppies etc that we'd need to retain the highlights with digital. Film was right for the bright, harsh Australian conditions we knew we were going into."
These harsh conditions and remote locations, perhaps more suited to the dusty sweaty grime of a coal mine, certainly presented Knox and her crew with some interesting challenges during production: "It was pretty nuts. We had to catch a small regional plane to get there, and then halfway through the flight they announced some technical fault and we had to turn back to Perth and catch another flight, which meant we arrived at the location in the dark – losing all our planned location scout. So, we had one long shoot day and a few hours of the next to shoot the clip, with no idea what the location we were walking into really looked like. When the sun came up, I think the guys working there were a bit shocked to see us in all the outfits dancing around, but they were great."

Client Liaison – 'The Beat Supreme' (BTS photos by SWAG)
"We also brought with us an 800mm lens to capture a nice big sunset, which on a 16mm camera is much, much longer. That thing is like a telescope, so we had to position the band's performance a few hundred metres away to fit them in the frame, and they couldn't hear us at all. We had to communicate all the action and cut, over ute radios parked near them. We had about 30 minutes of light to capture that end scene; it was crazy but hilarious."
To be able to come out of such extreme conditions with an awesome and memorable music video like this is truly a feat, and a testament to the work ethic and strength of collaborative relationship of Knox and her barebones crew, who have worked together on many occasions. The success of the shoot can be typified by Knox's description of the solid effort the Client Liaison members put in.

Client Liaison – 'The Beat Supreme' (BTS photos by SWAG)
As the sweltering desert sun beat down on them, they played on. Even dressed in these amazing get ups that are like an extravagant earthy take on a jumpsuit meets a safari suit, for which Knox pays big praise to another member of her crew: "That's all down to the stylist, Kirsty Barros. She did an amazing job of finding epic shapes and colours that complimented the rust and dirt and spinifex. As the clip progresses and they get more ingrained in the environment their wardrobe becomes more practical and covered in the dust and earth. It was about 40 degrees when we shot, and Harvey was in these amazing python- type pants half the time but they'd be helping carrying all the gear around – they never complained. Their energy is endless and infectious."
Here is the official video for "The Beat Supreme"
Music Video Credits
Director: Lucy Knox Producer / Art Director: Bill Bleakley Director of Photography: Joey Knox Editor: Stewart Arnott Colourist: Fergus Rotherham Production Company: Swag Film Styling: Kirsty Barros Cast: Mitchell Warren, Cameron Warren, Lucy Knox, Bill Bleakley Special Thanks: Peter Cole & team at Bamboo Creek Mine. Also thanks to Mitchell, Cameron, Zac, Bayley & Kasey.