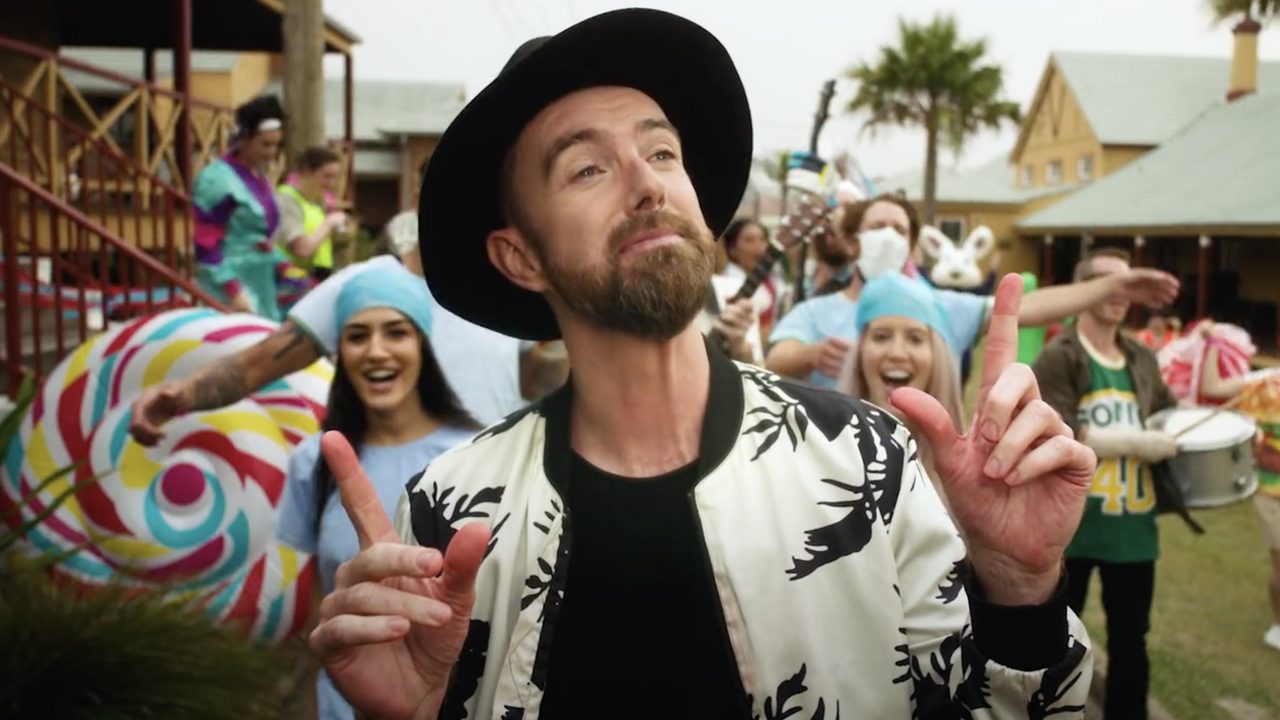 FEATURE: Birds of Tokyo – Two Of Us (Dir. Zachary Lynch-Woodlock)
Despite the entirety of the Two of Us music video fitting into a hundred metres of pathway and three and a half minutes, watching the video feels like embarking on an odyssey. Taking inspiration from Spike Lee's creative use of dolly shots, Director Zac Lynch-Woodlock teamed up with the band to create visuals loosely inspired by front man Ian Kenny's personal life. Kenny describes their uplifting single:
"This song Two of Us is a look into the last two or three years of my life which began with a whole bunch of plans with someone else and that sort of all fell apart. And then getting out of that and meeting someone else"

Birds of Tokyo – Two Of Us (BTS Photo by Evan Gauci)
Kenny occupies the middle third of frame for the entire clip, moving in perfect pace with the camera and changing his appearance to reflect his gradual recovery from heartbreak. Quirky characters slip in and out of frame, offering him new props to play with and singing along to the chorus giving, the entire production an enjoyable confetti-filled chaotic energy. Unlike the high production value background stunts found in U2's Sweetest Thing (a major inspiration for this clip), the characters and action are quainter and more intimate, matching the personal nature of the song. Zac elaborates:
"I thought that showing him go from being a physically broken man covered in bandages, to becoming a rock star who is surrounded by a ragtag gang of supporters, was a nice way to show that it's our friends that often help to get us through hard times in our lives, we also decided to see each of the band members with injuries as they sported bandages and neck braces, to represent the fact that everyone has their own demons that they are also battling."


Birds of Tokyo – Two Of Us (BTS Photo by Evan Gauci)
Making a music video in this style is no small undertaking, even when considering the comparatively smaller production that the band were working with. Budget had to be considered when sourcing costumes, though wardrobe and art director Sarah Jackson was able to assemble a great array of colourful figures. Production crew and equipment are purposefully seen in frame multiple times in the clip, in fact the first image the audience sees is the slate marking the beginning of the shot. There's an aesthetic and a practical purpose for this; showing the audience little pieces of the filming process can be exciting, and it gave the crew some leeway in case small slips happened during a take.
"With every shoot there's always an element of risk that something isn't going to work out, that risk is multiplied when you're working on a low budget shoot, and then it's multiplied even further when you add a complicated set up into the mix. With this shoot we knew that we only had enough time for 6 takes, we said from the beginning if something goes wrong or someone stuffs up, just keep moving."

Birds of Tokyo – Two Of Us (BTS Photo by Evan Gauci)
Luckily, the few small mistakes that did occur were easily remedied in the edit.
"There was certainly a few takes where things stuffed up, we had a leaf blower that ran out of batteries during the shot, a smoke machine that decided to malfunction and spray hot oil on to the crew during one take. Then we also had the song skip and go out of sync for a moment on the take that we ended up using, however, we were able to fix that in post."


Birds of Tokyo – Two Of Us (BTS Photo by Evan Gauci)
The large Western Dolly that the crew settled on to carry Kenny and the camera team ended up blowing a tyre on the second rehearsal, though luckily there was a smaller dolly on-hand and DP Jay Torta was shooting on an Alexa Mini which was small enough to fit without sacrificing picture quality. A stabilised head was considered to counter bumps in the road that the dolly hit, but Zac made the decision to keep them in because of the raw energy that they brought to the clip. Lighting was all natural aside from a small handheld light for Kenny's face, carried by one of the crew as the dolly tracked backwards.
"It was great for me to be able to collaborate with them on the visuals and make them part of that creative process, which has helped to give this clip a unique look and feel. It's a combination of my visual input, combined with the guys' thoughts and desires about how they see the clip playing out."

Birds of Tokyo – Two Of Us (BTS Photo by Evan Gauci)
A complicated one-take music video and a longterm relationship share one important factor: risk. Every major life decision we make carries the threat of consequence, though through a whimsical and entertaining clip Two of Us argues that a strong community and friends can help recover from any hardship.
Here is the official video for 'Two Of Us'
Music Video Credits:
Director: Zac Lynch-Woodlock. Producers: Zac Lynch-Woodlock & Jack Stephens. Production Company: Helium Film. DOP: Jay Torta. 1st AC: Matt Spowart. 1st AD: Murray Robertson. Key Grip: David Griffiths. Make Up: Elizabeth Cannon. Wardrobe & Art: Sarah Jackson. Post Production: Zac Lynch-Woodlock. BTS Video: Gene Alberts. BTS Stills: Evan Gauci.