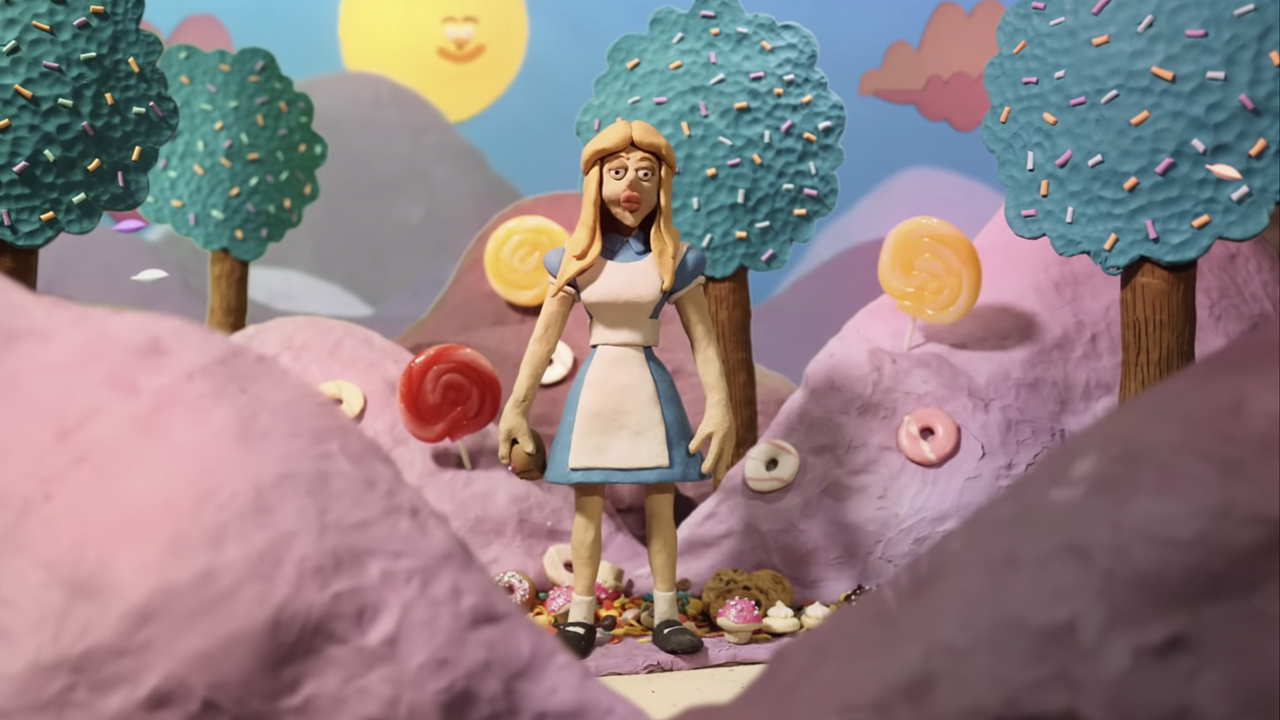 FEATURE: Psychedelic Porn Crumpets – Mr Prism (Dir. Ollie Jones)
Some stories follow a linear ascending path to their inevitable conclusion. Other stories twist and turn and scatter wildly into directions you never expected. The music video for Mr Prism by the Psychedelic Porn Crumpets, directed by Ollie Jones, is one of the latter. The clip follows Alice-in-Wonderland through a world based on Willy Wonka's factory. Boldly embodying the feverish circumstances from which the song was spawned, Jones skilfully warps fairy-tale imagery into a wonderfully brutal Claymation. The Psychedelic Porn Crumpets deliver a song that bounces along with a punchy guitar riff and matching drumbeat. Jack McEwan's vocals are sharp, the melody sliding up and down during the verse before working through the chorus with a similar spring as the instruments.

Psychedelic Porn Crumpets – Mr Prism (BTS by Ollie Jones of Better Feeling Films)
Despite an opening splash that wouldn't be out of place on Play School, the clip that follows is for a decidedly different audience. While the Mr Prism video was initially being developed as a live-action idea with a section of Claymation in it, the storyboards that Jones drew up convinced the band to commit completely to the stop-motion concept. Jones explains his relationship with McEwan:
"It's always great collaborating with Jack, he is always open to my ideas and suggestions, and he has a lot of crazy/out-there ideas himself, and it's just a case of cherry-picking those and crafting it into a story that works in the time frame you have. I storyboarded the entire video and drew up a ton of concept photos and showed them a few clips and pictures along the way. But other than that, I just stuck to the concept and just got on with it. We have been working together for a while now, and I think they just trust me to get on with it.
"Jack was a fan of a video I made for the UK punk band ' Youth Man' which had its fair share of gore/gross stuff. So, I guess when they came up with the initial idea, they thought of me after already working together, knowing my style and sense of humour."

Psychedelic Porn Crumpets – Mr Prism (BTS by Ollie Jones of Better Feeling Films)
The clip begins relatively tame as Alice comes across a box of snacks that transports her to 'Sweetsville'. She moves through this colourful Wonka-esque place, the story escalating as Alice snacks on everything she can find and eventually leading her to chew her way through Sweetsville's treat-shaped inhabitants. Jones developed the parallels to Alice in Wonderland and Willy Wonka and made them work for him within the context and themes of the video.
"Once you pick a character like Alice, you just work with the tropes and conventions they come with, and they turn it on its head. So, for example, Alice has the bottle that makes her shrink and grow. So, I just thought about how I could make that work within the context of our video and throw in elements from other films that I am fond of. So, body horror when she shrinks/grows inside of the ' Willy Wonka' type character and again Godzilla/Kaiju type films for the ending."


Psychedelic Porn Crumpets – Mr Prism (BTS by Ollie Jones of Better Feeling Films)
The production process, however, wasn't as smooth as Alice wading through residents of 'Sweetsville'. It was more akin to the residents themselves, screaming their way through the events of their twisted tale. Jones encountered a few challenges while creating the Claymation and explained the circumstances and difficulty of creating something this intricate:
"The main (challenge) was that I was animating during a heatwave, in a room that was already hot and dark. Plasticine doesn't fare well in the heat, and it just becomes incredibly difficult to work with. Not only that, stop motion is quite mentally challenging. You have over 40 points of articulation on puppet, and that's not including the hair, the face, the costume and any props they may be holding. there's a lot to think about and a lot going on that you have to keep track of. Characters also have a tendency to fall over, which can fully ruin a shot. So, add extreme heat to that mental pressure and it can really get to you. There were a few points where I considered throwing in the towel. But after a cup of tea and a sit down I was back at it, more determined than ever."

Psychedelic Porn Crumpets – Mr Prism (BTS by Ollie Jones of Better Feeling Films)
Jones stuck with a Canon 5D Mark III for the shoot and combined it with Dragonframe 4 animation software to capture the stills he needed.
"Dragonframe is industry standard for stop motion, I believe it was made in conjunction with Laika (So you know it's good). You can get motorized sliders and cranes etc that work in conjunction with Dragonframe which move a frame at a time along with your animation. Sadly, I don't have any of those, just normal hand powered ones. So, I would have to move my slider in small increments at a time, hoping I would get the movement and the timing correct."
Claymation comes with its own set of obstacles and when compared to live-action filming, Jones stated that there are initially a lot of similarities.
"…you have physical lights, props, sets and actors. However, the actors move much slower and are more temperamental (well sometimes) and unlike 2D/Computer animation you can't do Keyframes and really plan/ finesse your scene. You just have to commit and get stuck in there hoping you know what you are doing. You have to start a scene at the beginning and end at the end and pray to the lord Ray Harryhausen that nothing goes wrong in between."


Psychedelic Porn Crumpets – Mr Prism (BTS by Ollie Jones of Better Feeling Films)
The video had to be completed in four weeks, splitting time between modelling puppets, and creating sets and props. When adding all the elements of stop motion production together, Jones had his work cut out for him to finish on time.
"That meant I had to produce around 10-15 seconds of animation per day if I were to keep on schedule. To put it into perspective, an animator at places like Aardman or Laika would normally produce 5-6 seconds a week. So, I was working 9am till 3 am every day just to get everything I needed.
"Like all animators I'm an insane person and a control freak and would normally handle all the pre-production as well – editing, visual effects and compositing but I just didn't have the time. So, I drafted in my good friend Brandon Kahn to handle that side of the video. He did a cracking job, especially given the time."

Psychedlic Porn Crumpets – Mr Prism (BTS by Ollie Jones of Better Feeling Films)
The trust and synergy between band and director yields its rewards as Jones provides a striking clip for an equally striking song. The charm of the stuttering Claymation that leads into the visceral and detailed gore is an engaging contrast. It's a perfect embodiment of the idea that oddball concepts are not to be left behind and should instead be embraced. In the case of Mr Prism, they flourish. Hopefully, Jones and the Psychedelic Porn Crumpets join forces again and continue to cultivate exceptional content.
Here is the official video for 'Mr Prism'
Music Video Credits:
Animation by Ollie Jones of Better Feeling Films.