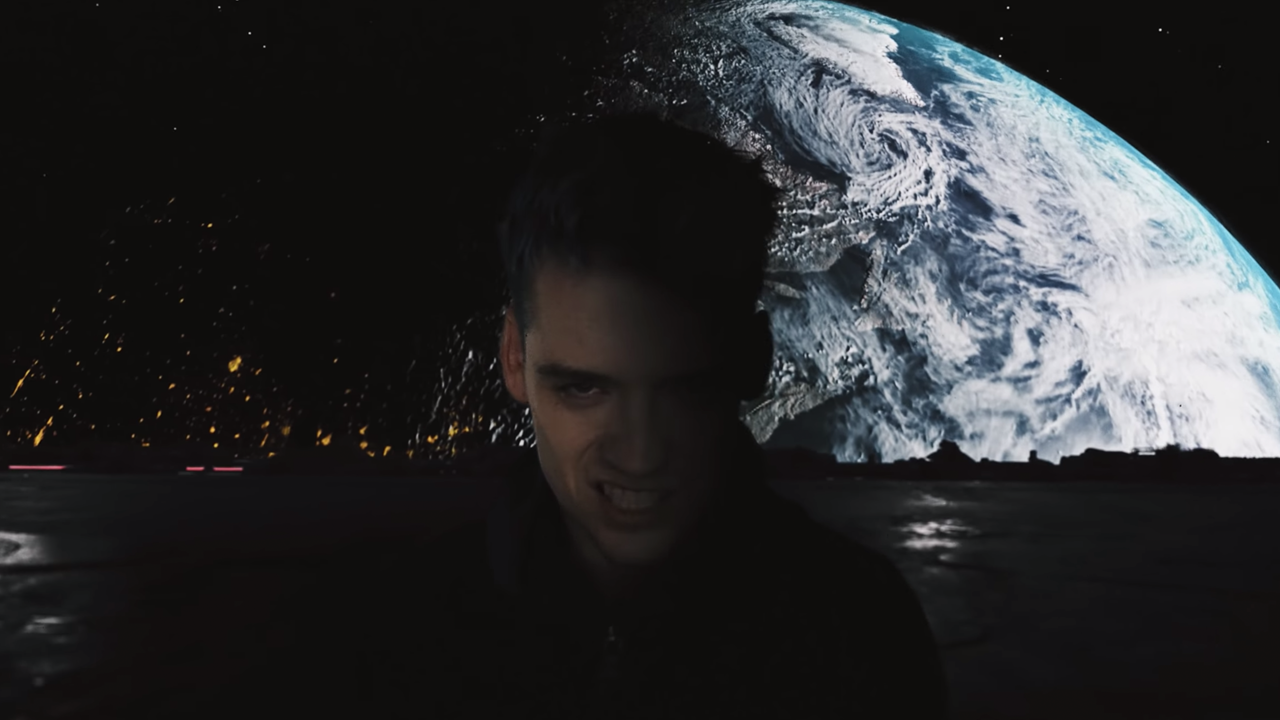 FEATURE: Boy Epic – Drama (Dir. Matthew Stallings)
Video games, sci-fi and anime have all come together to inspire 'Drama', the latest single and music video from enigmatic auteur Boy Epic, for whom the term multidisciplinary barely does justice. Having exploded onto the scene with his 2014 single 'Fifty Shades', inspired by the blockbuster saucy book series, Boy Epic has since maintained a massive cult following across multiple releases, every single featuring a video created, directed, edited and all the rest by Matthew Stallings AKA Boy Epic himself.

Boy Epic – 'Drama'
With his latest single 'Drama', Boy Epic has continued on this path of pop culture inspiration. He explains: "Well I was HEAVILY influenced by Mike Pondsmith's vision for CyberPunk 2077. The world, the feel, the gritty. I haven't been excited for a piece of entertainment like that in a very long time. It just inspired me. After watching the trailer for that game, I immediately drowned myself in movies like, Blade Runner, Ghost In The Shell, and novels such as Ready Player One, Neuromancer, and Snow Crash. I was obsessed!"
The video sees Boy Epic set against either bright pop-art/anime feel back drops or digital dystopian sci-fi worlds. Frenetic and even spasmodic in its editing and direction, the video draws heavily on the tonality of the song. Booming droning bass, beautifully coloured 70s sci-fi synth and barrels of attitude.

Boy Epic – 'Drama'
Boy Epic elaborates: "After doing my research, I knew I wanted to go into the studio and create music to fit my new found obsession. It's very important to me that the music matches the style of the video. It should ALWAYS be a complete package. I have a distaste for music videos that don't feel like they belong to the song. It's lazy and unimaginative."
This approach is screamingly evident in the video. The music and video fit so perfectly together that we asked Boy Epic about the process of conception, was he already planning the video when he was creating the music? Boy Epic replies: "I absolutely had a vision for this video going into the studio. I sat down with my good friend Jason Evigan who helped me write and produce this song and showed him this notebook I carried around with me, that I had sketches in and written ideas for this new world I wanted to build for myself. I told him my vision and we just started. After I saw the trailer for CyberPunk 2077 at E3 2018, I knew what I wanted the music and video to look and feel like!"

Boy Epic – 'Drama'
The auterist and all-encompassing nature of the way Boy Epic works means he is allowed so much freedom to really hone an idea and follow it right through to fruition. The massive world-building concept of 'Drama' sees Boy Epic delving into some personally uncharted filmmaking realms. The video being entirely built around green screen shots of Boy Epic then set against a variety of backgrounds and the heavy use of VFX was all a brave new world for him.
Boy Epic elaborates: "I think it's important to experiment onset, but for this particular video, I had a shot list I made for myself. I had it all mapped out in my head. I knew exactly where I needed to stand, how I needed to move, etc. This was my first try at green screen work and 3D VFX. So, I knew I had to get it right. Everything down to the lighting. I had no crew helping me. Just my wife and I. So, it was a challenge to say the least, and I learned a lot doing this. Especially in post. I was editing, while learning how to build 3D worlds at the same time. So, it took me a minute lol. The next one will be bigger and better!"

Boy Epic – 'Drama'
When seeing the finished product, it is truly astonishing to find out that this was Boy Epic's first foray into the expansive universe that is VFX. It's not only the intricate digital backdrops that he has created, but also the at-times subtle use of VFX throughout. The glitch editing and image composition. To add this new feather to his bow straps the possibilities for future Boy Epic videos to a rocket.

Boy Epic – 'Drama' (BTS Photo by Matthew Stallings)
Boy Epic appears to revel in this myriad of skills he has at his very own fingertips. When asked how important is to be in that driving seat at every level of his creation, about the freedom and control that comes with it, Boy Epic replies: "Directing and editing my own videos has always been "normal" to me. My vision for each project is important and I never want it stray far away from my end goal. That's not to say I'm not willing to collaborate in the future. The opportunity just hasn't shown itself yet. I think it's important to open your creativity to others, it just has to be the right fit. I'm waiting for that."
Here is the official video for "Drama"
Music Video Credits
Created/Directed/Edited by: Matthew Stallings. Inspired by: CyberPunk 2077