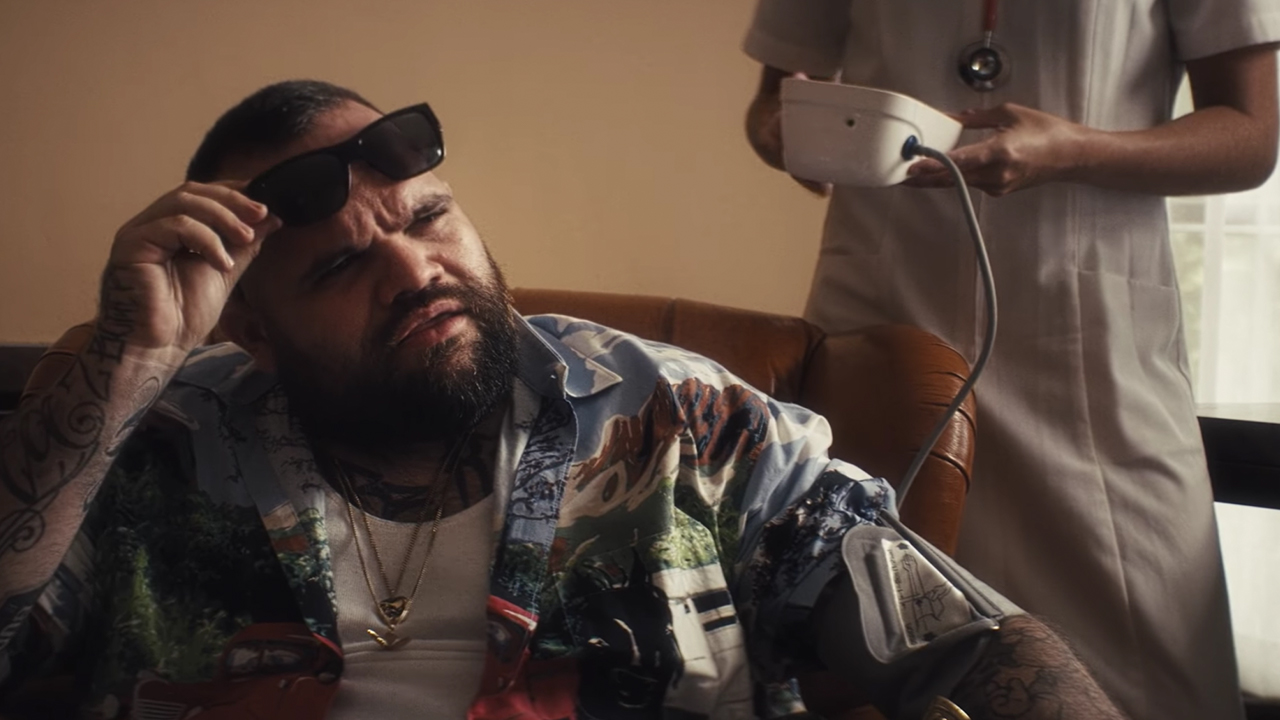 FEATURE: Briggs – Life Is Incredible (Dir. Dylan River)
B
riggs and his cohort of not-even-middle-aged mates check into a swanky retirement castle aptly titled "Whitehaven", and ruffle a couple of old white feathers in the process. From the synopsis, you could think this was a relic from that golden age of pop-punk videos in the late 90s/early 2000s. But, unlike then where the goal was essentially just "hey, look how bratty and upsetting of stuffy societal norms we are",
"Life Is Incredible"
has a much stronger message to convey.

Briggs – 'Life Is Incredible ' (BTS photo by Cole Bennetts)
While the lyrics of "Life Is Incredible" speaks more about privilege and the "plight" of white people, the video more specifically paints a caricature of a very real issue in the comparatively much shorter life expectancy of indigenous Australians.
Director Dylan River tells of how he and Briggs ended up at this approach: "I'd like to take full credit for the concept but that would be a lie, Briggs is a real talent when it comes to conceptualisation, he is a real ideas man and came up with the initial concept of his retirement as a comment on life expectancy. It was clear from the start that we didn't want to literally visualise the track and wanted to create a bigger discussion with the clip."

Briggs – 'Life Is Incredible ' (BTS photo by Cole Bennetts)
Briggs makes his way through lawn bowls, aqua aerobics and all manner of elderly activity, to the accompaniment of confusion and gritted-teeth acceptance from the resident old white bloke played by the incomparable Geoff Morell. As Briggs' mates keep dropping dead around him, all he can do is shrug and keep on rolling.
The video achieves that goal which Briggs and others in his oft-field of politically charged satire aspire to, the use of comedy to highlight real important issues. When asked about the balance of discussing a serious topic with such a comedic tone, River responds: "The track is fun, life is fun, in-fact life is incredible. I definitely wanted to create a colourful world, a dark comedy that is a bit tongue and cheek. Comedy is the best medium to get more serious topics across. With this colourful fun tone, it was important that a few of the deaths hit harder. We played with this in the edit to find a balance."

Briggs – 'Life Is Incredible ' (BTS photo by Cole Bennetts)
The comedic tone of the video is amplified by the approach, both in directing and cinematography, through the use of comedic zooms and whip pans. It's an approach that, while also adding dynamic, colours everything with that spaghetti-western self-awareness. River elaborates on these choices: "The clip was filmed by Tyson Perkins, he is a great ideas cinematographer and we work well together. For this clip, I decided to operate the camera."
"This was mainly a practicality thing as he could focus on lighting etc as I took care of the camera, but also I could push this idea of whip pans and crash zooms where I saw fit. Rap is a music form that uses word punctuation a lot. I thought the whip pans and zooms could continue this idea and punctuate visual points. It's an old western form and Tarantino uses them which seems to work for him!"

Briggs – 'Life Is Incredible ' (BTS photo by Cole Bennetts)
Alongside Briggs and the aforementioned Geoff Morell, "Life Is Incredible" features a mammoth cast. When asked about this aspect of production, River explains how big a part of the process casting was for he and Briggs: "We spent the two weeks leading up to the shoot getting on the phone and throwing around ideas. These were about scenes and locations but mostly about his mates."
"Who was going to come retire with him? We threw the invitation out and lots of retirees came to the party, it was very organic and was a lot of fun asking Adam Goodes, Micky O, George Rose, Nooky and Shari Sebbens to die on camera. Not to forget our extras, white nurses and especially Geoff Morrell for being a great sport and playing our token white fella retiree."

Briggs – 'Life Is Incredible ' (BTS photo by Cole Bennetts)
Including all of Briggs' friends, colleagues and prominent members of the indigenous arts community really endears the viewer to the video. There's that element of community and of having a laugh with your friends that is completely infectious.
Combine that with Briggs' near unmatched talent for a jibe laced with poignancy and delivered with a grin, and the competency behind the camera that Dylan River continues to show in every form he applies himself to – Unsurprisingly, the end result is, well, it's just fucking fantastic.
Here is the official video for "Life Is Incredible"
Music Video Credits
Director: Dylan River. Producer: Tanith Glynn-Maloney. Director of Photography: Tyson Perkins. Camera Assistant: Liam French. Gaffer: Russell Fewtrell. Production Design: Christina Bouzious. Production Manager: Kim Steblina. Production Assistant: Bianca Seminara. Briggs with Geoff Morell, Adam Goodes, Michael O'laughlin, Amrita Hepi, Nakkiah Lui, George Rose, Shari Sebbens, Nurses, Sam Nolan, Teigan McCarty, Bella Rodrigues. Thanks to: Luke Carroll.