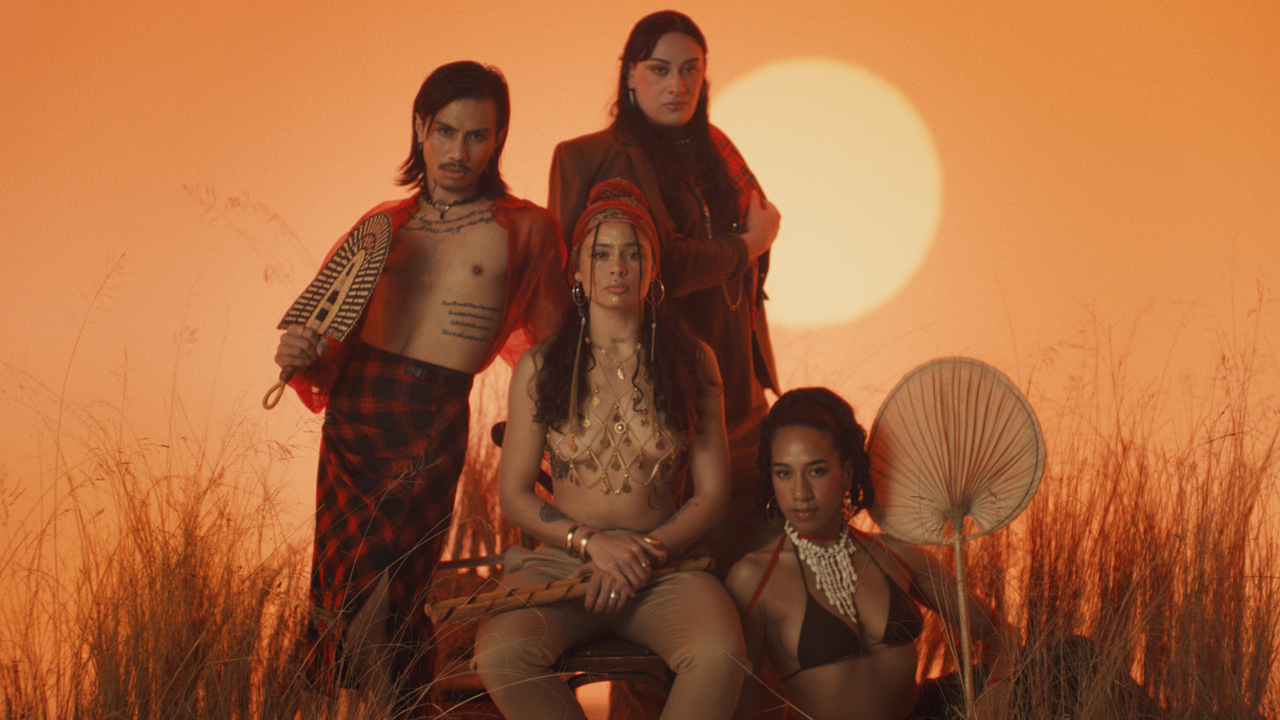 FEATURE: BVT – LALAKI (Dir. Steph Jowett)
Multi-hyphenated artist BVT continues their mission to bridge the gap between the LGBTQI+ community, mainstream hip hop, and the diasporic experience with the release of their latest music video, Lalaki. Through the powerful intersection of culture, queerness and identity, the clip acts as ode to Pre-Colonial Philippines. A collection of scenes depicting this golden era, modernised by a rapturous hip hop beat, finds its shape as a defiant protest of the colonial mindset. Directed by Steph Jowett, the video celebrates the diversity of the Filipino people, both past and present. Jowett elaborates on the video's grounding in the Filipinx experience:
"I really wanted Lalaki to be a nod to iconoclasm (image-breaking) of the Filipinx experience and its history. It was really important for me to combine history, fantasy and the modern lens to create a new image; a new future."
BTS by Tilly Robba & Steph Jowett
The clip is bookmarked by intimate docu-style footage of BVT visiting their Apo in the Philippines. It's a powerful device that cements the video's exploration of ancestry and history. Working in direct stylistic contrast to the rest of the video, the moment plays a vital role in communicating BVT's own aspirations to explore heritage through art. As we witness BVT reconnect with their Apo, it feels like a homecoming, a return to roots, and a reclaiming of identity. Jowett explains:
"The docu-footage was requested from BVT. We were able to find a place for it in the music video and make it really meaningful. It becomes a beautiful homage to BVT's Apo, and a visual signifier of the diaspora experienced by many people from the Philippines, through its juxtaposition with the rest of the clip."
BTS by Tilly Robba & Steph Jowett
BTS by Tilly Robba & Steph Jowett
The clip is driven by a sequence of powerful tableaux, each with a unique visual design that attests to the video's themes of culture and queerness. The first of these is an image of three dancers, silhouetted by a fiery orange light. Their movements are dynamic, giving the sequence the feel of flicking through a series of images. As we spend more time in each tableau, we travel through a Pre-Colonial Garden, a ceremonial dance, and a fight scene. Jowett provides some insight into the purpose of these moments:
"The Filipinx experience is so rich and diverse, that it could never really just be one image, so I wanted to create a collection of tableaux (living pictures) and I just wanted to pack the 3min video in with a whole lot of these beautiful and rich living pictures. I had 6 grounding themes that everything came back to, which was Gold, Family, Sun, Land, Guidance and Moon. BVT really helped with this, with her initial research and her insane knowledge on Pre-Colonial Philippines."
BTS by Tilly Robba & Steph Jowett
Before the video's conception, dance has long been associated with Lalaki, as choreographer Jeremy Lloyd Santos had previously collaborated with BVT on a dance for the song's live performances. As with many cultures, dance has a historic connection to Philippine ritual and collective memory. Santos' melding of hip hop and traditional movements is performed as a dialogue between the past and the present, telling the story of them finally reuniting.
"When I was coming up with the shot-list I used a video of the performance they did at Sissy Ball for reference. I not only wanted to frame moments in the choreography but amplify it. For example, at the beginning of Jeremy's choreography there were strong shapes that the dancer's bodies made which we ended up creating the silhouette scene for. In Jeremy's solo we shot it at a lower frame rate to extend and elongate their movement, and in the hand, choreography parts I made some gold long nails for all the performers (which was a nod to a traditional 'fingernail' Philippine dance), then we dipped their hands in gold glitter because we are extra like that."
BTS by Tilly Robba & Steph Jowett
To heighten the dynamism of Santos choreography, DP Kate Cornish chose to shoot on the Alexa Mini LF. Its immersive large format look and high dynamic range was instrumental to achieving the video's sleek aesthetic. As a camera that thrives in low light, the Mini LF was the perfect choice for capturing the clip's striking silhouettes, allowing Cornish to utilise high contrast, coloured lighting. The vivid lighting acts as the video's set design within the bare studio setting. The overhead lights in hues of orange, yellow and red are reminiscent of the sun, a motif which transports us from a Sydney studio to a humid sunny day in the Philippines. Cornish explains why shooting in a studio was important for achieving this look:
"Shooting in a controlled studio enabled us to pre-light the entire space during bump in and control our intensity, colour temp and RGB lighting states remotely. It also enabled us to get the appropriate height for the sun motif behind BVT, which we wouldn't have been able to achieve lighting from the floor."
BTS by Tilly Robba & Steph Jowett
BTS by Tilly Robba & Steph Jowett
Lalaki is a formidable tribute to the diasporic experience of the Filipino people. Its boldness, depth, and creativity perfectly complement the potency of BVT's lyrics, delivering a unifying message of strength to all QPOC people.
Here is the official video for "LALAKI"
Music Video Credits
Director & Editor: Steph Jowett. Producers: BVT & Steph Jowett. Cinematography: Kate Cornish. Movement Director: Jeremy Lloyd Santos. Production Design: Tilly Robba & Steph Jowett. Styled: Red Rey. 1st AD: Audley Anderson. Lead Hair & Make-up: Jade Diaz. Hair & Make-up Assists: Yassica Switakowski & Davina the Transfiguress. Starring: Jeremy Lloyd Santos, Fetu Taku, Taimania Foai, Red Rey, Davina the Transfiguress, Nathan Zabala & Mischa Zabala. Colourist: Alina Bermingham. 1st AC: Trudi Gultom. 2nd AC: Irisha Adnyana. Steadicam: Alex Mayo. Gaffer: Heather Fletcher. Best Boy: Wesley Mark. Production Assists: Ella Hadzioanou & Raven Pajarillaga. BVT Manager: Jess Dos Anjos. Special thanks: all the ACF sponsors, Join The Dots & Shane Avenue