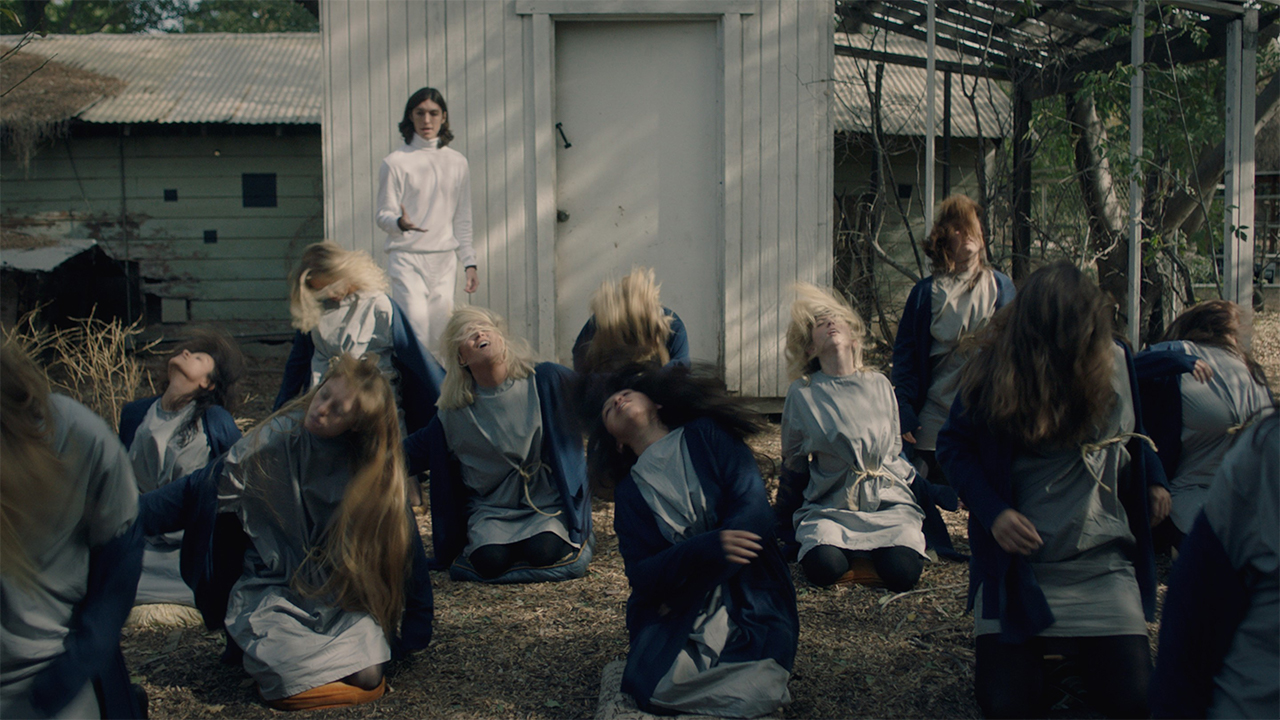 FEATURE: Charly Bliss – Chatroom (Dir. Maegan Houang)
At first glance, Brooklyn power-pop quartet, Charly Bliss's new track "Chatroom" feels playful in its synthy mid-tempo groove, but a deeper dive into the lyrics reveals quite a dark recollection of sexual abuse and trauma.
When director Maegan Houang came on board, she was intent on representing the harder truths of the song in the video. "As Eva (Hendricks, Charly Bliss frontwoman) mentioned in her interview with Jezebel, the song was influenced by her own experience with sexual assault and I, unfortunately, had experienced something similar. It was important to both of us, I think, that the video capture aspects of that experience without showing someone be assaulted."

Charly Bliss – 'Chatroom' (BTS Photo by Hannah Claire Baker)
When coming up with concepts for the video, Houang chose to allegorise the control and the blind faith-like support that surrounds sexual abuse and perpetrators through the story of women being involved in a cult, saying: "Based on both our experiences, I felt that a cult and a person's relationship to a cult leader – the inability to see someone for who they really are and idealize them – reflected, at least how I felt, after I was assaulted."
Houang continues: "It was difficult, almost impossible to believe that someone I had dated and once loved could treat me with so little respect. It was also difficult that we had similar friends and many of my friends in college didn't believe me. That idea of being surrounded by people who keep believing and trusting someone they shouldn't felt like it resonated with living in a cult with an iconic, abusive leader. In many ways, rape culture is its own cult."

Charly Bliss – 'Chatroom' (BTS Photo by Hannah Claire Baker)
This very deep personal connection that Houang has with the subject matter, makes for a really interesting and involved contemplation of the situation these women find themselves in. While the cult members and in particular the lead (played by Eva Hendricks) show clear devotion to their leader, there is always an element of fear or trepidation in their expressions and their actions. This use of fear as a means of control is a very real element of the cult leader's relationship to their followers, and one also present in the actions of many abusers.
When asked if it was important to her to portray the leader/follower relationship in this way, Houang replied: "I think it's very easy for a story like this in a music video to become comedic and I wanted to keep the story as grounded as possible. I've never been in a cult, but I connected to the idea of admiring and loving someone so much that you also constantly fear their rejection. When the women sit in the circle, they are both desperate to be chosen and terrified he won't pick them. I thought Kailer Scopacasa, who plays the cult leader Simon, and all the actresses did a great job depicting that dynamic."

Charly Bliss – 'Chatroom' (BTS Photo by Hannah Claire Baker)
The performances of the entire ensemble really do bring home the intensity of the situation they are in, especially when the dynamic is presented by Houang in scenes that appear to show the cult members participating in abnormal, yet seemingly for them, day-to-day activities. Whether it's Simon the cult leader overseeing a team rapturous convulsion session, or just the uncomfortable way in which the congregation dine together, there is forever this feeling of oppression and heaviness to their interactions.
This feeling of control and confinement is also highlighted in the way the video is lit, rather dark and shadowy. Even in the shots of the congregation outside, the light is dappled through tree branches, casting stripey, finger like shadows across everything. In addition to this, a lot of the video is shot in small rooms, using tight shots and often framed by other members of the group, which contributes to this overall very personal and tense sensation.

Charly Bliss – 'Chatroom' (BTS Photo by Hannah Claire Baker)
Houang had a very clear cinematographic approach to enhance this feeling, stating: "I wanted to use composition to create a sense of claustrophobia for Eva's character. That's a big reason the cinematographer Joanna Nguyen and I decided to shoot in 4:3 rather than widescreen. It allowed us to stay centered on Eva's character's experience and crowd the frame. We came up with a few rules before production including only centering Simon, the cult leader, and keeping the women framed more to the sides of the frame, unless they get chosen. This was also a lower budget music video and keeping the frame crowded with people allowed us to give the suggestion of a cult without needing an excessive number of extras or costly set design."
Throughout the video, Houang attaches a red motif to the cult leader. Often in very subtle places such as the beads around his wrists, the tomatoes he is eating, the lamps he surrounds himself with, this dangerous colour among the more neutral whites, greys and blues of the rest of the video hint at a certain evil that is sitting just below the service. This eventually escalates when Eva is invited into the private room of the cult leader and everything is red. This is when she learns the true danger of this man.
On this, Houang says: "In the first treatment I wrote, I called the inner sanctum area the Red Room and that color became quickly integrated to reflect Simon's true intentions. Eloise Ayala, the production designer, did a great job incorporating red into Simon's platform in the common area, where the girls eat and hang out. By having small moments of red before seeing the Red Room, we hoped it would help make the reveal of the Red Room and that he wants her to kill her friend feel more organic."
Charly Bliss – 'Chatroom' (BTS Photos by Hannah Claire Baker)
When Eva is confronted with the dark reality of the cult, instead of turning against each other, she and her counterpart work together to kill Simon and escape. As they flee the cult house, hand in blood covered hand, we see that women working together can be strong and can overcome a system that is geared towards their silence and their suffering.
It truly is no mean feat, what Maegan Houang has achieved here. A brilliantly thought-out and executed video that stands on its own without the message, but is also made so much richer by the allegory within. It is extremely clear from her words just how much this project meant to Houang and it is also evident in every frame of the final product.
Here is the official video for "Chatroom"
Music Video Credits
Director: Maegan Houang. Producer: John J. Lozada. Cinematographer: Joanna Nguyen. Casting by: Liz Lewis Casting Partners. Production Designer: Eloise Ayala. Floral Sacred Room Design: Giovanna Chiarella. Costume Designer: Raquel Rivera. Editor: Gus Spelman. Color Correction: Jack Caswell. Sound Design: Grant Meuers. Co-Producer: Marc Kaplan, Elizabeth Litvitskiy. Hair & Make-up: Kelly Park, Akihiro Sawada. Movement Consultant: Adam Mazer. Assistant Director: Kat Nguyen. 2nd AD: Katherine Steinbauer. 1st AC: Mary Brown. 2nd AC: Eric Gesualdo. DIT: Jayvee Salunga. Gaffer: Rodolfo Martinez. Best Boy Electric:  Wolf Lizotte. Swing Grip: Matthew Kleppner. Art Director: Giovanna Chiarella. Floral Crowns: Cynthia Wu. Set Dresser: Sofie Somoroff. Prop Master: Zoë Bax. Production Assistants: Ryan Bedsaul, Elizabeth Olmos, Alana Torres, Blake Zeller. BTS: Hannah Baker. Production Company: Imposter. Executive Producer: Alex Brinkman, Avtar Khalsa. Head of Production: Alexis Celic. Special Thanks: Chris Ernst, Standard Camera, Henry Kaplan, Big Time Locations, Warren Coulivan.  Starring: Eva Hendricks, Kailer Scopacasa & Sophie Lamzik with Amy Ellis, Alexandra Owen & Cassy Crandall. Hunters: Spencer Fox, Sam Hendricks, Daniel Shure. Background: Celia Bernstein, Shealyn Biron, Stacy Chu, Michelle Curiel, Heidi Kendrick, London Murray, Milagros Ortega, Jamie Shelnitz. Women on the Wall: Hannah Baker, Milla Bell-Hart, Rebecca Engle, Brenna Galvin, Elizabeth.