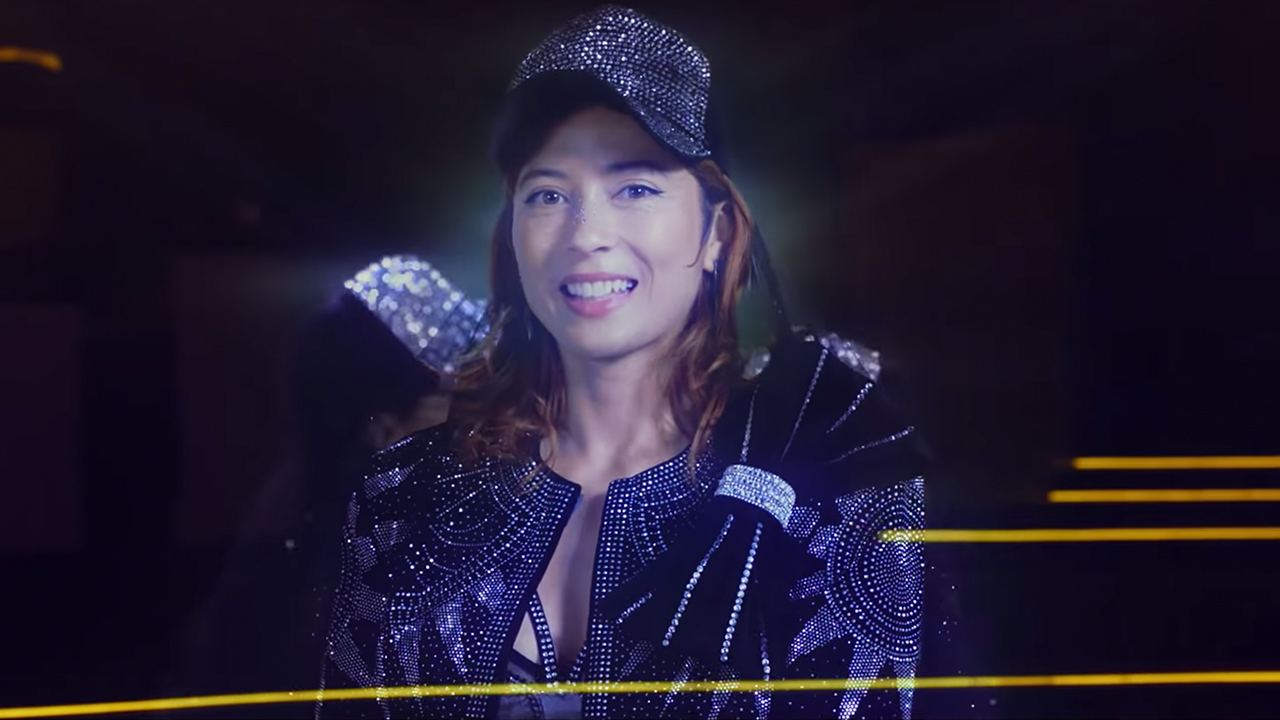 FEATURE: Chela – Delivery (Dir. Chela)
In the modern world, connection is a many-formed and complex thing. We've come a long way from the pre-destined relationships of the past, seeking magical moments with people in all manner of settings, from locking eyes across a bar to sniffing out potential mates on particularly brutal dating apps. For Melbourne pop machine and multi-talent Chela, it was that certain lack of realness in today's interactions, that inspired her video for 'Delivery'.
"I'm continuously disappointed about the face-to-face connection we have lost as a society in having these devices in our palms." Chela muses: "I watched a film called Mid90s recently (highly recommend) and there's a scene where everyone in this skate park is blissfully engaging with one another without technology. It broke my heart. I guess I wanted to incorporate this darker sense of what is to come in the video to magnify the importance of lost connection."

Chela – Delivery (BTS Photos)
In 'Delivery' Chela ponders the idea of destiny and meant-to-be relationships, seemingly both from that romantic fateful point of view, but also in the way that the soulmateconcept is about finding someone who endures with you through all the natural peaks and troughs of a relationship. When partnered with Chela's upbeat and intriguingly future/retro style of production that feels fresh and new while also taking reference points from 80s and 90s pop, it makes for an overall really uplifting and enjoyable aural experience.
The song's visual accompaniment follows a protagonist who sits alone in a futuristic bar. In search of that all-important connection, they make a selection on a jukebox and reveal a hologram performance from Chela and two dancers. The protagonist clearly shares more than your average fandom with Chela, a really interesting take on relationships that is given even more intrigue when a shot of the main character's tattoo reveals that Chela has died.

Chela – Delivery
"I'm not sure how it originated within my mind," says Chela, "however I remember listening to the song shortly after writing it and imagining the silhouette of someone I loved dancing in a window and being a sort of ghost on the street watching them. One idea linked to another as I dreamt up the futuristic surroundings of this scene and I imagined someone walking down that street into a bar where their only sense of connection was to a jukebox. It didn't take long for the eventual idea to flourish from there!"
The production takes so much value from this amazing futuristic setting that Chela and art director Marni Kornhauser have created by utilising the already very cool space on offer and embellishing on it with the futuristic styling of the surrounds and it's ancillary characters. We're such massive fans of Kornhauser's work here at CLIPPED, so it was lovely to hear Chela share that same fondness: "It was a dream to work with Marni as we've been friends for years since my days working in film and I've always admired her work. She suggested we shoot at Bond Bar in Melbourne CBD, and when we saw it IRL we knew we had to have it! Marni's vision was invaluable for bringing this concept to life."

Chela – Delivery
There is so much energy in the way Chela's hologram performance is shot, the camera moves dynamically around the space as she and her shimmering opaque dancers fill it. When the much easier but much less interesting approach would've been to shoot the performance from a select few locked off angles, we wondered about the process of putting this altogether so smoothly: "We shot the dance performance on a green screen at Flood Slicer in Prahran prior to shooting at the bar. Marni measured up a large portion of the venue and we worked with those measurements to know where to shoot from on the green screen (height and distance). We also had to choreograph the speed of the camera movement to sync up on both days. It was slightly challenging as I hadn't shot something like this before, however it all went smoothly thanks to having such a professional team."
'Delivery' is the most recent of many music videos that Chela has self-directed, along with strong involvement in other facets of the filmmaking, including choreography and styling. When asked about the importance of being so involved in a project from conception right through to release, Chela replies: "I couldn't imagine leaving the creation of one of my videos in the hands of someone else. I enjoy and relish in the process so much, and trust myself. I'm not sure what's more stressful, waiting to see what someone comes up with, or working hard on it myself. I'd like to be less of a control freak, and I do often come across people I'd love to collaborate with, so I think that's what will come next."

Chela – Delivery (BTS Photos)
Being so involved in the process and in tune with everything that's being put out, one wonders if the world of songwriting and filmmaking ever meld at a conception point. However, Chela's explains that her approach is generally respectful of a separation between the two: "I'd say they are separate processes! The song is more important. Once the song is feeling good, that'll often spark an idea for a video. Sometimes that happens immediately whilst writing a song, sometimes afterwards. But the video feels more malleable to the song, than the other way around."
Here is the official video for 'Delivery'
Music Video Credits
Director: Chela Producer: Zena Bartlett Producer: Emelyne Palmer Cinematographer: Stefan Duscio Choreography: Chela & Aisha Kuryana 1st AD: John Sandow 1st AC: Matt Dobson 2nd AC: Aiden Heller Elexs: Crispian Hailer Elexs: Massimo Luongo Elexs Assist: James Thompson Grip: Glenn Arrowsmith Grip: Johnny Reegan Grip: Darryl Murphy Art Director: Marni Kornhauser Art/Stylist Assit: Ulla Westergren Art/Stylist Assit: Mindy Cluer Art Assist / Stills: Jerome Williams Hair: Frank Valvo Make Up / Hair: Meg Mcconville Make Up / Hair Assist: Candice September Stylist: Chela Stylist Assist: Kat Rose Pure Stylist Assist: Steph Marks Stills: Celeste DeCalrio Runner: Oscar Oshea Runner: Jobe Macshane VFX Supervisor: Nick Lines VFX Assist: Gene Editor: Emily Robb Colourist: Ciara Gallogy Online Artist: Drew Moden Graphics: Santi Urso CAST Lead: Joao Marcolla Dancers: Aisha Kuryana, Lauren Drago, Callan Hales Extras: Kristina Miltiadou, Miles Brown, Jayden Lewis, Clair Deluge, Steve Fernando Jukebox Records: Gus Dapperton, Seth Bogart, Your Smith, Basenji, Loose Tooth Special thanks to – Creative Victoria Panavision Melbourne Glenn Arrowsmith Kirsty Barros Ruru Reedy Flood Slicer Studios Bond Bar Melbourne Bruno Raffaele at AVFX Shag Melbourne Victoria/Kun Wang Heather Daniel Lucinda Babi Love Maifesto Puma Australia Self Perform