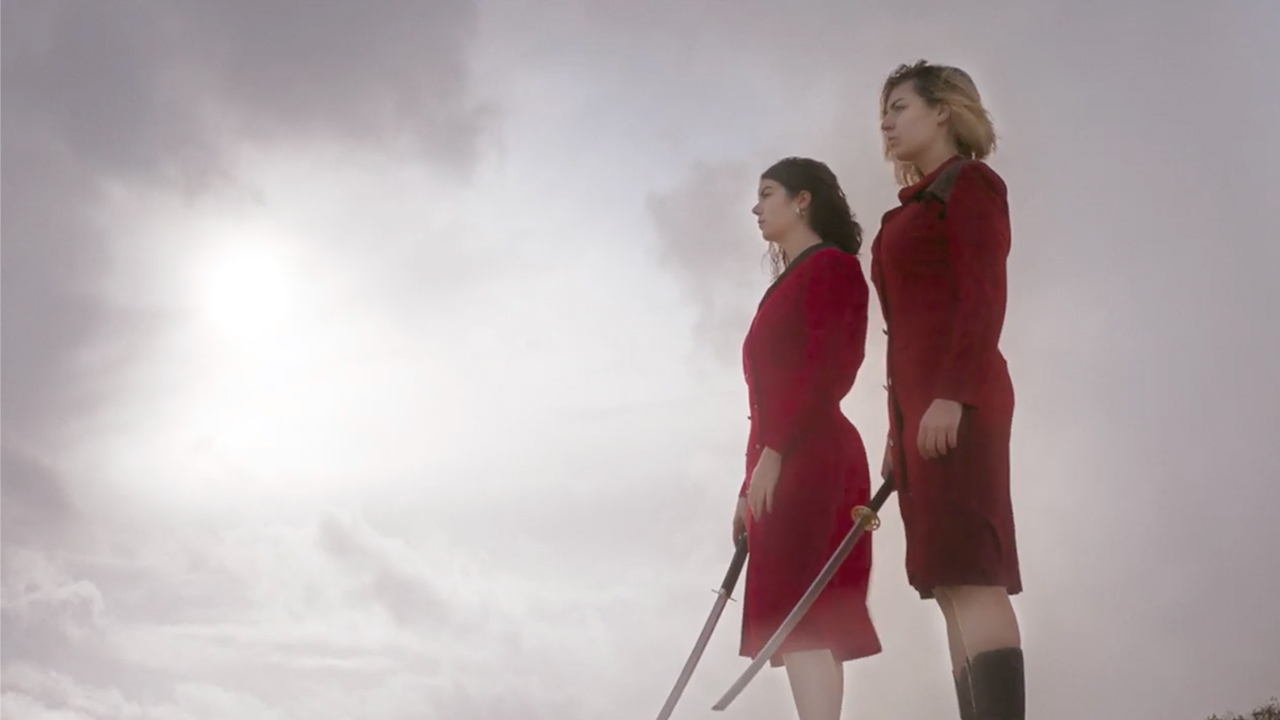 FEATURE: Clews – Hollywood (Dir. Maya Luana)
When you hear the phrase "Hollywood Power Couple" there are some obvious ones that come to mind. Beyonce & Jay Z, Ellen DeGeneres & Portia De Rossi, those two made up dudes in that new Tarantino flick, when really, the only powerful pairing we should all be talking about right now is the unstoppable force that is Clews & Maya Luana.

Clews – 'Hollywood' (BTS Photo by James Brazel)
'Hollywood' is the latest in a long line of successful collaborations between the Sydney dream rock sisters and their go-to filmmaker, and sees Luana delivering Clews' ode to awkward adolescence as a surreal silver screen showdown. Luana explains: "I think it started with the title and also how the song was produced – both certainly inspired a dramatic aesthetic and it was really fun figuring out how to visually express the theatrical quality of the concept."
"I know from Lily that the song is sort of contemplating of the period in your life where you transition from adolescence into young adulthood, and so I was excited to try and hint at that in some way. One could read into the theatre as a representation of that limbo period we can find ourselves in, where we come to terms with how our lives are changing and the new phase that awaits us."

Clews – 'Hollywood' (BTS Photo by Haydon Fenning)
The video is centred around Clews, adorned in angel wings, sitting in a gorgeous old theatre, watching themselves engaging in a swordfight while the screen is slightly obscured by ominous shadowy figures in undertaker hats. It's a rich surreal take on the concept of coming to understand a transitional phase in your life, made all the richer by the way the video is shot.
There is a very distinct differing aesthetic between what is happening on the theatre's screen and the shots of Clews in the theatre itself, achieved both in camera and in the edit. Maya Luana elaborates: "We did use different cameras – I wanted to seperate the two worlds as much as possible, visually… I'm always looking for ways to challenge myself as a filmmaker and develop my craft so this shoot was a great opportunity to experiment with filming two totally opposing locations and all the different character they bring, while trying to match both shoots up to make a coherent whole."

Clews – 'Hollywood' (BTS Photo by James Brazel)
"The Amira gives such a subtle richness to the picture – which we used in the theatre to capture the majesty of that world. I wanted the camera to move stealthily throughout the theatre, heavily inspired by a lot of David Lynch's work, to create an ominous and almost creepy sensation. The fight scenes could feel a little more visceral – we shot that with the C200 which still has beautiful skin tones but is a little more ergonomic for all of the handheld. It was essential that the pace and movement juxtaposed the theatre world and drew the audience in to the narrative."
Shot at the historic and stunning Civic Theatre in Newcastle, the location brings with it so much inherent character. Not only does the theatre's renaissance inspired design elevate that creepy sensation that Luana was so intent on, but its vast emptiness injects the video with such grandeur. When asked what the experience of filming at the Civic was like, Luana replies: "Pretty special, for sure. I'm always on the hunt for epic locations. My style as a director is usually built on the world I create. I'm always trying to twist reality in some way and the Civic Theatre in Newcastle really is other-worldly. The textures and colours are so tangible in this film – I love the richness of each shot in the theatre. It's sensory overload!"

Clews – 'Hollywood' (BTS Photo by Haydon Fanning)
As 'Hollywood' marks the fourth music video Maya Luana has directed for Clews, it's clear that there is something special about the creative relationship between the three women. When asked what makes their working together so successful, Luana replies: "Working with Clews truly is the dream. I've also photographed the girls for all of their releases thus far working collaboratively to maintain a consistent aesthetic. Lily and Grace both have super clear and premeditated ideas on how they want the band to be perceived (visually and sonically) which makes my job a little easier! That being said, they give me a lot of creative freedom and so I get the opportunity to really stretch my wings and slowly discover who I am as a creative and as a director."
Here is the official video for "Hollywood"
Music Video Credits
Produced and Directed by Maya Luana Cinematography by Tom Black and Nik Damianakis Assistant director: Haydon Fanning Gaffer: Tom Keyes Camera assistant: Gary Morris Runner and BTS: Ronan Geraghty Colourist: Daniel Pardy Special thank you to Angus Bowring, Joey Watson, Charlie Waldren, Eilidh McGuire, Caitlin Erbacher, Eva Claire, Sofia Matulikova, Bernie Bolger, James Brazel, Gabriel Clement and Liam Anthony McGarry.