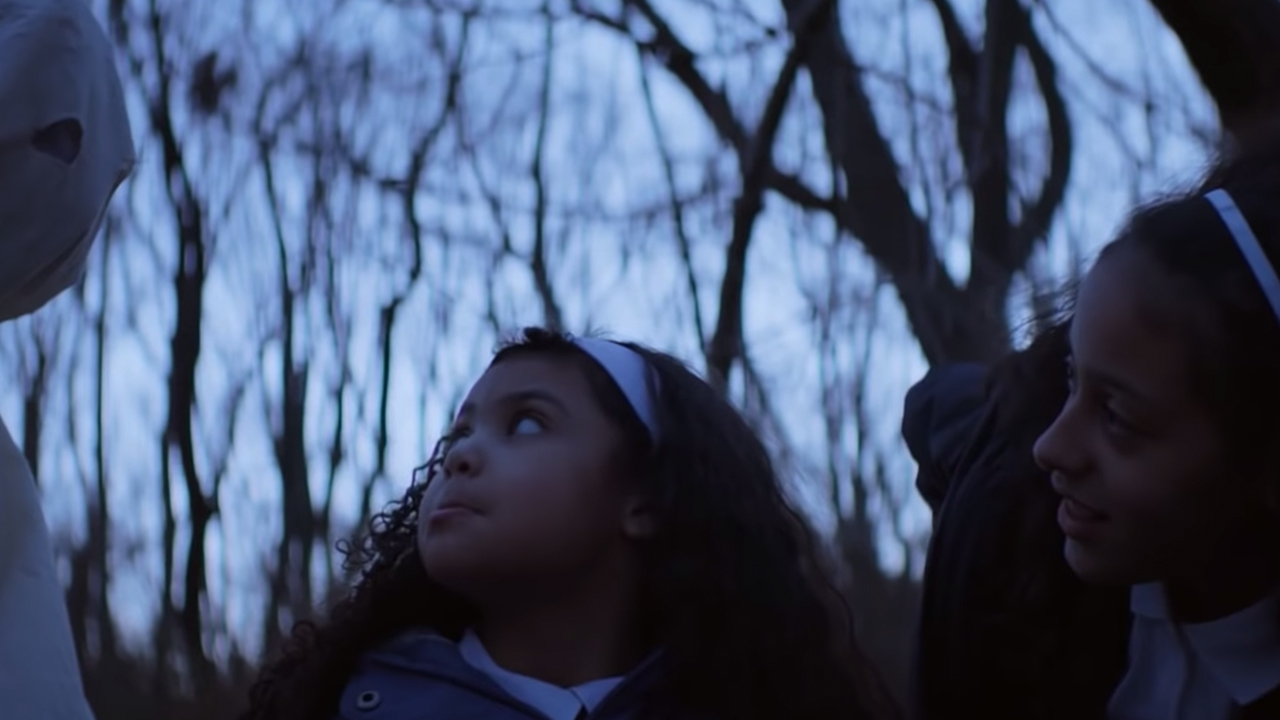 FEATURE: duendita – Magdalena (Dir. S. Ismail & G. Sedano)
When you lose a loved one, their memory will stay with you forever. Though it can bring sadness and longing, sometimes just their lingering presence can be a source of comfort or strength. In "Magdalena", New York surrealist neo soul singer duendita delivers a love letter to a lost loved one.
Directors Sandy Ismail & Godfred Sedano took on this theme when conceptualising the video and decided to take it in a slightly abstract and artistic direction. "Candace (duendita) approached us wanting to work together for the Magdalena visual. She had mentioned the song was about her late Aunt and she wanted to include her relationship with her cousin."

duendita – 'Magdalena' (BTS photo by Natasha Wong)
"Her Aunt had raised her while her mom would work and take care of the two. Hearing the description of the real Magdalena we immediately thought of taking the image of this guardian angel and making it come to life. We were inspired by Studio Ghibli films Spirited Away and My Neighbor Totoro both containing characters who have mute guardians. We had originally wanted a more animal-like creature, but we connected with the films due to the innocent nature and the fantastical elements."
The video revolves around two girls, young versions of duendita and her cousin Lily, who are accompanied through life by a mysterious presence, a shrouded figure who brings them comfort and guidance. There is a wonderful sorrow in the Magdalena character. With its expressionless features and elongated limbs, in a different context it could be a pretty terrifying horror movie villain. But in this setting and particularly given the way the children react to it with such warmth, it feels more like a beautiful depiction of an almost indefinable presence.

duendita – 'Magdalena' (BTS photo by Natasha Wong)
There is real familiarity throughout the video. Ismail and Sedano have been able to anchor this somewhat supernatural theme of the video in reality, making you truly feel for this relationship. A lot of this authenticity can be attributed to the cinematography, as the video is shot with hand held cameras and more character focused than overly cinematic.
Sedano explains this approach: "We wanted handheld for the movement and to have it feel more organic less like this world was being set up or fabricated but to give the viewer a sense that they are just observers, another force in the story." On the realism, Ismail adds: "The camera makes the environment feel more active almost as if you are just keeping up with the girls through their day. It's a good way to ground us in the reality and the fantasy at the same time."

duendita – 'Magdalena'
The one shot that breaks from the format of the rest of the video is around the midpoint, where the children and their companion are walking home in the dark. The Magdalena character stops in a pool of light, not wanting to leave the light's warmth and re-enter the dark. She has to be coaxed to move on by the young girls. The symbolism of this shot has many layers and allegories to the concept of death, but the most profound effect of the scene is in showing us so much about the relationship of child and guardian.
Sedano elaborates: "That shot was Sandy's idea to have that be the transition into the more fantastical part of the video. We also wanted to play with the idea of children being afraid of the dark and we wanted to turn it on its head and show the vulnerability of Magdalena. The relationship is symbiotic they are there for her just as much as she is for them in this journey."

duendita – 'Magdalena'
When asked about the genesis and execution of the shot, Ismail replies: "That shot in particular was heavily inspired by My Neighbor Totoro more specifically the bus scene. We almost didn't get that shot due to time crunches and weather. We were really worried about the end result, but we were satisfied in the end. Overall, that film really delivers the message about facing fear in all ways possible."
This scene transitions into the climax of the video. The girls sit in their room with Magdalena and as they share their love, suddenly the room becomes filled with balloons and warm colourful lights. The swirling colours bookends the video, feeling reminiscent of the video's colourful prologue.

duendita – 'Magdalena'
When asked about this, Ismail replies: "We wanted the beginning to feel like the opening of a book or close to an old Disney film. The entering of this little tale. We looked at Punch Drunk Love's intro as the base and looked into the methods they used and decided to experiment with coloured lights and came to that sequence. The room sequence was to show the gift that Magdalena gave which is the girls bond and space which to this day the real Candace and Lily have."
That real bond between the cousins is shown so wonderfully in the video's epilogue, using real footage of Candace and Lily, now grown up, but still enjoying each other's company with that childlike glee that returns to us when we hang out with people from our youth.
When a pillar of strength is missing from our lives we can feel so alone. Duendita so wonderfully capture this feeling with the recurring lyrics: "Save me now. The world is broken, I'm feeling down. Your love's so pure, please send some now." However, it is in these moments that we can be reassured, that just the memory of somebody can be enough to go on.

duendita – 'Magdalena'
There is so much heart in this video. To have been able to capture that feeling of comfort that can come from reminiscing is truly remarkable. It is extremely apparent that a great deal of this success can be attributed to the personal connection the directors shared with the song and the concept. We asked Sandy Ismail and Godfred Sedano why they chose to direct this video together and what it was about their collaborative relationship that made the video work so well.
Ismail replies: "We had never worked together as directors before this. But we felt that the narrative was so personal to both of us because we had people in our lives who we can attribute a lot of ourselves to who have passed and left a lasting impact on us. It's as if my childhood memories were being displayed before me."


duendita – 'Magdalena' (duendita and Lily with their Magdalena)
We asked director Danny Cohen, especially given the subject of the song being feeling too self-conscious to even enjoy yourself, was this candidness a directive going into the shoot or was it something that happened organically? Cohen replies: "I think it was a bit of both. I wanted the performance to feel relaxed, like you're there in the brain with them, like you're a mate."
Sedano replies: "The kitchen in the video is of my late grandmother who took care of me when my mom couldn't pick me up from school. The school scene takes place in Sandy's old high school. Both of us put very personal details in it for ourselves but to those we loved and being so close as partners helped a lot. We wanted nothing but the story to be told right and we split the work load to make sure we could. It felt like a huge game of pretend and it was fun for us. 10/10 would do again."
Here is the official video for "Magdalena"
Music Video Credits
Directors: Sandy Ismail & Godfred Sedano. Producers: Livelle Collins & Liam Christoffers. Assistant Director: Liam Christoffers. Cinematographers: Alexander Echevarria (1st half), Natasha Wong & Sandy Ismail (2nd half). 1st AC: Jackson Warner Lewis. 2nd AC: Henry Winter. Production Design: Ameer Kazmi. Art PA: Idalis Rideout. HMU: Miwa Sakulrat (2nd half). Set PA: Patrick Merveille. Colorist: Natasha Wong. Jewellery: Godofredo Sedano. Cast: Young Duendita: Camryn Briana Santiago. Young Lily: Dasani Nunez. Magdalena: Ali Zaman. Mom: Victoria Bermudez. Special Thanks: Magdalena, Migdalia Ortiz, Daniel Ennab, Lily Vera, Yessenia Melenciano, Damaris Febus, Andrew Parra, Amal Hawari, Renzo Sedano, Melissa Lopez, Jelani Sanchez, Kenneth Misael Pineda.