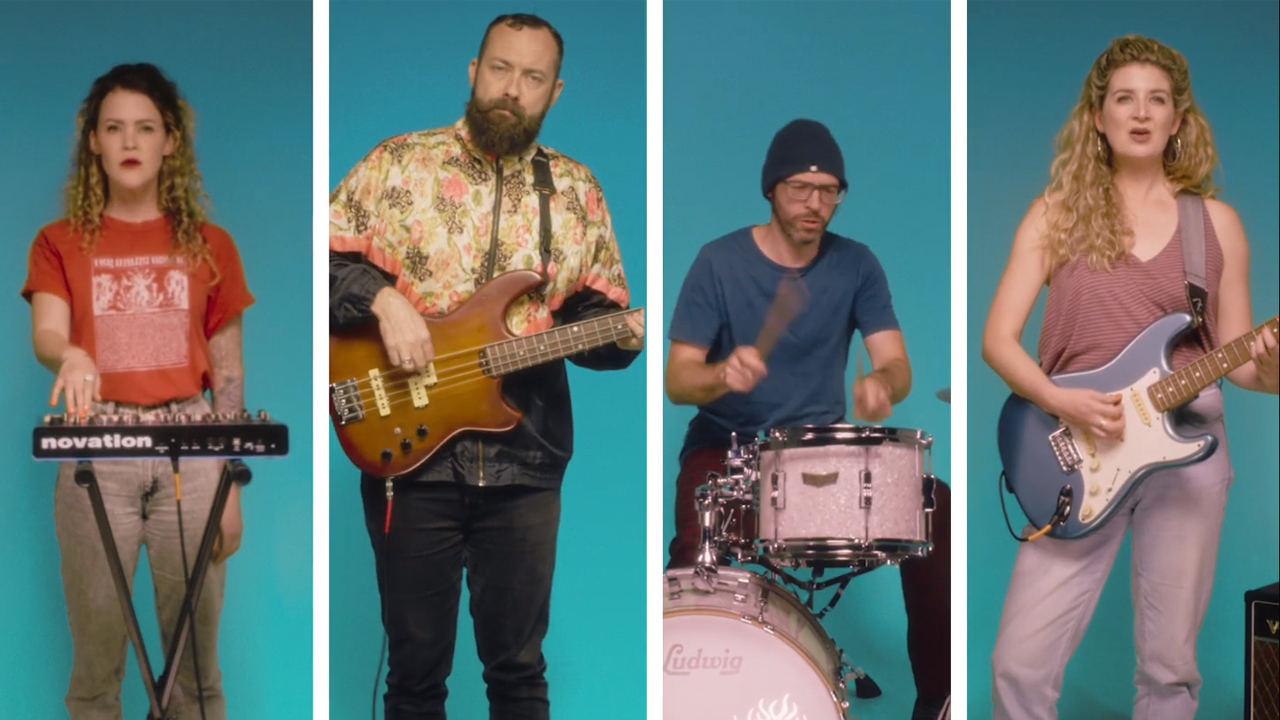 FEATURE: E For Echo – Satisfied (Dir. Undefine Media)
T
here has been an air of expectation brewing around Sydney indie rock band E For Echo for a while now. Recent releases have seen the band going from strength to strength and appeared to foretell some kind of dramatic arrival, and with the release of the latest single
'Satisfied'
, I feel very confident in saying that moment is here.

E For Echo – Satisfied (BTS Photos thanks to Undefine Media)
'Satisfied' is the lead track from the band's forthcoming EP, coming at the listener with a power and energy that has been slowly building on previous releases. A dynamic clash of a constant pounding rhythm section and these perfectly metered garage rock guitars paves the way for E For Echo's trademark dual vocals from the band's Zana Rose and Jenna Murphy. The way the song is able to shift between these quiet and charged sections on a dime really lends itself to filmic interpretation, and as such it's visual accompaniment directed by Jim Wild and Miguel Martin of Undefine Media, presents the band in this strange dichotomous way; in one moment static and statuesque and in the next explosively animated. The performance shots are intercut with scenes of women doing aerobics and making juice. Run of the mill mundane activities, but presented in such a manner that things feel ever so-slightly off-kilter.
"We wanted to bring out the almost farcical nature of humans when it comes to presenting ourselves in a socially acceptable way," explain Rose and Murphy of E For Echo, "and we always thought an exercise video would be perfect to do this. But it goes deeper than that because that idea is so heavily tied to the ego, specifically the way that we perform a version of ourselves that proves we are satisfied and fulfilled. The way that we snap between dead pan performing and the more hysterical moments is representative of the fact that in order to maintain a perfect exterior, we have to keep everything bottled up until we basically explode with frustration. No instruments were harmed in the making of this video, by the way."

E For Echo – Satisfied (BTS Photos thanks to Undefine Media)
For the guys at Undefine Media, these contrasting public expressions of self that people portray inspired a really interesting take on the format, as they use split screen framing and slow motion to accentuate the moments that articulate the concept while maintaining that slight uncanny and disjointed feeling about things. Jim Wild elaborates on the process: "From the outset I had in my mind a sort of split personality feeling. When I explained the concept to Miguel he understood exactly the vibe we we're aiming for. He suggested we did one dead-pan take normal at speed, one happy take at double speed and a final angry take also at double speed for each band member. The band never actually played together at any point during the video."
To get the actual aesthetic and execution of the concept down, Wild and his partner in crime Miguel Martin seemingly took inspiration from those awesome grungy guitar tones and found direction from some videos of a bygone era, as Martin explains: "We watched a few hours of music videos shot in the 90's, it gave a lot of perspective/inspiration on how they were framing their shots. We applied a lot of it into 'Satisfied', a lot of the zooms are all optical zooms, same with the pans. We tried to avoid using digital zooms/pans throughout the video… We wanted it to feel like it could have been shot in 1994, so it had to be output at a 4:3 ratio. Everything was captured in 5k 16:9 with SD frame guides on the monitors, this made directing a whole a lot easier."

E For Echo – Satisfied (BTS Photos thanks to Undefine Media)
The split screen approach is used to such great effect by Martin and Wild. Giving the viewer a contrast between mid-wide shots and really tight close-ups that move around a focal point, creates this sensation of an array of stimuli to absorb, you're always finding something else to take in with each viewing. Especially when combined with the way the band's performances jump between action and stillness. When asked how it was being directed to perform in this way for this outcome, Murphy and Rose reply: "Hilarious, actually. The deadpan shots were pretty straightforward because we could just basically lazily perform the song one by one."
"But to get the slowed down effect in the higher energy sections, everything has to be performed and filmed at double speed. Watching Marc try to play his drum parts almost killed us, and his performance in the video is so intense (and funny) because of it. Jim and Miguel were great at directing us. We need a lot of direction in front of a camera and they gave us really valuable feedback between each take. When we needed a bit of help to loosen up, they opened a lovely bottle of red for liquid confidence (we forgot to bring our own – we owe you a drink boys!)."

E For Echo – Satisfied (BTS Photos thanks to Undefine Media)
'Satisfied' is shot entirely within Undefine Media's impressive Sydney Studio, a location where Wild and Martin shoot all manner of projects and formats, however this was the first of their many music videos that was shot entirely in the studio. "Being able to use our own space was a huge win" Martin and Wild posit, "and Jim was in his element being able to build out props, sets and light everything in advance. We still maintained our usual "get sh*t done" efficiency that we're known for, just because we had no kick-out time didn't mean we could sit back and relax. I think talent and artists appreciate that we don't waste time."
That appreciation is certainly there from E For Echo's point of view. Even though Undefine Media had collaborated on a previous clip with the band, this was the first official video the two entities had actually properly worked on together, as tell Zana Rose and Jenna Murphy: "It's funny because we didn't even meet them when they worked on 'How To Win' last year. But Jim started coming along to our shows and was super friendly. We finally joined the dots when he sent us some great shots of our set at last year's Fringe Festival, then we filmed a live stripped back session at their studio for their Youtube channel, and that was when we realised we all got on like a house on fire."

E For Echo – Satisfied (BTS Photos thanks to Undefine Media)
"Once we started bouncing ideas around for the video, their enthusiasm and ideas were amazing. Jim and Miguel are lovely, fun people that get shit done – exactly the sort of people we like to work with. Also, when a director loves a song the way that those boys love 'Satisfied', the passion is just there and so the energy seems to take it in exactly the right direction. Which is easy for us to say, cos they did all the work! … It was the most fun we've ever had shooting a video and we're already planning the next one."
Here is the official video for 'Satisfied'
Music Video Credits
Directed by Jim Wild & Miguel Martin of Undefine Media