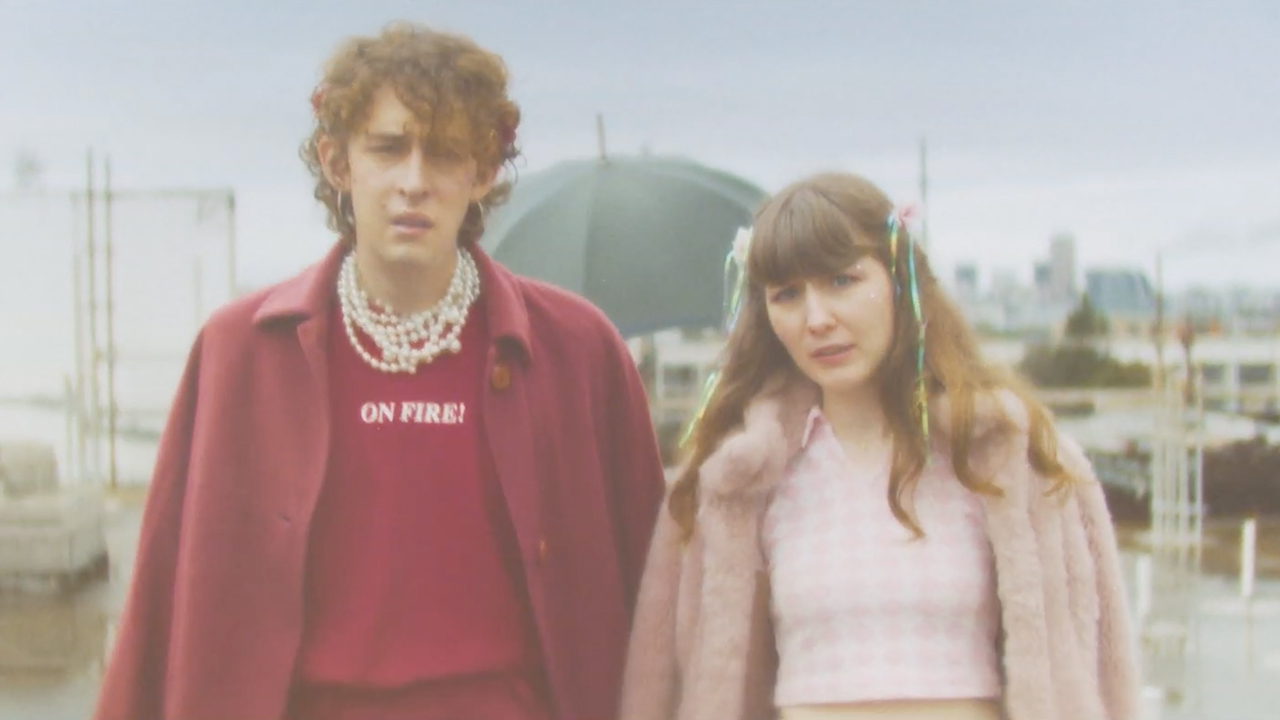 FEATURE: EGOISM – You You (Dir. Ari KC)
T
he use of reversed footage has helped to create some extremely memorable music videos over the years. Amongst others, Coldplay broke new ground with their dreamlike backwards car accident, meanwhile Linkin Park used post-production composition to set the band's performance amidst a massive rewind all-in-brawl. Both iconic videos that utilise this mechanism to great effect, and just when this genre needed a fresh entry with a healthy dose of heart, enter EGOISM.

EGOISM – You You (Behind The Scenes)
You could potentially end any sentence about Sydney dream-poppers EGOISM with the phrase "with a healthy dose of heart". The duo of Scout Eastment and Olive Rush are gathering great renown for their emotive take on shoe-gazey dreamy pop rock. In their latest single 'You You', EGOISM blend early doo-wop and 90's indie rock in the song's opening verse, before unleashing this sweet and vulnerable ray of sunshine of a chorus that utilises the band's dual-vocalists to absolute perfection with rich harmonies and overlapping layers atop a post-punk guitar pattern. It is a gorgeous and unshakeable track that also benefits from a luscious warm production.
The more shoegaze-like qualities of EGOISM, their delay-laden guitar lines and layered vocals that nestle softly in the production, really lend the band to some more experimental and dreamlike visual options when it comes to music videos. So when director Ari KC came to Rush & Eastment with a pretty out there concept, how could they possibly refuse: "We were in a hotel in Cambodia" retell EGOISM, "when Ari called us and started a sentence with "This might be a bit ambitious but-", he pretty much had the whole concept ready to go. We were on board almost immediately, and from then it was a matter of putting faith in Ari and the crew. We've been working together since 2015 and we have our little creative arguments every so often, but it's all part of the process haha."

EGOISM – You You (Behind The Scenes)
The song's video sets EGOISM in revolving situations where they are running, backing away from the camera, or moving through a crowd against the grain. Add to this the use of reversed footage that includes the duo singing along to the song while passers-by are choreographed to look like they are moving forward as normal, an entrancing effect that really heightens the message of the piece that something just isn't right and EGOISM need to escape. Ari KC elaborates "Making 'You You' was definitely the most difficult music video I'd done to date. I knew I wanted the main tension of the video to echo the themes of the song. That of a relationship whereby one person in it is clearly causing so much damage to the other but they can't see it all through their perspective. I also wanted that friend's perspective to be of the camera itself and so I knew I needed to create this false reality that the video would dip in and out of."
"I'd first seen the act reverse, play forward technique having been done in David Lynch's Twin Peaks and knew it gave off this great uncanny feeling whereby people's actions appear normal on the surface but have this off tone that you can't quite pick. In using it, we could show this 'perfect' world the toxic friend is seeing with all the cracks starting to shine through. In terms of the practicality of it, as I'm sure Scout and Olive will tell you – it's really not easy to sing, walk and act in reverse especially when you add fourteen extras and a construction site into the mix, but there were less rehearsals than you might think. I didn't want Scout and Olive to 100% nail each line sung or step walked, I wanted them to struggle to keep up with this world's chorography because it only enhanced the idea of trying to keep up and placate this toxic friend who cannot see what is going on."
"I told them to go off and learn their song in reverse and then for the first two choruses we had a click track and the song playing in reverse but it was largely figured out on the day. For the final chorus, myself and the DOP Darwin Schulze actually created a previsualisation video of exactly where we wanted each extra to walk. Then on the day, Darwin, myself and our Producer Eric Zac Perry (who without either of them, this could not have been pulled off) slowly brought each extra up told them where they'd be walking, on what beats and for how long – then we revealed they'd be doing it backwards. Thank god no one fell over or even worse, off the side of the building."

EGOISM – You You (Behind The Scenes)
On the difficulties with learning to mime the song in reverse, EGOISM agree: "Miming the song backwards was actually so much more difficult than we thought it was going to be. Scout found a website that could phonetically reverse a sentence, and we were just constantly checking it while shooting. Was far from a nightmare, but we'd certainly brace ourselves harder if we had to do it again. Although it's only half intentional, we really do feel like the look of us struggling to stay in sync adds to the whole narrative. It's not exactly gonna communicate the sense of pain in the lyrics if we're pulling it off without a hitch."
That look of slight discomfort on the faces of the duo as they attempt to perform in reverse really does add to the video's narrative. There is a pleading in their eyes, a real sense of vulnerability that feeds perfectly into Ari KC's concept of the point of view of the friend who is unable to see what is wrong with the relationship, though it is painfully apparent to EGOISM. Ari KC embellishes on this by delivering the video in these warm, affectionate and almost surreal tones with old film softness, and also very few actual cuts ensuring the audience's attention stays on EGOISM through these long and emotive shots. Ari KC explains the approach: "Building the aesthetic of the video really came down to creating the uncanniness and verisimilitude/reality split that we were trying to achieve with story."

EGOISM – You You (Behind The Scenes)
"The basis of it were the choruses, which I knew needed to be stylistically bright, slick and cinematic to create the illusion. Zac and I spent a long time looking at photographer Alex Prager and how she uses the colours and imagery of 1950s Hollywood to create these worlds and characters that are completely perfect and terrifying at the same time. Through this and giving it a filmic look I'm just constantly trying to remind you – this isn't real, it's someone's lie. By breaking this world in the verses, it helps heighten that sense of a false perspective that this toxic friend is living in a sort of delusion with their friendship, and that Scout and Olive are desperately trying to escape it. The long shots were just an extension of this idea and really helps make the choruses uncomfortable, you're basically forced to watch Scout and Olive struggle through this world as their characters, but also as them, you know they were actually struggling through that!"
Here is the official video for 'You You'
Music Video Credits
DIRECTED by Ari Kwasner-Catsi WRITTEN & PRODUCED by Ari Kwasner-Catsi & Eric Zac Perry CINEMATOGRAPHY by Darwin Schulze 1ST AC: Lizzie Huggins 2ND AC: Kristo Langker 1ST AD: Eric Zac Perry 2ND AD: Steph Leroy PRODUCTION DESIGN by Kate Sowada Hicks ALSO STARRING: Daniel Pollock, Nic Hawtin, Josh Ellis, Manny Said, Maia Buckley Lennox, Robert Gibson, Harrison Dumesich, Nelson Morgan-August, Lachlan Roe, Rosalie Wesson, Stuart Browne, Ivy Crago, Zoe, Izzy and Stacy Vayanos, and Noah Regan-Roach