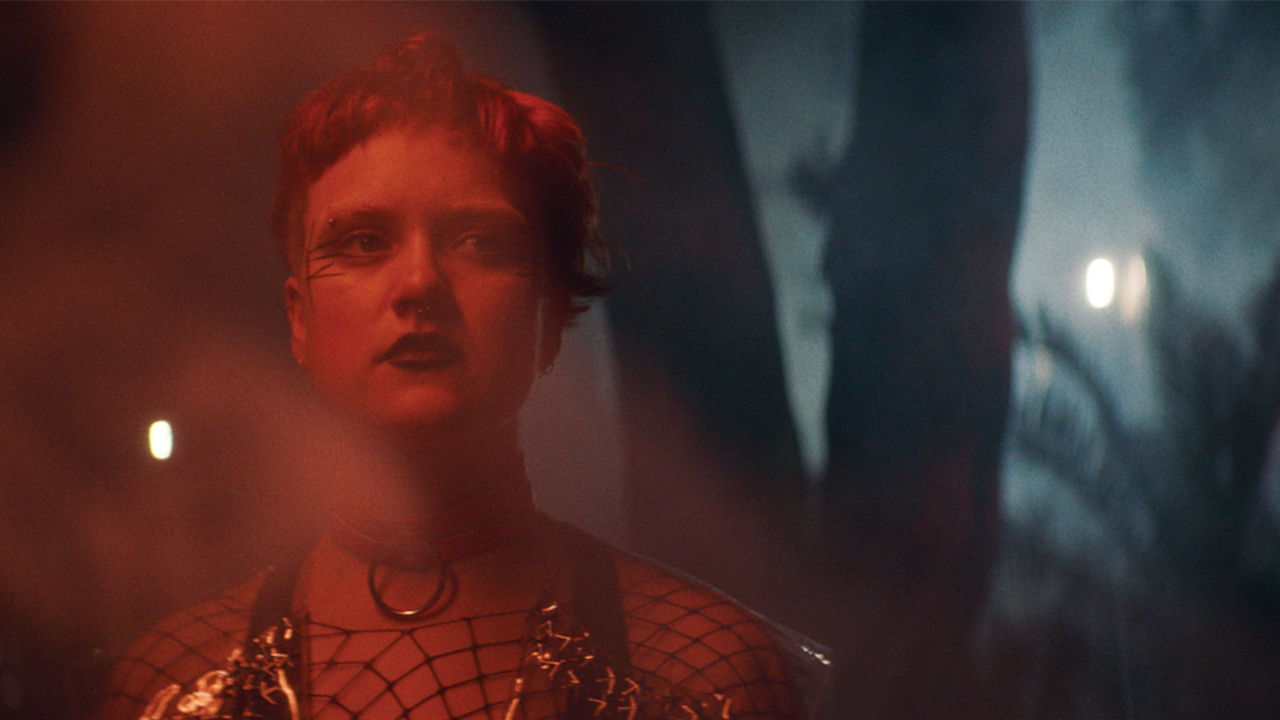 FEATURE: Lupa J – Limbo (Dir. James Chappell)
L
upa J has made introspection an art form. Her 2019 debut album Swallow Me Whole was an exploration into a massive transitional phase of her life where she unlocked parts of her identity that had been laying dormant until then, resulting in a wonderfully heartfelt collection of intimate and reflective tracks. On the latest single
'Limbo'
, Lupa J keeps that introspective lens trained on herself, supercharging her dark bedroom electronic roots with a new power-pop flair.

Lupa J – Limbo
"Limbo was absolutely a therapeutic process for me," Lupa J details, "but it was also born out of a somewhat devastating realisation about myself. Peoples' initial impression of it is often that it's a love song, or an expression of admiration, which is funny to me, considering how angry and heartbroken I was when I wrote it. But that's maybe also the point – it definitely is about admiration, but it's a very scathing and cynical take on myself and how I experience it."
"I find that the longing to be loved and accepted often completely consumes me and causes me to lose sense of who I am, and that I end up focusing my energy on people that cannot return it, which I'm horribly embarrassed to admit, because I like to convince myself that I'm a fairly independent person. I hit a turning point where I realised I was humiliating and demeaning myself by allowing my energy to be so consumed by people who either hurt me or had no interest in me… and then I furiously wrote Limbo."
That energy and frustration from within is certainly evident in 'Limbo', a track that uses cinematic and synth-heavy production to build this intense brooding foundation for Lupa J's characteristically emphatic vocal performance. It is in these vocals that 'Limbo' heralds something new and exciting for Lupa J, seemingly drawing influence from massive pop bangers of the last decade with the use of artistic auto-tune and vibrant harmony, ensuring the track not only takes on a certain pop sensibility and prominence, but is also catchy as all hell.

Lupa J – Limbo
The song's accompanying music video, directed by ARIA award winning filmmaker James Chappell, delivers an artistic slant on the performance video by embedding Lupa J and her counterparts the No Frills Twins in a dark and dramatic environment of tension and colour, reminiscent of Escape From New York or The Warriors-esque post-modern dystopia with a hint of Nicholas Winding Refn neon-noir. As Chappell explains: "We encased it in a cyber-punk 'Blade Runner' atmosphere with neon lights with Imogen (Lupa J) wearing a cool transparent overcoat designed by her Fashion Designer friend Tuan Pham. A mix of futuristic fashion and Berlin clubbing fashion. All very noir influence with hyper-neon colours."
"I approached the video's aesthetics the way I always do. I focus on finding amazing locations that I can use to bring out a certain vibe or atmosphere that I'm interested in. For this one, I used Marrickville Car Wash and its many existing fluorescent tubes to create a cool-blue neon backdrop that would give us bang-for-our-buck. I would say my intention was to blend the aesthetics of 'Blade Runner' with witchy horror films like 'The Craft' and 'The Shining' with a touch of 'Silent Hill' and other possession horrors."
"Essentially, this is an edit driven performance video with a cinematic flavour but unlike most of my other videos there isn't much narrative, it's more of an esoteric, trippy excursion through an atmospheric world. This was partly due to budget, time and the fact we only shot the video in 6hrs – which is a new low for me. We tried to make Lupa J and No Frills Twins feel like prominent characters in a fantasy world, hence all the eye replacement visual effects suggesting witchy possession."

Lupa J – Limbo
This use of colour to create an aesthetic full of character is trademark James Chappell. There isn't a single shot in this video that isn't being given gorgeous colourful life by the lighting; from switching out the fluorescent bulbs in a creepy tunnel to illuminate it with lustrous reds and blues and greens, to the subtle glow of purple in the back of Lupa J's car. Chappell then combines that with the precise and unobtrusive use of visual effects to embellish upon this occult-skewed environment.
On the approach he took to lighting the video, Chappell replies: "Lighting is always key in my music videos. I just love lush lighting, I collect visual references all the time. If I wasn't a director, I'd happily be a DOP as I love playing with light and composition. It can also mean the difference between a video looking utterly amateur or super slick and big budget. In terms of colour, I think most of my work is hyper-colourful."
"Our Director of Photography, Dale Alexander Bremner is also hugely into these types of lighting aesthetics. This was our first video together, but we've been mutual friends for years and he shot something very cool in this neon-noir style which made me want to work with him. It turned out to be a lot of fun just experimenting and not taking everything too seriously. We had a plan but we were both happy to try things out on the night if we felt like it. This is the beauty of extreme low-budget, freedom to try and fail."

Lupa J – Limbo
To be able to create this kind of ebbing and flowing drama within what is in essence a performance video is a real feat, and another way in which James Chappell and his crew have been able to achieve that is with camera movement. Even at its most still, the camera is ever-so-slightly dynamic. Whether it's the hint of movement on a close up or a big sweeping tilt, the camera takes on character in itself to give every shot dynamic and energy. Chappell explains: "We were very lucky to have Damien King come onboard as Steadicam Operator on this video.
"He has the new Arri Trinity Rig which allows you to move from a low-angle to high-angle quite seamlessly allowing for more dynamic movement and tilts. Having never worked with this rig before, I just told Damien to go wild with it and see where we landed. The bigger, the better for this type of video, I think. It's a really cool rig, and I think we barely touched the surface of what it can do. However, I do feel like it gave the climactic crescendo of the video a lot of fast-paced energy and excitement."

Lupa J – Limbo
The way James Chappell circles any elaboration on technique or method back to collaboration with his crew speaks volumes as to why this video is so successful in its execution. It's about a hive mind of collaborators working towards something special. This is also evident in the way James Chappell speaks so fondly of collaborating with Lupa J, a producer and performer with such a strong and resonant artistic and creative identity. Chappell gushes: "I love working with artists who are self-made, creative and know what they like, so Imogen was a breath of fresh air and because she's a one-woman-show she respects other artists and their processes. It's cool because we both like similar aesthetics and actually go clubbing at the same underground techno parties – that's how we met."
"Her uncle Ben Drayton is a famous underground DJ and he was the one that made me aware of his talented niece. There was definitely a small dose of pressure in regards to making sure Lupa felt happy and comfortable with the video. However, the budget was extremely low, so I ended up throwing a lot of my own money, time and resources into it because I believed in her and wanted to do something, dark, trippy and experimental without limitations. The only limitations were perhaps we were feeling out each other on this one and it was thrown together quite quickly. Next time, with more money and time we can push the conceptual ideas even further and improve upon what worked and what didn't."
Here is the official video for 'Limbo'
Music Video Credits
Director / Producer: James Chappell DOP: Dale Alexander Bremner Editor: Brad Hurt Colorist: Matt Fezz Choreographer: Alex Miedzinski 1st AC: Bonnie Chai 2nd AC: Muhib Faris Steadicam (Arri Trinity) : Damien King Production Manager: Ryan De Silva Make Up: Imogen Jones SFX: Sam Whiteside Costume Design: Tuan Pham VFX Producer: Max Colt VFX Company: FRENDER Car Specialist: Rocco Di Marti BTS: Kathy Drayton Special Thanks: Nic Godoy @ Panavision, Self Car Wash Marrickville, Tamara and Liz @ Arow Agency, Vanessa and Arna Rogers & Kathy Drayton