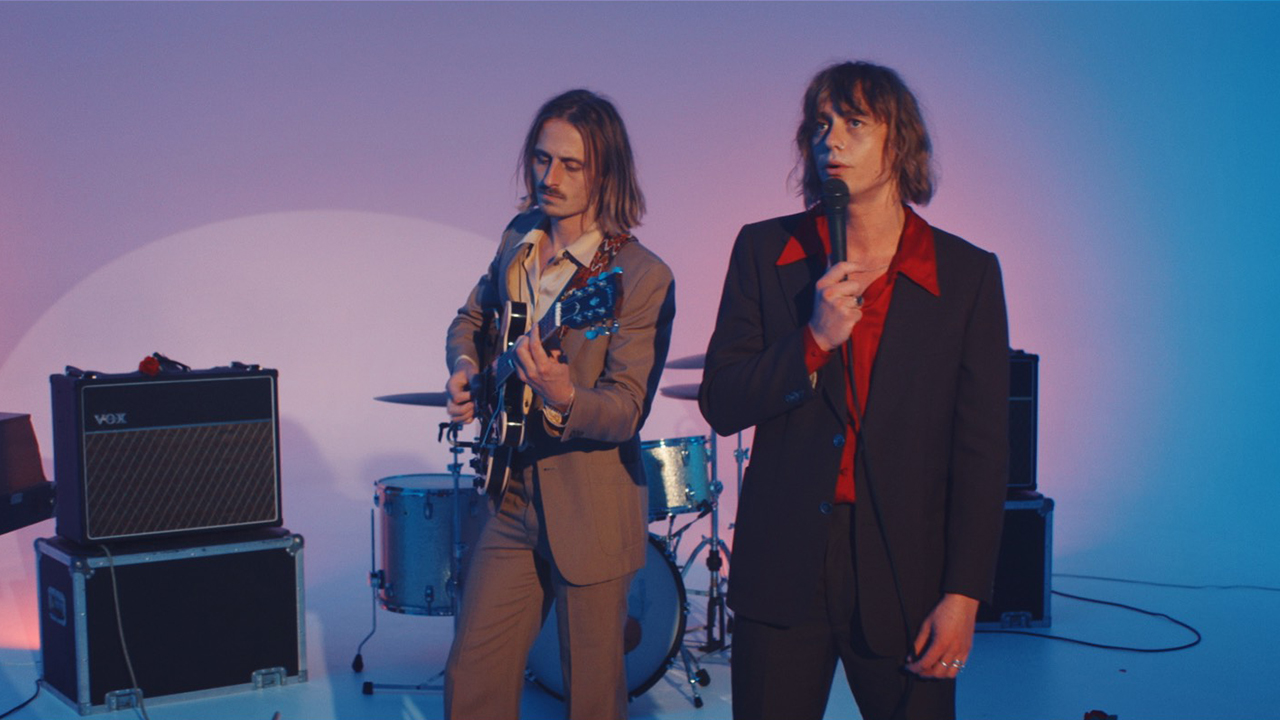 FEATURE: Lime Cordiale – On Our Own (Dir. Jack Shepherd)
T
here can be a challenge to creating a straight performance video that is memorable and engaging enough to keep a viewer's attention to the very last. Often filmmakers have to intertwine small semblances of story or artistic quirks and design choices to make the content more fulfilling, or more often than not the video becomes much more reliant on how entertaining the performers themselves are and the ability of the filmmakers to harness that. In Jack Shepherd's video for Liam Cordiale's latest single
'On Our Own'
, it is clear he has taken parts of all of those approaches, but definitely brought it home with a big helping of the latter:
"Oli, Louis & I have travelled the world together."
Shepherd tells,
"We've shared beds and spent birthdays and many other occasions togethers with our friends and family. I guess this really explains the trust and chemistry between the boys and I."

Lime Cordiale – On Our Own
"I've always been their number 1 fan. Even when I played guitar in the band, I loved their music and I think it's because I see everything that goes into it and so I automatically pour all of myself into the work we collaborate on. I genuinely want them to succeed and I know they feel the same about me too – so naturally I think that comes through in the films we make together. All of our ideas all come from a friendly conversation and we maintain that through production. It always was and always will be a bunch of friends expressing ourselves."
That energy is certainly apparent on this video and in fact all of Shepherd's clips for Lime Cordiale, of which 'On Our Own' is the sixth. The brothers Oli and Louis Leimbach have a palpable chemistry and energy, a sense of humour about themselves and a rare comic comfort. Their deep familiarity with Shepherd surely brings that out in spades. 'On Our Own''s video sees a rift growing between an unmotivated Louis and his bandmates as the song and his impudence progresses. Shepherd delivers this story through performance, using the movements of the song as a guide. The verses see Louis taking these soliloquy-like asides, while choruses immerse him back into the band where he becomes increasingly belligerent, and finally in the song's outro he is left alone and despondent.

Lime Cordiale – On Our Own
"Coming from a musical background and having studied music composition," Shepherd explains, "I've always understood contemporary song structures so I'm able to write and block scenes that visually represent what the song is doing. The song starts with a bang – full band drops in but then within 10 seconds it sounds like Louis has removed himself to a more isolated intimate headspace – it was exactly this that I wanted to convey in the lighting change. By the lighting changing moods – you can hear the song also changing."
"I've always been so fascinated by single take music videos and long shots in films – They are the most engaging scene because as soon as you have a cut in the edit then you're aware you're watching a music video. The Lime boys and the crew I had onboard are all extremely talented – and I wanted to show that through a rehearsed single take performance which resembles what they give their audience every time they step on stage. I've been studying Jake Schreier's music videos and the way he can keep myself and other audience members so engaged and hanging on every next move through his music videos."

Lime Cordiale – On Our Own
The band's performance feels reminiscent of a tonight show or something akin to the early completely performance-based music videos, The Easybeats' 'Friday On My Mind' for instance. This sensation is accentuated by Shepherd's choice to go entirely one-shot, making for a very naturalistic performance, but delivered with an ever-moving camera that ensures every shot feels full of life, to a point where the camera takes on a bit of character in itself. Shepherd elaborates on this approach: "I spent quite a bit of time with the steadicam operator Jason Rodrigues, he and I have worked on a lot of films together in the past, so we definitely have an unspoken understanding of each other's vision/skill.
"I sent him the song in the days leading up to the shoot, and then once on set I would walk him through exactly where and what I wanted the camera to be doing. My 1st AC Tom Brooks provided radio headsets so I could speak to Jason, as well as the Gaffer, 1st AD and focus puller throughout the take. I would use this to constantly direct Jason on where to move the camera and when he needed to race over to meet Louis who was headed for the stool in the close up set up."
"In saying all that, I gave Jason direction on the camera movement, but I also told him to just go with his gut and work the floor how he felt. He is a great operator and I was a bit unsure when I told him to tilt the camera whilst rushing in on the chorus as this was just an idea I had to add some energy to the transition in the song, however Jason nailed this movement and as soon as I saw it – I knew it was exactly what the song needed."

Lime Cordiale – On Our Own
The video is given such stunning life by the lighting of the set. Beautiful soft blues and pinky oranges swell and wane with the movements of the song, imbuing it with a sense of dynamic. When asked about composing the lighting for the context of the video and how it all came together on the day, Shepherd replies: "The lighting design all came from this one 90's Vogue cover shot I had pulled off Pintestest – I was obsessed."
"The gaffer Matt Wilson & I had endless phone calls leading up to the production where we would discuss my vision and how we could pull it off in a single take. We had quite a few studios pull out on us due to current health restrictions, but we ended up back at our first option – The Good Egg studio. I'd shot a music video there a few years ago and I loved how huge the studio is but unfortunately they didn't have an overhead lighting rig, so Matt & his best boy Tommy Keyes had to light the studio all from the ground up."

Lime Cordiale – On Our Own
"It took a few practice runs and playbacks until Matt & I came up with the idea to swing the spot light into the shot which would catch Louis walking in and out of the close up. Matt had his Best Boy Tommy standing at the top of a ladder swinging in the spotlight by hand which was pretty cool! Matt was operating a lighting desk and Tommy was operating the spotlight – and throughout the clip I felt like an orchestral conductor giving them hand movements to bring up and dim down certain lights. By the last take – it felt magical to sit back and watch it all happen on the director's monitor. It just all felt so right."
Here is the official video for 'On Our Own'
Music Video Credits
Director & D.O.P – Jack Shepherd Producer & First Assistant Director – Jakson Gray Production Manager – Georgia Cornett Steadicam Operator – Jason Rodrigues Focus Puller – Tom Brooks Gaffer – Matt Wilson Best Boy – Tom Keyes Style Supervisor – Lucy Perrett Stylist – Emily Gibb Hair & Make-Up – Luana Coscia Colourist – Matt Fezz Titles – Lewis Oxenbould BTS – Aedan O'Donnell