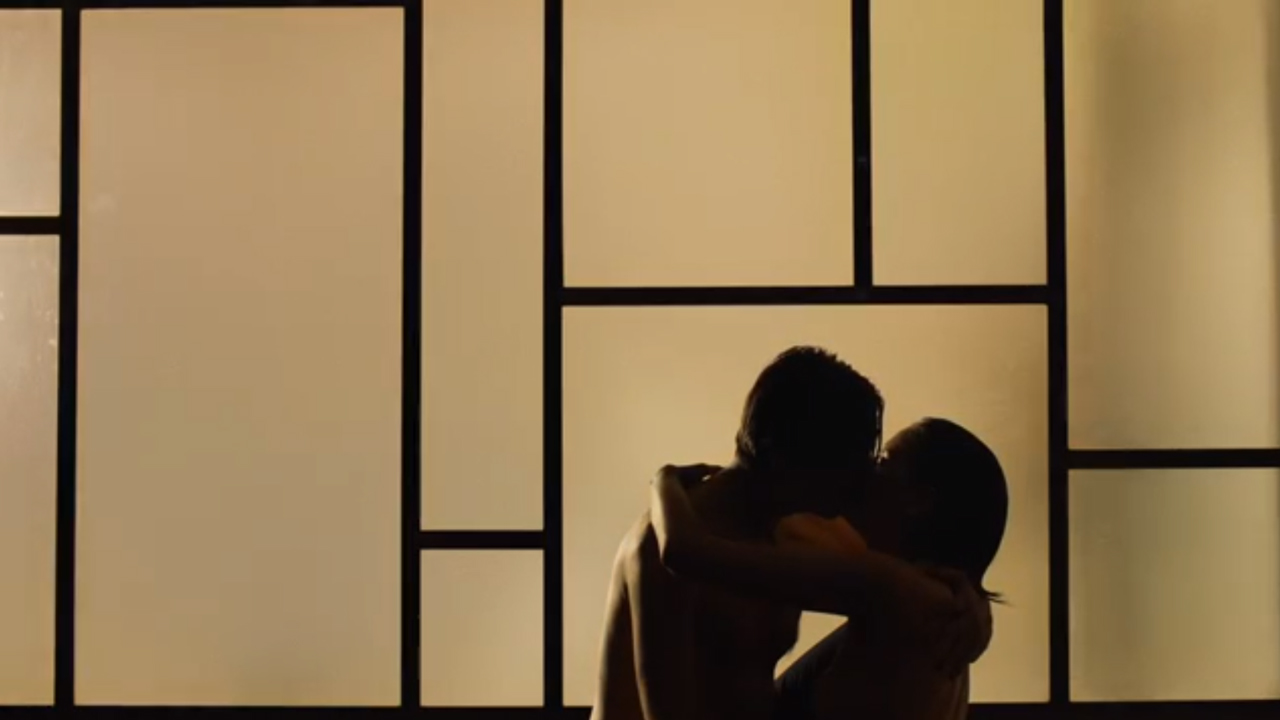 FEATURE: Electric Litany – Sealight (Dir. Sakari Lerkkanen)
Every time you take another look at 'Sealight' you discover something new, the emotive performances, powerful and innovative use of lighting and the compelling story of a man facing his final moments of life. Electric Litany's latest music video 'Sealight' is some epic filmmaking piled into just four minutes and seventeen seconds.

Electric Litany – Sealight (BTS Photos thanks to Sakari Lerkkanen)
'Sealight' Director Sakari Lerkkanen caught up with CLIPPED.TV and explained why he was drawn to this concept: "The concept came from my long-time fascination towards existential themes. I feel there is a lot of undiscovered cinematic potential to explore these themes in film. Compare to my previous works – in this one I wanted to take a step further to tap into these themes more directly. Sexuality was another topic, which the band wished to explore. Together these two elements forged the basis of the drama."
Not just one element stands out to the viewer in this highly polished video but instead it's the harmony of all the filmmaking elements working together. Every scene works hard to push the viewer forward through the narrative. The filmmaking overall is very expressive so was this something planned ahead of time or was it explored organically on set? Lerkkanen takes us through he and his crew's development process: "In the beginning we had just a simple 12 page synopsis with the look book and a plan how to enhance the narrative. As we got further in production, got the crew, cast, location – according to them this presentation became 100 pages – involving more ideas, more sparred thoughts and further research – it simply became a very detailed and more concrete script."

Electric Litany – Sealight (BTS Photos thanks to Sakari Lerkkanen)
Lerkkanen's previsualistion became known by his crew as 'The Mega Storyboard'. The director gives us an overview of the tool he creates that's outside of your regular cinema storyboards: "It is a more extended storyboard compare to the traditional one – with references, notes, movement directions etc… for each individual take. After all, to describe all the motion in one take with pictures or words can be quite limiting in film."
One of the most outstanding elements of 'Sealight' is its powerful use of lighting. Taking advantage of a minimalist aesthetic Lerkkanen and his crew use strong lighting contrasts to enhance the dying man's narrative. Cool blues throw the viewer into feelings of despair and desperation of a man condemned while the warm yellows offer a cozy blanket or warm embrace… Mother, is that you? Lerkkanen takes us through the lighting process and explores the narrative of the pulsating light: "The effects were done organically on set and later enhanced in grade – where colourist Alex Grigoras pushed great efforts. The idea for the pulsing lights really came out of blue – we didn't have any reference for it and as you probably guessed they've a narrative role to play. During the take I'd be watching the camera and timing their [the actors] motions with the pulsing light"
"Not giving too much away, my favourite interpretation so far from the viewers has been the following: 'In one hand they visualise the last breaths of dying man – yet they show the journey to other-side brightening until he reaches the end of his tunnel' Some of that is intended, some of the description I can't take for granted – yet there is more to it – which is exciting."

Electric Litany – Sealight (BTS Photos thanks to Sakari Lerkkanen)
Death, performed by Noemi Gunea accentuates the raw power and sexuality of the mythical character. It's also fitting to be played by a female, being that we're all brought into this world by a woman. The dying man played by Hugo Nicolau delicately portrays the mortal conflict of dying. With the combination of these performances, the viewer is offered an interesting contrast between humanity and the spiritual world.
Lerkannen delves into the process of drawing strong performances from his talent: "We went through a lot of dancers, body performers, actors and artists of various fields in London, before we came across our stars Hugo Nicolau and Noemi Gunea. It wasn't easy to find someone who could play as iconic a role as Death – or someone who could reflect the different emotional stages of facing his end."
"Both of the actors were brilliant and contributed equally great ideas to push their parts further. To enable this we shared references, inspirations, visual ideas and plans in great detail before the shoot. We practiced movements and positions outside of the set. All the rest is really just them two delivering great performances scene after another."

Electric Litany – Sealight (BTS Photos thanks to Sakari Lerkkanen)
Emotive and subtle Sakari and his team successfully deliver a fresh narrative on the eternal conflict between life and death. Demonstrating a strong use of light and performance, the viewer is treated to solid filmmaking which Director Sakari Lerkkanen notes by describing his video as "[his] most personal work to this day". What's inspiring, especially to students of filmmaking is the absence of location in the narrative. 'Sealight' demonstrates strong storytelling by nailing light, composition, performance and editing which all could be created in a nondescript shed.
Here is the official video for 'Sealight'
Music Video Credits
Starring: Noemi Gunea & Hugo Nicolau. Director: Sakari Lerkkanen. Producers: Lucie Lerkkanen & Stefan Steinmair. DoP: Daniel Lindholm. 1st AC: Oliver Munks. 2nd AC: Felix Wildey. Gaffer: Joel Rainsley. Spark: Ross Brown. Make up: Elisa de Micheli. Costumes: Marianthi Chatzikidi. Props: Maria Stavropoulou. Runner: Alex Smith. Editor: Arttu Salmi. Grade: Alex Grigoras.