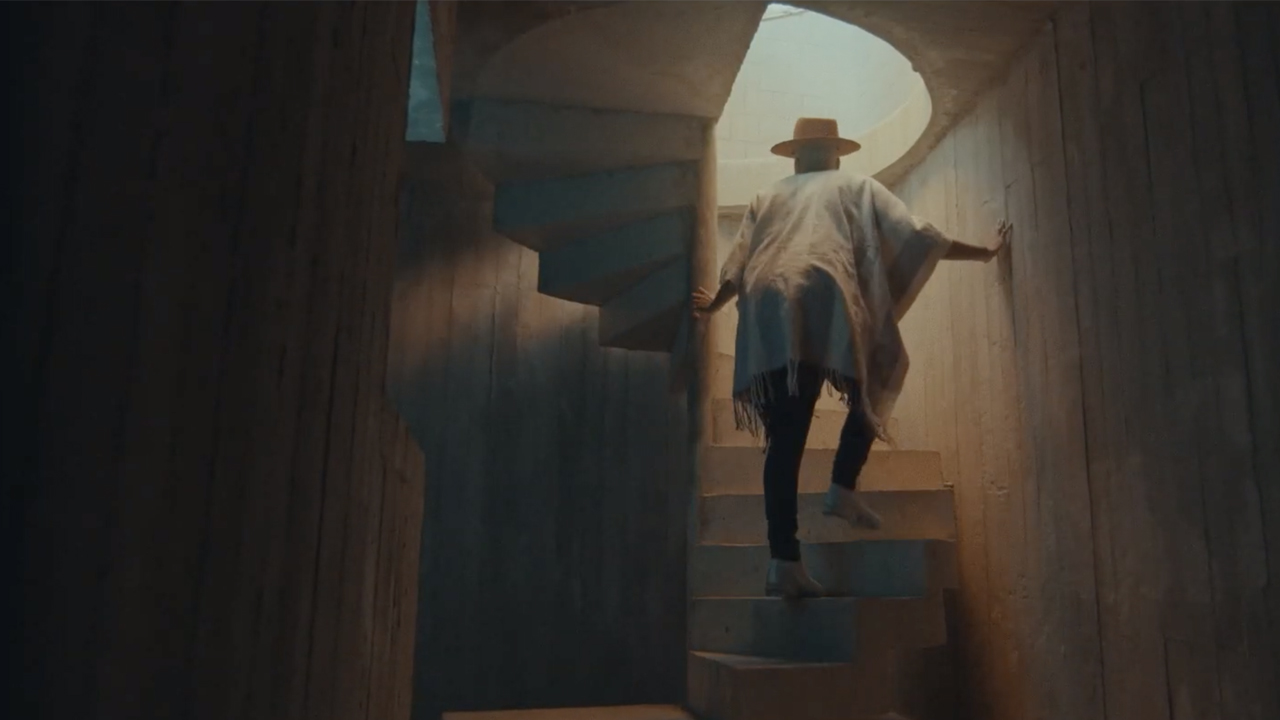 FEATURE: Florian Fourlin – If We Move (Dir. Stéphane Ridard)
When French musician & producer Florian Fourlin was making moves on the visual accompaniment for his soulful and creepy new single, "If We Move", he immediately arrived at French director, editor and former collaborator, Stéphane Ridard. The two had worked together previously on Fourlin's track "Levels", a wonderfully moody video that ruminates on solitude, loneliness and uncertainty. When it came to conceptualising "If We Move", Ridard tells of a very natural and collaborative process. "It was more about the feeling he (Fourlin) had when writing this song. We talked a lot together, shared references etc before the shoot."



Florian Fourlin – 'If We Move' (BTS photo by Stéphane Ridard)
Given the rather symbiotic nature of their working relationship, Ridard invited Fourlin to elaborate on this question for him. Fourlin replied: "When I wrote this song, I started with a feeling that led to an image. The basic concept and idea was to express the feeling of being in a complicated and/or hurtful situation that needed to be changed somehow while being afraid to fail in doing so. Then the image that I came up with was that of a tightrope walker. Someone trying to go forward while remaining in balance, someone that can fall if he moves the wrong way."
Fourlin continued: "It was interesting for me to try and illustrate that with a relationship between two people. The idea was to show someone who had a lot of things that were heavy on their mind and on their heart. I wanted to express yearning for a change of situation, a desire to express something very deep, as well as the fear of messing everything up and having to start back from the beginning if it didn't work. That was the main concept."
The resulting video sees a woman (played by Anne-Caroline Lecurieux Durival) who moves through a house, battling with the ghosts of a relationship, unable to let go. She is finally able to exorcise herself of the torment by getting the thoughts out of her head and onto paper, in the form of a manifesto she titles "Words Unsaid".



Florian Fourlin – 'If We Move' (BTS photo by Stéphane Ridard)
Director Stéphane Ridard felt it necessary to represent this trapped feeling that can come from a hard situation, while also showing that the trap can ultimately have been set by yourself and therefore you have the power to free yourself, stating: "All throughout the video, the woman cannot escape the house (which mirrors her relationship) until she has expressed those 'words unsaid'. We wanted a heavy atmosphere throughout the video. Why can't this woman leave a house that is so open? Why is she stuck? At the end, she manages to leave because she wrote pen to paper what she felt inside of her. While the man (played by Florian Fourlin) arrives a little too late, he ends up missing something. That is when he discovers those words unsaid."
This twisting and personal tale is delivered through shots of the woman moving through this absolutely stunning house, the quirks and character of this beautiful piece of architecture giving weight to the unease that the woman is feeling.
On this choice of location, Ridard says: "For this story, I wanted to find a house that was isolated in the middle of nature. After seeing the movie 'Mother!' by Darren Aronofsky, it struck me. In that movie, the house is isolated in the middle of nowhere and I thought that it was a very strong idea. It allows for a closer proximity with the characters, making them more fragile, stranded by themselves."
Ridard continues: "My goal was then to find a house where the characters would have no escape route. My aim was for this very idea to be the center of the video. I also wanted to make sure that the house was particular, modern, but that it could also be in harmony with its surroundings. I had to search in magazines and architectural websites around Europe. I ended up finding that house located in Spain which seemed like the perfect place to shoot and tell our story."


Florian Fourlin – 'If We Move' (BTS photo by Stéphane Ridard)
It really is an impressive building, a work of art in its own right. Ridard makes a point of capturing every element of the property, including its gorgeous surroundings. And while the way the house is shot could even be used by the homeowners to exhibit their property, Ridard's use of the beauty of the house is purely in the interest of enhancing the story of this woman and the snare in which she finds herself.
Ridard does this by presenting the video in predominantly long and sweeping shots with slow and smooth camera movements, on which Ridard says: "The music is very particular, it can be disturbing and with a very slow rhythm. It was natural for me to try and appreciate the length of the shots, to try to have very slow steadicam movements and to let them last during the editing process."
The only time the movie breaks from this format is in short flittering flashback sequences as the woman frees herself of the memories. Ridard speaks quite frankly of his almost cryptic goals with these shots: "I didn't want to create flashback scenes that were too long and too explicit. Those sparse flashes are meant to question the people watching to hint that something is happening. I much prefer to suggest, even it means having the spectator asking themselves questions without knowing what is really happening."
Something that cannot be ignored in "If We Move" is the way Ridard uses colour. While set within an absolutely stunning piece of the environment, the house itself is mostly decorated in muted tones, slate-greys and off-whites.
In accompaniment to this, the main character is also depicted in a simple and sheer white dress. A very specific choice made by Ridard to enhance the character's struggle and the way the audience identified with her. "There were two reasons why I wanted a white dress. The first one was that it indeed worked perfectly with the house's colours. The second one was that I wanted the actress to be as natural as possible. I wanted her to mirror her environment. I wanted her to have a pure quality. No bra, no shoes. Just her being natural with no makeup."


Florian Fourlin – 'If We Move' (BTS photo by Stéphane Ridard)
The importance of the collaborative relationship that Stéphane Ridard shares with the performer, Florian Fourlin, is completely evident in this video. Ridard's focus appears to have been entirely on enhancing the feeling and sentiment that is already embedded in Fourlin's work through film. The result is a truly beautiful and intriguing spectacle to behold.
Here is the official video for "If We Move"
Music Video Credits
Director: Stéphane Ridard. Cast: Anne-Caroline, Lecurieux Durival. Director of Photography: Maxime Col. Steadicam operator: Valentin Clarke. Assistant Camera: Laure Amélie, Vilanova Gaffer and Film Camera. Operator: Adrien Lallau. Makeup Artist: Angelina Bergese. Editor: Stéphane Ridard. Colorist: Remy De Vlieger.