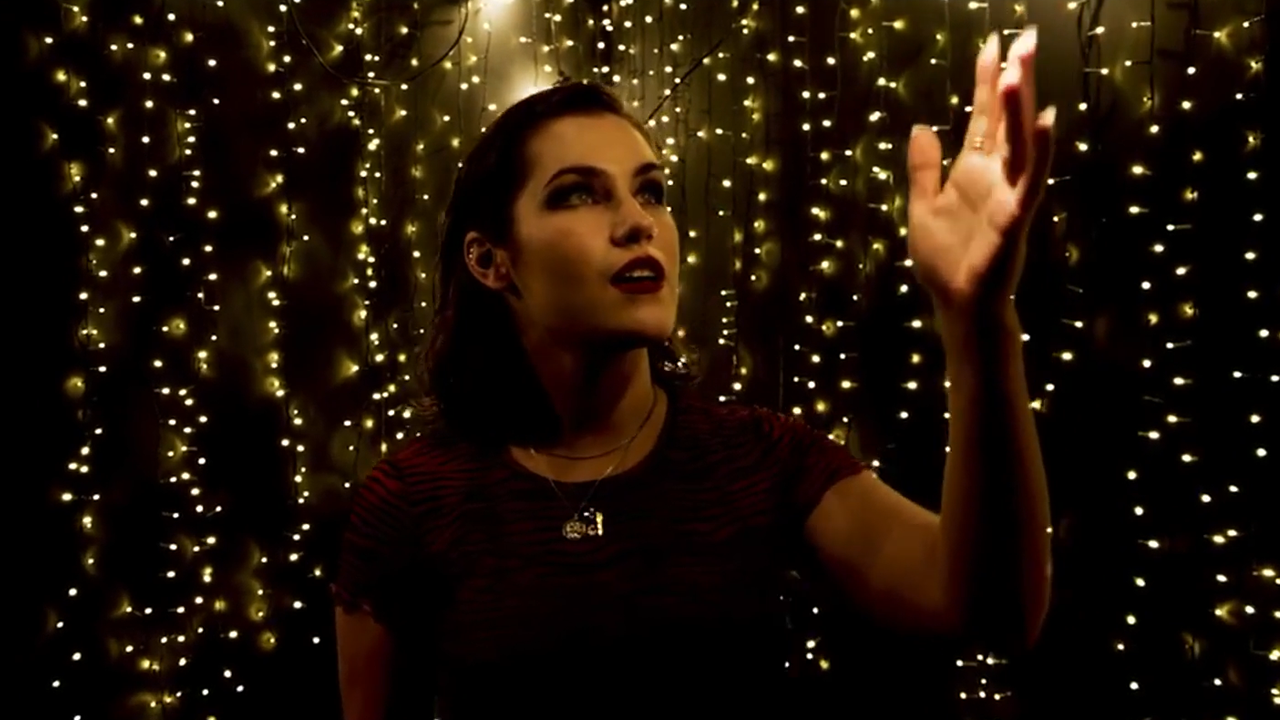 FEATURE: Foley – Can't Help The Way (Dir. Angus McArthur-Williams)
Crisp and glittery from the get-go, 'Can't Help The Way' is pure Foley. The NZ indie-pop duo have been etching themselves a name over the past 18 months with their super-honed funk influenced bops, each as dancy and infectious as the last. In 'Can't Help The Way' vocalist Ash Wallace reflects on some conflicting feelings and sliding doors moments.

Foley – 'Can't Help The Way' (BTS Photos by Layla Hutchins)
Capturing this feeling of a mental meandering, the traversing of thoughts, became a priority for director Angus McArthur-Williams when pitching the video to Foley: "The concept stemmed from the idea that we were delving into the characters psyche while focusing on her 'detachment' from her partner. The concept of a one-take style music video was to show the journey which the character in the music video was experiencing. The music video is all about opportunities, letting fate take control and sometimes you have to take a step back from your life to see what you really want – which is sometimes right in front of you."
"The bands fun nature and their dance-pop sound, really drew me in which allowed for me to pitch a concept that was super out there and ambitious. I had two days to come up with the concept and a treatment for their new single 'Can't Help The Way'. From there, we had one month to complete all pre-production (hire the crew, build the set, source production design items) and decide the logistics of just 'how' we were going to turn the whole idea of the video into a reality. We were limited on the time we could use the studio to build the set and with Foley flying from New Zealand to Brisbane, we were racing against the clock. There were some long days and nights."

Foley – 'Can't Help The Way' (BTS Photos by Layla Hutchins)
This mammoth effort to bring everything together can definitely be seen in the final product. 'Can't Help The Way', through one long continuous shot, follows vocalist Ash Wallace as she makes her way around an ever evolving and revolving space. Through the use of practical environmental effects, the accompaniment of her Foley bandmate Gabriel Everett and some creative and evocative lighting, McArthur-Williams and his crew are able to convey to the viewer that Wallace is negotiating her way through some emotional ambivalence.

Foley – 'Can't Help The Way' (BTS Photos by Layla Hutchins)
There is real art in the way McArthur-Williams has been able to use the lighting and colour so effectively to transport not only the characters but the entire space to a completely different feeling, often switching tone from serious to joyous on a dime. He explains: "Colour was everything in this music video. We wanted to push for that 80's/90's style cafe feel with vibrant colours and funky outfits."
"The rooms aren't specifically designed or to be perceived in a metaphorical way but to rather provoke a feeling which is, of course, different to each viewer. It's inspired by the different emotions this character is feeling whether she is intrigued about the world, using every platform to express her music or to just simply accept that things happen but you have to accept it, like snow falling while performing on stage."

Foley – 'Can't Help The Way' (BTS Photos by Layla Hutchins)
"The way I see the camera is a tool to guide an audience and tell a story. The camera shouldn't feel separate to what it is filming and should feel a part of the world you've created. In this case, the way the camera moves with the duo is to feel as though it is dancing with them – Matching the energy from the talent is super important."
This style of one-shot video truly is a massive undertaking. Not only as far as choreography and preparedness go, but also in the amount of weight that is put on the shoulders of the performers. Nothing can be hidden or even improved through editing, the success of the video relies so much on the charisma and engagement of the people on screen. Luckily, Foley have it in spades.

Foley – 'Can't Help The Way' (BTS Photos by Layla Hutchins)
McArthur-Williams tells us about the scale of this project coming together: "This would not have been possible without the support of my amazing producer, Sean McParland, and extremely talented production designers, Reece Harrison and Oliver Crofts. To pull off a music video like this really requires the right type of people. From the band to the people on-set, you have to really keep a fun and positive environment while also working around the challenges that will inevitably arise."
"Choreography and cues were the most challenging aspect of this music video. The way Foley moved around the set was incredibly natural which was already to be expected from seeing their other music videos and to see their chemistry in person was extremely inspiring. The main cues we had were lighting changes, snow falling, camera cues and a costume change. These elements working together created a seamless flow from room to room. In the end, we smashed out 13 takes in a day where we printed the 12th take which we used in the final edit."

Foley – 'Can't Help The Way' (BTS Photos by Layla Hutchins)
Musically, Foley walk this amazingly dynamic line between saturated and subtle, a rich collage of bubbly bass and beats met with steamy synth and guitar. Through the creative use of lighting and staging, director Angus McArthur-Williams has been able to tap into this perfect balance and deliver a video that is pop and glitter without being saccharine. Get ready to start hearing this track everywhere.
Here is the official video for "Can't Help The Way"
Music Video Credits
Producer/1st Assistant Director: Sean McParland. Director/Cinematographer: Angus McArthur-Williams. Production Designers: Reece Harrison & Oliver Crofts. Steadicam Operator: Kelvin Chan. Gaffer: Paige Hilliard. Jimmy (Café Guy): Dylan Stummer. Artist Manager: Marie Lebourdais. Editor/Visual Effects Artist: Liam Straw. Production Manager/Unit: Alex Harrison. Hair & Makeup Artist: Lucy Champion. Best Boy: Lachie Marshall. 1st AC: Tahlia Taylor. 2nd AC: Madeline Healy. Key Grip: Finn Kenafake. Sound Recordist/Post Sound: Mitchel Toft. Production Design Assistants: Kate O'Brien, Liam Straw, Kate Boylan-Ascione, Marni Crofts. Production Assistant: Izac Brodrick. BTS Photographer: Layla Hutchins. Special thanks to Richard Fabb and the support of LiveLab. Made with funding through NZ On Air.