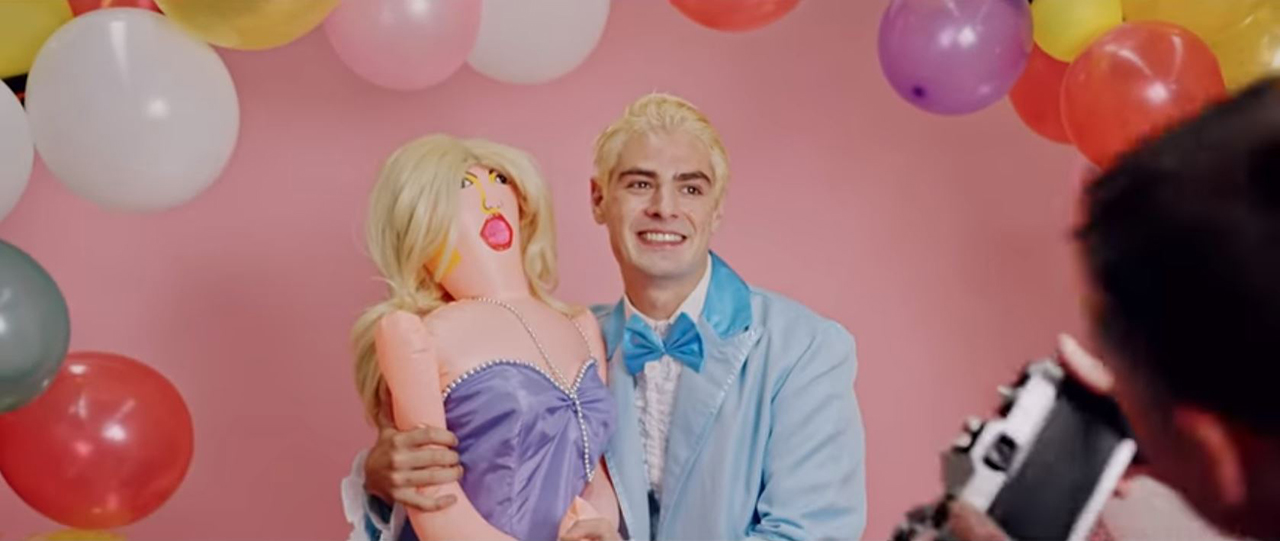 FEATURE: George Michelle & Separate Ways – Keep Me Waiting (Dir. Jack Shepherd)
People love all kinds of inanimate objects. Cars, guitars, surfboards, so why not a blow-up doll? I mean, yeah, 99% of people buying a blow-up doll don't have love on their minds, at least not love in its emotional form, but if someone falls in love with their inflatable inamorata, who are we to judge?
In 'Keep Me Waiting', Sydney producer George Michelle's collaboration with Arizonan duo Separate ways, the song explores that familiar dizzying space that surrounds a relationship. Maurice Santiago, the auteurist character behind George Michelle, had a very particular idea of how he wanted to express this in the song's video.

George Michelle & Seperate Ways – 'Keep Me Waiting' (BTS Photos by Lena Buchanan)
We spoke with director Jack Shepherd about how it all came together: "I ran into Maurice at the pub. He'd been living in the US for almost a year with his former band (who I had shot a music video for) and he told me about his new project George Michelle and how he had a music video concept for his new single. He mentioned Lars & The Real Girl – so naturally I had to do this. He sent me through the track and his concept/treatment – the track was a banger and I loved the concept, so I called producer and friend of ours – Joel Martorana. Maurice wrote the concept & story line, then I came in as director/DOP and helped him develop it into a film."
'Keep Me Waiting' begins with a young Santiago having a love at first sight encounter with a blow-up doll. Their relationship blossoms and endures, at times idealistic and wonderous, at others realistic and tumultuous. When Maurice comes home to find that his girlfriend has been DM flirting with George Michelle, he tries to confront her at the club where Michelle is playing.

George Michelle & Separate Ways – 'Keep Me Waiting' (BTS Photos by Lena Buchanan)
When he finds his girlfriend chilling in the VIP section with a very cool looking blow-up doll George Michelle, Maurice's world is rocked. He collapses and we are left with the closing shot of Maurice Santiago, now himself a blow-up doll, deflated and empty on the floor.
Delivering both conceptual and metaphorical closure, this shot is a really creative and original way to round things up in the video. However, Shepherd explains that it almost didn't happen: "This was a shot where I was on the fence when it came to deciding whether to include it or not. Maurice wanted it and I backed him!"

George Michelle & Separate Ways – 'Keep Me Waiting' (BTS Photos by Lena Buchanan)
Shepherd has shot this video with so much dynamic. The camera is rarely perfectly still outside of the shots of the couple in the back of a taxi or the amazingly cheesy green screen motorbike shots, which even then are set in front of a moving background. When asked about this approach, Shepherd replies: "The song is always moving forward, I guess I wanted the camera to always be moving through the scenes to keep up with the song. As a cinematographer you need to be careful about when to move and not move the camera – but I just love dolly shots so I kept using it. It felt right at the time and I knew it was adding dynamics to the shots/story."

George Michelle & Separate Ways – 'Keep Me Waiting' (BTS Photos by Lena Buchanan)
This dynamic approach isn't done for laughs. We're not talking about spaghetti western/kung fu fast zooms, rather just an addition of some cinema and feeling to the shots. It is this direction along with a great deal of Maurice Santiago's acting being delivered quite earnestly that maintains a real sincerity about this video, even given the comedic tongue-in-cheek subject. Even the people around Santiago in the video never ridicule his love for this blow-up woman. Formal photographers happily snap their photos, they dine and laugh with his mum, his love for this woman is real even if she is not.

George Michelle & Separate Ways – 'Keep Me Waiting' (BTS Photos by Lena Buchanan)
This was a necessity to the delivery and engagement of the story on a personal level, as Jack Shepherd explains: "The normality and acceptance of his partner comes from the influence of Lars & The Real Girl. We knew that the humour would automatically come from the fact that the female is an inflatable sex doll, so we tried to keep the storyline quite serious & heartfelt, and to treat 'Britney' as if she were a human. Remove the fact that she is a doll, it is a sad story."
Here is the official video for "Keep Me Waiting"
Music Video Credits
Director & Cinematographer: Jack Shepherd. Written by: Maurice Santiago. Producer: Joel Martorana. Art Direction: Maurice Santiago. Edited by: Jack Shepherd & Maurice Santiago. Stylist: Shakira Mae. Hair: Luke Benicky & Dee Okeefe. Make-up Artist: Colin Wilson. Camera Assistant: Tommy Austin. Colourist: Matt Campbell @ Matua Film. Set Design & BTS: Lena Buchanan. Special thanks to Dayswork, Perks and Mini and Crater.