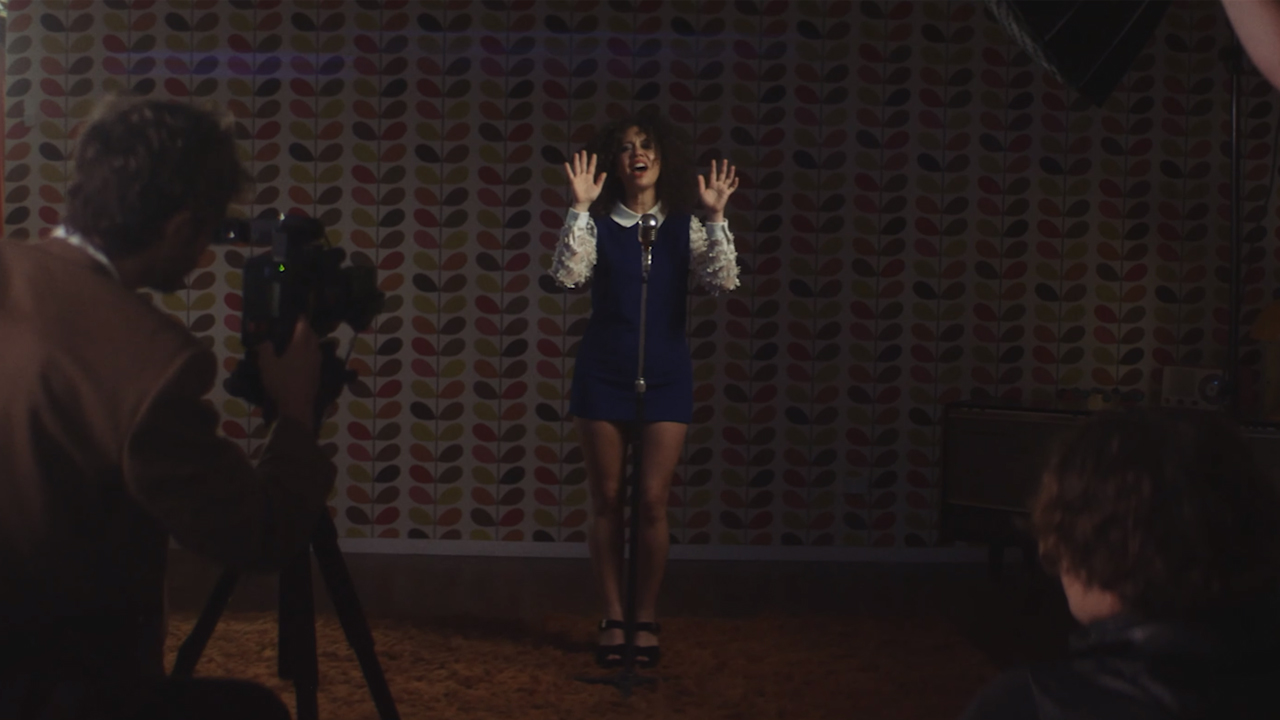 FEATURE: Jade MacRae – I Choose Love (Dir. Tim Nathan)
I
t's so fitting that Jade MacRae's brand new single
'I Choose Love'
begins with a belting of the lines "I'm tired of hurting, tired of the blues". The song lyrically details a certain resolve, a decision by MacRae that she won't tie herself to people who bring her down anymore. Instead, she chooses love. Meanwhile, the music displays a definite resolution and transition for MacRae as well, while still heavily based in that bluesy jazz style that is oh so MacRae, there is a real soul and classic R'n'B feel to the track as it bursts with James Brown-esque horns and Aretha-esque harmonies.

Jade MacRae – I Choose Love (BTS photos by Jordan Kirk)
When asked about this metamorphosis and what it meant for the new album 'Handle Me With Care', MacRae replies: "The record really felt like a homecoming for me, I allowed myself to settle right into my soul and blues roots, and I dug deep with the songwriting in an effort to honour the music that has inspired me over the years, all the while trying to push myself to bring something original and unique to the sound. Some of the tracks take a walk down the R'n'B road, and others hark back to my early days as a jazz singer and feature the amazing playing of my dad on the piano (also featured on 'I Choose Love'). For me when making an album, I want to take people on a journey. Highs, lows, up, down and all around. The common thread for me was the instrumentation. Keeping the band consistent allowed to include all those different colours and gave me the freedom to explore different moods."
The video for 'I Choose Love', directed by Tim Nathan, takes a meta look at MacRae's reawakening of sorts; placing MacRae in a staged music video shoot populated by this amazingly stylised and painfully hip film crew. The film shoot isn't over-dramatised, instead offering a glimpse at the stark difference between what's happening in front of and behind the camera. However, as the song ramps up, MacRae's somewhat controlled performance is taken over by a spirited sound tech who drops his boom mic and let's the music take over his whole body.

Jade MacRae – I Choose Love (BTS photos by Jordan Kirk)
"Having been in the film industry for a while now," says director Tim Nathan, "I've got all these great friends who are super eccentric and like to work in very different ways. I wanted to create a kind of warped version of what it might be like having a selection of them together on set and exaggerating/inventing various pieces of their personalities. We'd then work with those to create funny little dynamics between them while they shoot their own "music video". Film sets somehow still tend to have this strange hierarchy which I can't stand and naturally wanted to poke fun at."
"The other thing was that the song felt so dancy, and it needed a strong element of movement. I'd seen this Black Keys music video where it's a single take of a security guard dancing the whole way through. I loved his interpretive dance and then the idea of having this often-overlooked person (sound guy) breaking into his own dance came about. I had no idea who to cast and then remembered Thomas Gundry-Greenfield, an amazing dancer who was living in the shed in my back yard at the time and was one of the most interesting, lovely dudes I'd met in a long time. He was super down to be in the video and sent me tons of iPhone clips of his ideas earlier on."

Jade MacRae – I Choose Love (BTS photos by Jordan Kirk)
Gundry-Greenfield's performance is absolutely electric and purely hypnotic. As the video's faux-crew become enamoured with his gyrations, strutting and gesticulations, so too does the viewer. Jade MacRae is a brilliantly engaging performer, so it really does need to be commended that this dancer was able to conquer the viewer's attention in such a way.
When Thomas is chastised and eventually fired from the set for his amazing but unprofessional actions, his disappointment pretty quickly vanishes as he once again becomes a slave to Jade MacRae's undeniable groove. It is then that we get a glimpse into the sound guy's wonderful mind, a Broadway/disco clash of dazzling coloured lights, slow motion and soft focus. We now see the inner workings that inspire him to be such a showman and the video's crew's eyes once again fall on him.

Jade MacRae – I Choose Love (BTS photos by Jordan Kirk)
Director Tim Nathan elaborates on this conceptual crescendo: "The moment when Thomas was left alone had to be when we first saw him kind of "transcending" into his own world. We shot both setups in the same location – first with the standard ugly lighting film set, then he got into his suit and we began to change the lighting around. We actually used some of the "Prop" lights in that scene which were bouncing wild colors everywhere. Thomas was so in his own world and we shot some slow-mo footage of that which ended up being most of what was used in the final cut. All the sweat that you see is real, it was boiling hot in there."
The video closes with this perfectly dramatic indie film shot of Thomas blissfully letting the wind sweep his hair as he drives away in a convertible. Thomas epitomises the message of 'I Choose Love', not allowing the bummers in, living your life with positivity and power. It's an infectious feeling that is broadcast from this video, a message wonderfully captured by Tim Nathan in an engaging, hilarious and cinematic way. For Jade MacRae, this video that was given the tall task of representing a very personal song for her, ticked all the right boxes: "The video shoot was a hoot. Tim Nathan the director gathered a great team to pull it together and we shot it all in one day."

Jade MacRae – I Choose Love (BTS photos by Jordan Kirk)
"So the lyric of this song in essence is quite serious for me. It's a story of moving beyond a toxic relationship, learning how to recognise when you are being mistreated and taking charge of your own happiness. It also touches on addiction – I like to think of it as my self-love anthem haha! In any case, I wanted to capture something for the clip that didn't feel too heavy because ultimately, the song is about moving beyond these things and into a better place. Tim came to me with a treatment that featured a character who came across as completely carefree and joyous, and that felt like the perfect pairing to me. It's easy to take life too seriously, and life is too short not to dance, laugh and have fun, and that's the spirit I wanted to capture with the clip. Choose love, choose life, choose fun etc."
Here is the official video for 'I Choose Love'
Music Video Credits
Director: Tim Nathan DOP: Ed Trigone 1AC: Myles Doughman 1AD: Julian Tuna Art Director: Morgan Ferguson Stylist: Wade Kelly HMUA: Cassie Lapthorne Stills: Jordan Kirk Sound Design: Luke Fuller Editor: Ben Zemanek Colourist: Daniel Witchey Actors: Thomas Gundry-Greenfield, Wade Kelly, Gracie Triglone, Mia Evans-Rorris & Bryn Chapman-Parish Special thanks to Camera Hire Australia, Commissioner Oliver Lawrence – Photoplay Films