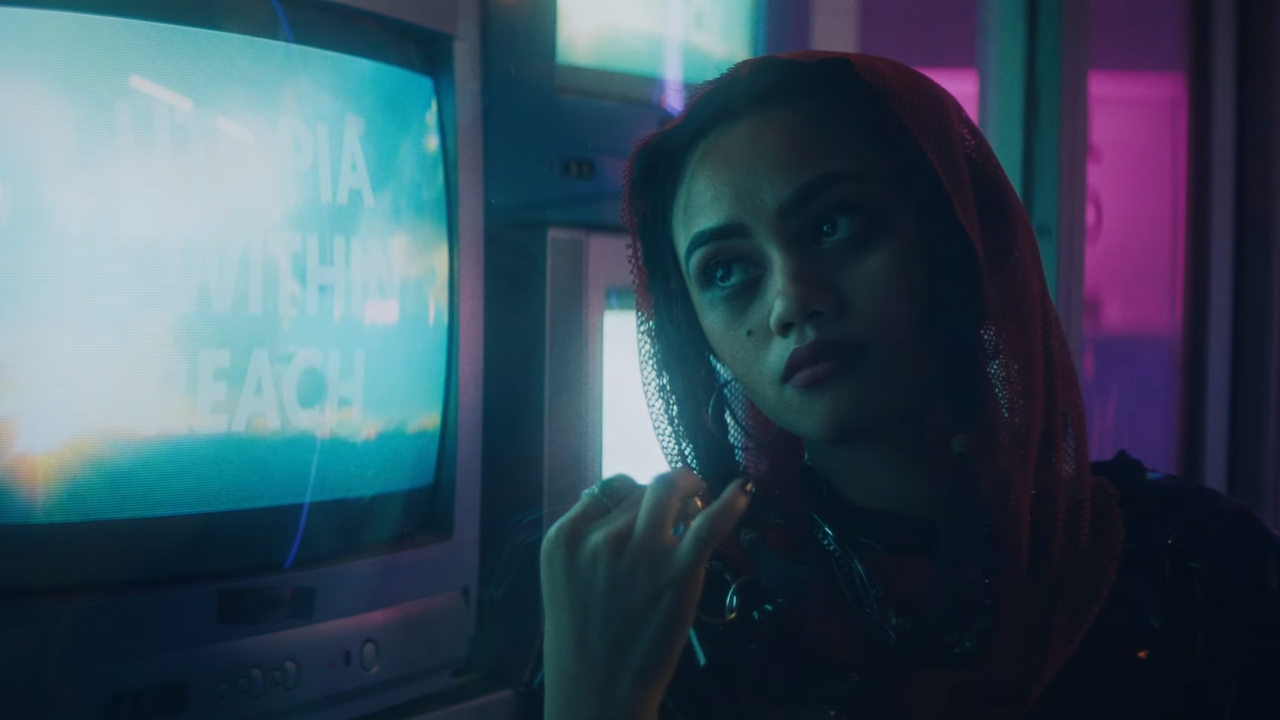 FEATURE: Juno Mamba – Blossom (Dir. Sanjay De Silva)
I
t is always such a beautiful thing when there is a certain serendipity between what's happening on screen in a music video and what is happening behind the scenes. That seems to be the case here with
'Blossom'
; the new music video-cum-short film by director Sanjay De Silva and artist Juno Mamba. The video, which follows a woman and her gang of urban punks as they exist just outside of the regulations of a future dystopia, tells a story at its core that is about fate, ambition and kinship.

Juno Mamba – Blossom
For Juno Mamba during the writing process of 'Blossom', a track that courses through cinematic movements of high energy and relief, positivity and danger, there was a certain fortuitousness or even fate about the way the song came together: "I did spend a lot of time working on this track." recalls Juno Mamba, "I didn't have any preconceived ideas so a lot of it was experimenting and exploring ideas that felt right. There were times I would try something for days and then I'd hit a roadblock and it would force me to branch off into another direction, which probably explains why the track gives off that feeling of movement and intrigue."
"When I started writing 'Blossom', it was during a time when I was unsure about where my life was at in that moment in time. I remember when I wrote the main lead melody that is introduced in the beginning, I felt a sense of calm, especially when the bass progression changes for the first time while the lead floats above it. It was this exact moment when everything felt right and I knew I was exactly where I needed to be. Listening to 'Blossom' now, I can hear how I was navigating through life and figuring things out one step at time and realizing that everything would be ok."

Juno Mamba – Blossom
This concept of uncertainty and predestination is something that Juno Mamba and director Sanjay De Silva have been able to collaboratively harness in the video. The opening prologue depicts the protagonist as a child receiving blessing and divination from a sage-like character in a peaceful and sun-lit setting. We then smash forward to the video's present as the protagonist and her crew traverse a dystopian city landscape, the existence of some manufactured and sinister utopia known as "The Garden" forever dogging their rebellious steps. Meanwhile the protagonist attempts to understand her place in the world with the presence of her past still deep in her heart.
Sanjay De Silva takes us deeper into the concept process: "I like to listen to the song without any influence first. I see what images come to mind, what feeling I get, what journey I go on, then I'll talk to the artist and ask what it is for them, what they put into it. I tend to try and make work that shares some cultural significance with the artist and their past. The track had a deep spiritual significance to him so I dove into researching traditional Filipino spirituality and elements we could reference."
"From there I wanted a way to discuss the importance of heritage and spirituality in a world/society (similar to our own) that places little value in it – in the world of 'Blossom' the crew of punks is seemingly a family rebelling against society but in reality, they are more concerned with their own self-gratification than the state of the world. Tala is lost in this dystopian world but her eventual "salvation" comes from her deep connection to her heritage."

Juno Mamba – Blossom
This sort of epic project set in a fantasy-adjacent world requires such a massive commitment of creative energy in multiple departments to pull off. De Silva successfully builds a wild and intriguing world full of colour and grit, taking elements of modern society, traditional Filipino and futuristic sci-fi design to create a society that is at the same time relatable and hostile. De Silva elaborates: "The production design and styling were all about helping fill that world out in a way that wasn't too far away from our time and own world. I wanted this to feel like it could be 5-10 years in the future for us, we could very easily be close to living in a police state with forced labour camps ie The Garden. It was all about thinking of elements that we could incorporate that aren't expensive or require big builds."
De Silva has a real talent for telling these involved and detailed stories, even within the music video format that gives so little time to do so. When asked about this process, De Silva replies: "I think any good story (especially sc-fi) should feel like there's so much more to learn about the world after you finish. To me, the story that you are developing, no matter the length needs to have a complete and comprehensive world that it is set in. Even if it's a 6-minute video, it's important that every character has a backstory and motivations. The world itself needs to have rules that govern the way characters act and any choices that your protagonist (or any character) makes, that way their actions are natural and reactive to that world."

Juno Mamba – Blossom
"The idea of fitting a story into the run-time is secondary. Fitting into a run-time is more about working out what you can omit to tell that story; I have my world, I have my protagonist's journey, now how much can I leave out while making the world clear enough for an audience? For example, I don't need to go into a lot of detail about what The Garden is because it's not necessarily vital that the audience knows exactly what it is. But I need to give them enough that they at least question what it might be and its relevance to the world."
In our world, not too far form the one that Juno Mamba and Sanjay De Silva have created, where media controls messaging and where attention spans are dwindling and engagement in stories is fleeting, stories like this one feel so important. Big, involved stories that have a meaning and a purpose, stories that reflect on society and the importance of heritage in a rapidly evolving world. And for that story to be delivered in the realm of music videos, well it absolutely delights us.

Juno Mamba – Blossom
When asked about the collaborative process and the success of the video, Juno Mamba replies so fondly: "Working with Sanjay was an absolute dream. I've known him for 19 years and to watch him from a distance and see all the amazing work he has produced over the years has been incredible. I was excited with the possibility of reconnecting and creating something together. From our initial catch up he understood exactly the ideas and meaning behind the project and what I was trying to achieve. He took my story and experiences and re-imagined it into something other worldly. He had bold ambitions for the video and I couldn't be prouder of what he's delivered."
Here is the official video for 'Blossom'
Music Video Credits
Director – Sanjay De Silva Producer – Timothy Sharp DoP – Max Walter Production Designer – Jose Pincheira Wardrobe – Imogen Walsh HMU – Aisha Ahmed Editor – Florence Holmes Colourist – Fergus Rotherham Casting: Catapult casting ⁣ 1st AC – Lucas Brown Additional 1st AC – Bek Arnott Gaffer – Albert Garcia Additional Gaffer – Levin Mundinger Best Person – Louis Walter Sound recordist – Mark Edwards Sound recordist – Niels Gabriels Gimbal operator – Benoit McCullough⁣⁣ Sound designer – Ben Stendell CAST Albizia Balbuena, Rosario Martin, Paige Punsalang,⁣⁣ George Goodnow, Tom Sheehan, Danny Cardoza, Kit Bennett, Nadine Keegan, Jack Pascoe, Mami Ikeda, Rafael Encabo SPECIAL THANKS Vision House, Savage film services,⁣⁣ Social Studio,⁣⁣ Real People,⁣⁣ 86 Bar⁣⁣, Alice Taylor⁣⁣, Abbey Howlett, Bill Bleakley⁣⁣