FEATURE: Lupa J – Always Wanting (Dir. Lupa J & Nyssa Mitchell)
Lying in a bed of rose petals or tearing at plastic-wrapped walls, "All around me I have love but I get off on pain" is the climatic line that artist and co-director Lupa J sings at the end of each verse of Always Wanting, and it's this sentiment that forms the thematic basis for the video clip. Lupa (real name Imogen Jones) sings to camera in a number of carefully composed scenes, from desaturated and static space that blurs the line between office and home, to a plastic wrapped studio and a petal-covered homage to American Beauty. Each shot is characterized by a slow forward motion of the camera, putting sole focus on Imogen and giving the audience time to take in the somber synths of the track.
The song is a reflection on the kind of infatuation that dominates your every thought, an infatuation that's never fully satisfied and almost always leads to destructive behavior. Imogen reflects:
"If I'm going to write a lyric like 'All around me I have love but I get off on pain' the song can't be sonically dark. A lyric like that is too blunt, and just outright sad that I had to make the melody and surrounding production really bright, almost comically so. Mainly so it's not too much for people, and they can see I find humor in my frustration too"
Being the somewhat uncommon intersection of artist and director for the majority of their projects, Imogen had to pick a collaborator that they knew would satisfy their specific vision. Melbourne cinematographer and director Nyssa Mitchell ticked all the boxes for co-director, and the pair set to work crafting the hypercolourful world of Always Wanting and building upon Imogen's original vision to create something even grander.
"I've pretty much always been involved in the directorial side of my videos, yes – right from the very first song I put on the internet when I was 15, I filmed and edited a homemade video to go with it all on my own. I've only completely handed over the reins to a director twice – both times I felt that the directors did manage to successfully capture me and the song, but not being able to be involved during the editing / structuring process was really frustrating for me, and I came away feeling less satisfied with those videos"
For Nyssa, it was important to visually separate the two "worlds" of the music video – the dreary real-world location and the fantasy world in which Imogen visualizes the subject of their affection (played by a glitter-clad Sharmin Hossain). She elaborates:
"In terms of colour we wanted [the real world] to be pretty stripped back, almost monochrome, and we found a residential location that ended up being exactly what we were looking for – it had off-green walls and this great checkerboard vinyl floor that made the place feel quite sterile and unpleasant. We also kept the costuming and props fairly minimal to add to the overall cheerlessness of the world.  By contrast, the fantasy world needed to be pushed to the other end of the spectrum; we wanted it to feel colourful, hyperreal and synthetic. Costuming was a huge factor here, so our stylists Maddy (@lovemadeline_) and Tuan (@tuntuantu) created some amazing outfits out of different synthetic materials, like Imogen's transparent coat and Sharmin's plastic corset"
Nyssa shot the video on her own Canon C300 MKIII with Canon CN-E prime lenses, opting to save the costs of renting a more expensive kit and instead put their modest budget into production design and costuming. The edit was handled by Imogen themselves, and sometimes as one scene cuts to the next there's a blink-and-you'll-miss-it flash frame of a previous scene, leaving a visual impression on the moment without giving the audience time to take it in fully. It's slightly disorienting, but it helps keep the key visuals of the clip fresh in the mind of the viewer.
The homage to American Beauty was, in Imogen's mind, the perfect way to convey their chosen theme of escapism, fantasy and ideation. But instead of what would seem like the obvious decision of putting Sharmin's character in the scene, Imogen decided to appear in the shot themselves, symbolizing that desire for someone else is in equal measure a need to be desired. Gilding themselves with gold paint, Imogen presents the self that they hope beyond hope will be seen by others. As the track reaches its climax, the plastic sheets wrap tighter around Imogen and the petals fall over their eyes, symbolically blinding them as love often does.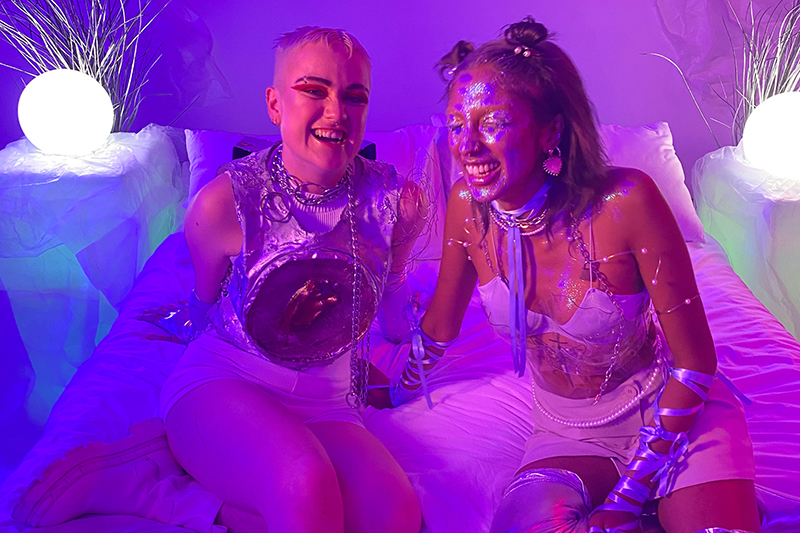 Nyssa and non-binary identifying Imogen also remark on their majority female and gender-non-conforming crew:
Nyssa: "Interestingly I've found that having a diverse crew is fairly common on independent projects such as this, because there seems to be more opportunity for people from under-represented groups to be in HOD roles such as director or DP. Unfortunately, male-dominated projects get a lot more visibility, so a crew like ours is still seen as this radical idea when it really shouldn't be. I think it's important to add that when we were crewing up for 'Always Wanting', we weren't deliberately setting out to tick diversity boxes. We chose people who we felt were best for the job, and they happened to be predominantly female and queer identifying because that's an accurate reflection of the emerging film industry"
Imogen: "I will say that in comparison to shoots where the crew has been male dominated, or even all male, my vision as an artist having directorial input has been respected and actively explored far, far more by gender diverse crews. On the male-dominated shoots I've done, I've been pushed out of having any input at all, even on occasions when the concept and narrative was something I came up with"
While it's a great video in its own right, it also represents another step towards normalizing new kinds of talent in the film industry. And with a handful of upcoming singles, and some people already praising Always Wanting as Lupa J's best clip, it seems like the start of a beautiful collaboration between Imogen and Nyssa.
Here is the official video for 'Always Wanting'
Music Video Credits:
Directors: @lupa.j @nyssamit DP: @nyssamit Producer: @cassjdennis Production Designer: @athinauhoh Styling: @lovemadeline_ AC: @snuggle.puss Gaffer: @coreyclement_ Best Person: @tyrie_aspinall Art Assist: @rne.e AD: @chabuxles HMUA: @zoejane_makeup SFX MUA: @moochimade Editors: @lupa.j @tomfarnill Studio: @coolstudio.jpg Starring: @lupa.j @masala.mei