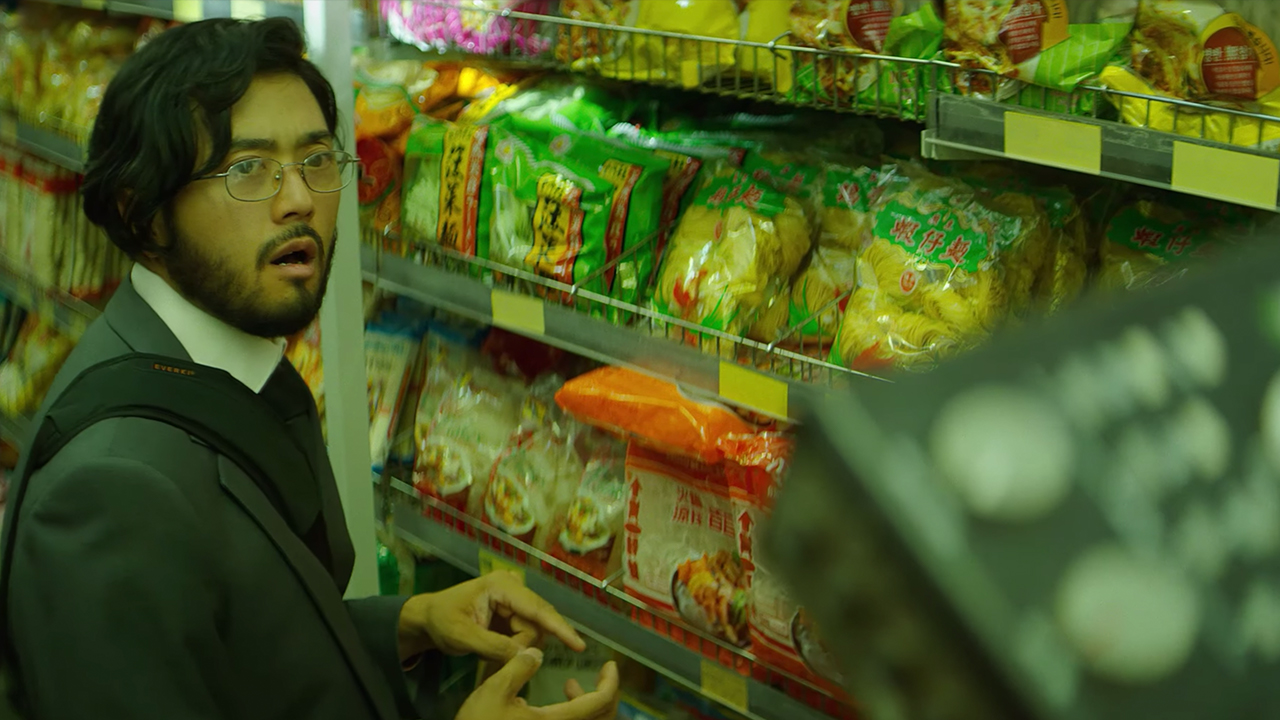 FEATURE: M5K – The One For Me (Dir. Cheese Whiskers)
A floating drum machine infects some innocent bystanders with its funky beats and transports them to a 90's hip-hop realm, in Melbourne G-Funk producer M5K's new video for "The One For Me".
This concept came to director Cheese Whiskers once he heard the track, using some comic surrealism to play out the response he himself had when hearing the song. "One thing that was present to me upon first listen was how funky the beat was. I then started toying with the idea that whoever listened to this song, no matter how old or how uncoordinated they were, it was almost a sure-fire way to make you feel instantly cooler… From this idea we slowly built our 4 lead characters and then brought in the floating drum machine as a bit of a wow factor and it was used to transport them into M5K's retro, dance music video."

M5K – 'The One For Me' (BTS photo by M5K)
The video follows four different characters in different scenarios, just going about their regular daily business; be that grocery shopping, hanging with friends, walking the dogs or… um… Robbing a bank. Each of these characters is visited by an apparition of a floating AKIA MPC-1000 Drum Machine that stimulates their bodies into dance.
The scenarios are not only all different conceptually, but they are each presented in an original way to the others. When asked about this approach, Cheese Whiskers replies: "It was important for me to make this clip feel less Australian and more global. In achieving this I wanted each scene to feel like it was a different part of the world, similar to the film Babel but without Brad, Kate and copious amounts of budget."
He elaborates: "To help sell this feeling of watching different vignettes across the world, we needed to find each character a unique location and give the scene a different look and feel. We went for a South East Asian grocery store and graded it up with a warm, yellow tone to make it feel like a hot, muggy, summers day. The robbers were decked out in winter clothing and the colours were a bit colder and grittier to feel like it was somewhere in Detroit or New York during the winter. The other two scenes were meant to be LA for the girl under the bridge with that warm Cali sunshine and the dog walker was somewhere in Europe during spring time."

M5K – 'The One For Me' (BTS photo by M5K)
Once the spectral drum machine has conquered these four unwitting characters, it transports them to the set of a thousand pop & hip-hop videos from the 90's; an unassuming white studio, complete with funky-fresh graphics and lighting. From here the entire video's aesthetic changes.
Cheese Whiskers explains: "The artist M5K really digs that 90's nostalgia, so I knew I had to pop it somewhere in the clip. He loved the idea of all the characters magically being transported to his own music video."
"M5K was also really keen on getting amazing choreographer Aisha Kuryana on board, so he reached out to her and she was into the concept, so she helped us out. That kooky lil 1, 2 step that she breaks out with the rest of the cast was something I got her to chuck into the clip last minute as it's one of M5K's favourite dance moves, plus it looks pretty fun and infectious on camera."

M5K – 'The One For Me' (BTS photo by M5K)
Cheese Whiskers elaborates on how they achieved this retro look in production: "To get that retro effect we shot the scene on some basic aspheric glass with a Red Helium and then just put it through all these crazy filters and added some old school transitions which would probably be frowned upon in today's editing but back in the early 90's people would be blown away."
The desired effect is well and truly achieved and as infectious as it is for the viewers, it is equally so for the characters, who despair when they realise they are about to be ripped from this hip-hop heaven and sent back to their varying levels of mundanity.
There is another major aesthetic change that occurs a few times throughout the video. The POV of the drum machine is presented as a 4:3 VHS-style rendering of the world, matching the 90's stylings of the climax of the video. The way the drum machine is used in the video brings real character and originality to this concept, while also showing some of the more technical chops of the production and crew.

M5K – 'The One For Me' (BTS photo by M5K)
Cheese Whiskers speaks quite excitedly of this process: "I had a wizard by the name of Lukas Schrank who is an amazing VFX artist and also a top shelf Director jump on board to help me out with the drum machine."
"The process was rather straightforward for myself. I told the talent where the machine would be floating and for them to interact with it… I then had to use this special 360-degree camera and place it in the position that the drum machine would be floating. From there we would take some multi exposure shots which would capture where different light sources were coming from."

M5K – 'The One For Me' (BTS photo by M5K)
"Then it starts to get a bit more technical. Lukas would then use these 360-degree images to map out the space and all the light reflections which you see on the drum machine, to make it feel like it is living in the same space as the talent. From here a 3D model is built and tracks the movement of the camera and voila, we have a magical floating drum machine, ready to whisk you off into M5K's dance domain."
Cheese Whiskers has done incredibly well to capture the infectiousness of M5K's track here. He is so right in his description of "The One For Me" as this ethereal transportation device that takes you to a very cool time and place and makes you feel that much cooler just for being a part of it. The "Song So Good It Makes Everyone Dance" concept is definitely tried and true in music videos, however, involving the drum machine apparition and the relocation to the 90's world makes this video, much like the song itself, a really fresh take on a classic theme.
Here is the official video for "The One For Me"
Music Video Credits
Director: Cheese Whiskers. Cinematographer: David McKinnar. Production Company: Magnetizer. Producer: Charles Ward. Stylist: Belinda Redmond. Editor: Gilbert Scruffin. 3D Modeling: Lukas Schrank. Roto: Cheese Whiskers. Colourist: Dan Stonehouse @ Crayon. Catering: Kaz's Cookout. Cast: Suited Man: David Lam. Dog Walker: Chris Pennings. Robber Lead: Montez Williams. Robber Driver: Charlie Ward. Underpass Girl Lead: Liv Rian. Underpass Girl's Friend: Queen Gaye. Underpass Boy 1: Tieg Sadhana. Underpass Boy 2: Jesse Bouma. Dancer: Aisha Kuryana. Man Behind The Keys: M5K. Doggos: Louis, Pippa, Mia, Heinz and Banjo. Special Thanks: Josh Geary, Naify Christoffel, Claire Newton, Katrina Loprete, David Leyshon, Lemac Film & Digital