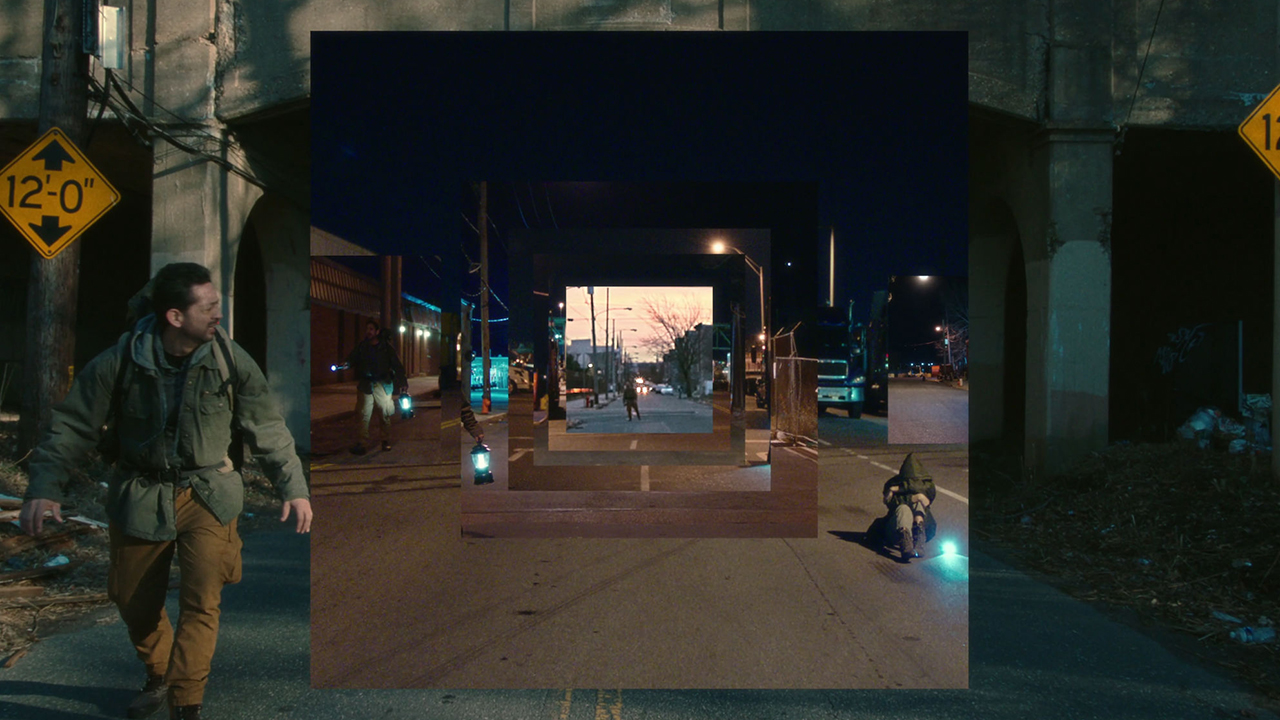 FEATURE: Mild Minds – Walls ft. Boats (Dir. Colin Read)
D
irector Colin Read brought to life the
'Walls'
music video for Mild Minds and Boats recently, and much in line with his body of work, Read seamlessly intertwines inventive VFX techniques with the subject and narrative of his videos. When asked whether his concepts inform the techniques or are born from them, Read had this to say:
"I guess I generally start with concept-driven effects. By that I mean, the overall, top-level idea usually comes first, and then I try to think of the technical means of bringing the idea into an actual visual."

Mild Minds – Walls ft. Boats (Behind The Scenes)
"For example: an old feature-length project of mine, "Spirit Quest," was a sort of hybrid between skate video and animal documentary. In one section, I wondered: How would a chameleon see the world? And specifically, how would it see and understand skateboarding? So I experimented until I arrived on a few different split-screen approaches, in which the frame would split off into different views of different things, then join itself again—just like how chameleons can use their eyes independently…"
"With 'Walls', following the theme of the song, it started with wanting to tell a wordless story about walls separating us. Initially I actually wanted to make a narrative involving dance. But eventually that fell away into just a simple family story, about migration and displacement. And I knew that I wanted the camera to be constantly moving, feeling relentless, leaving everything behind as soon as you pass it. No going back."

Mild Minds – Walls ft. Boats (Behind The Scenes)
"For the visual treatment, I shot some test videos with side-tracking motion, and was experimenting with ways to connect them. During this, I remembered the work of an Australian artist, Daniel Crooks, who made an art film called "A Garden of Parallel Paths," with side-tracking past alleyways, stitched together where the walls met. I realized that this technique could connect the scenes just how I wanted, while also creating surreal "walls" that matched the song. I decided to try to take this framework and build on it, refine it; and rather than having the effects be the sole purpose of the video, have them be the medium by which I tell the story, and act as elements of the story itself."
The end result is an absorbing and heartfelt diorama-esque look at the Father-Daughter journey that adds weight to the ambient and emotional track. Pulling off the mesmerizing digital walls that divide the story into beats was no easy feat, especially on a budget and schedule that doesn't permit for advanced motion control rigs that would typically be used to pull off these seamless transitions. Read, with the help of his wife, figured out a budget version; doing a few tests shooting on a tripod out of his car moving at idle speed.

Mild Minds – Walls ft. Boats (Behind The Scenes)
Depending on the project these tests can be a critical part of the process for Read: "For me, they help shape and improve my ideas, and then give me confidence that the technique will work when we're burning through the actual budget. It removed the guess-work and anxiety. And then yes, I usually include them in the pitch—they also give the client confidence in the idea, and helps them more fully understand what I'm pitching."
The final sequence of the clip really highlights the hard work that went into the effect, the camera pulls back following the leads through a tunneling, interlaced montage as the two characters find their way to being reunited. The kaleidoscopic like effect is not only visually stunning but also a brain bender when trying to fathom how it was technically accomplished on a two-day shoot.
"Everything was planned pretty carefully. Rather than storyboarding, I had timed out the song to figure out how many separate shots we needed—taking into account how long each "frame" would remain on screen—and then worked backward from that number to write out the individual scenes. I wanted the narrative to tell a fairly clear story, so we left everything simple and gestural."

Mild Minds – Walls ft. Boats (Behind The Scenes)
"I ended up with a specific shotlist of the actions we wanted the cast to perform for each shot, then just set about ticking off those boxes one by one. We stuck to a very fast schedule, but with our shooting style that was very possible. I've found that with enough careful pre-production and exact planning, you can get some pretty big things done with very little."
Read has been really generous with sharing his BTS and talking about the ins-and-outs of making his films on his Instagram, we encourage you to take a look there to see how he pulled off the most complicated shot in the film.
Here is the official video for 'Walls'
Music Video Credits
Director, Editor, VFX: Colin Read Prod. Company: Unit9 Executive Producer: Giacomo Vigliar Producer: Francesco Rizzo Cinematographer: Andrew Maso 1st AC/Key Grip: Alex Frishman Colorist: Samuel Gursky at Irving Harvey Color producer: Kerry Mack Additional VFX: Sam Jones Commissioner: Emmanuelle George Talent: Ana and Alberto Suarez