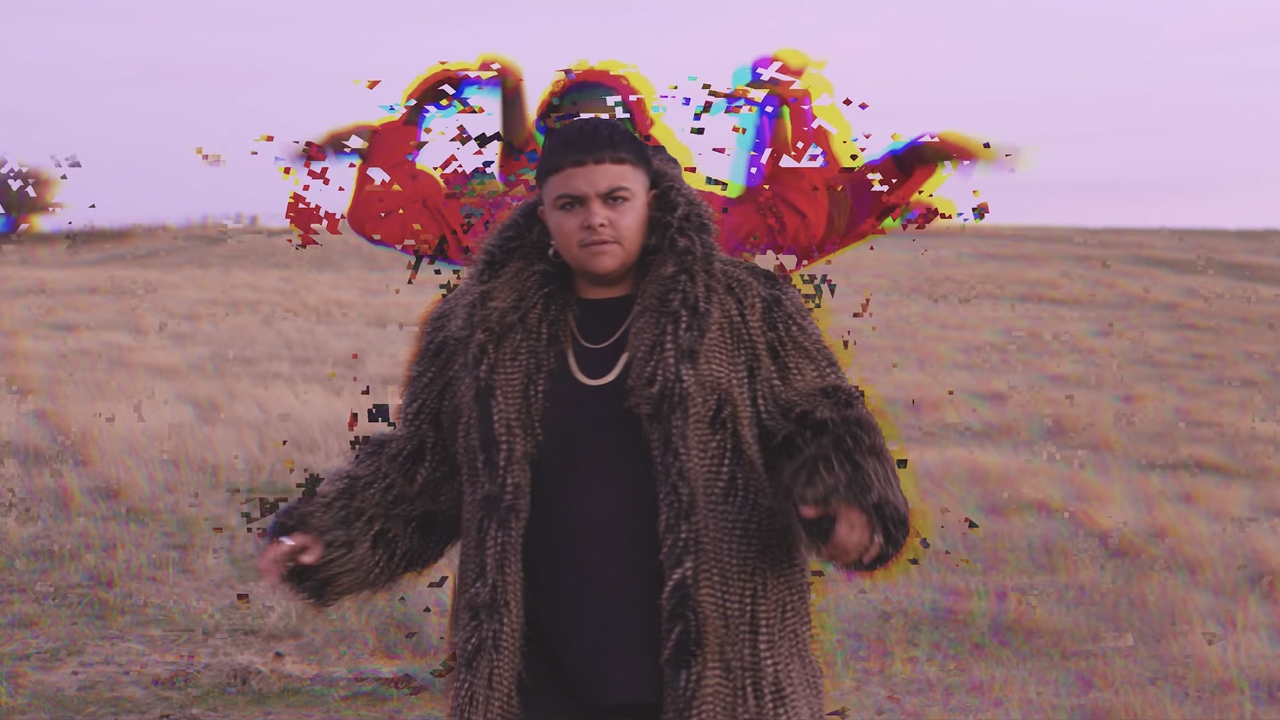 FEATURE: Mojo Juju – Native Tongue (Featuring The Pasefika Vitoria Choir)
Apowerful expression of the importance of not only respecting but also embracing and celebrating indigenous culture, Mojo Juju's intense opus explores a gamut of emotions in the face of those who would seek to quieten Australia's first nations people, traversing lament and reaching its fiercest point with the line "The time is through for being nice, let's call it what it is."
From the very first time director Claudia Sangiorgi Dalimore heard Mojo Juju singing "Native Tongue" she felt drawn to the opportunity to work with her to bring the song to life visually. "Mojo has a really important story to tell, one that mirrors the experience of many other people's as well. The first time I heard the song Mojo was singing it live. It only took her singing the very first line of the song to run shivers down my spine. She commanded the stage and everyone's attention. That moment fuelled my determination to make a clip for her."

Mojo Juju Featuring The Pasefika Vitoria Choir – 'Native Tongue'  (BTS Photo)
The resulting video is intense and exhilarating. One continuous shot of Mojo Juju, flanked by the Djuki Mala dancers, taking step after purposeful step through an iconic Australian landscape, delivering her impassioned proclamation to the camera.
Knowing the significance, it was vital for Sangiorgi Dalimore to do the subject matter justice in the presentation of the video, utilising the expertise of those around her to ensure the final product was telling the story that needed to be told. "We are talking about the first nations people of Australia. Specifically, we are talking about the grief around losing their culture and the importance of not losing language. I'm hopeful that as a people we understand our responsibility to help keep these stories alive. My obligation to Mojo and to Djuki Mala was to represent them in a way that they felt proud and comfortable with. So, the making of the video clip was incredibly collaborative."
When asked why she felt the visual approach of the single shot was the most compelling way to present this story, Sangiorgi Dalimore replied concisely, "Simplicity. And that comes from wanting the audience to really listen to what Mojo has to say. It would have been a waste if I had made everyone watch an edit instead." She continued, "Paul Van Kan did a brilliant job in bringing to life the glitch effect. I guess everything is not always as it seems."

Sangiorgi Dalimore at the J Awards 2018.
Perhaps one of the main reasons Sangiorgi Dalimore is a condign fit for this project, is her previous experience in helping to tell the stories of those who aren't always given a voice. Along with photographer Michelle Grace Hunder, Sangiorgi Dalimore is behind the incredible Her Sound, Her Story documentary and movement that illuminates the personal experiences of women in the music industry, and the impact women have had and will continue to have on society.
When asked why she is attracted to these sorts of projects, Sangiorgi Dalimore replied "I love story telling. The art of it. Far gone are the times where any of us sit down and make time to have stories told to us, passed down or recalled. Sharing other people's stories helps me reconnect with my own, part of my life's work. I often see film as a tool for empathy and celebration, my way of being of service to others."

Sangiorgi Dalimore with her Triple J Award for Music Video Of The Year.
Sangiorgi Dalimore's dedication to the stories that need to be told has seen her receive a wealth of plaudits of late. Her video for Mojo Juju's "Native Tongue" has been celebrated for not only its execution but also its significance in the evolving cultural conversation of Australia, culminating most recently in the Triple J Award for Music Video Of The Year.
While the acclaim is certainly welcome, for Claudia Sangiorgi Dalimore, it is the fact that these voices are becoming ever-further-reaching that is of most importance to her. "It's wonderful for the work to be celebrated, not just by receiving awards but to have watched the response from the general public as soon as the video dropped. It tells me that people are clearly ready to hear stories like this. Maybe even with a sense of urgency or hunger."
Here is the official video for "Native Tongue"
Music Video Credits
Director: Claudia Sangiorgi Dalimore. Producer: Claudia Sangiorgi Dalimore & Josh Bond. Filmed by: Oliver McGeary. Editor: Paul van Kan / Fern Co. Lab. Dancers: DJUKI MALA.