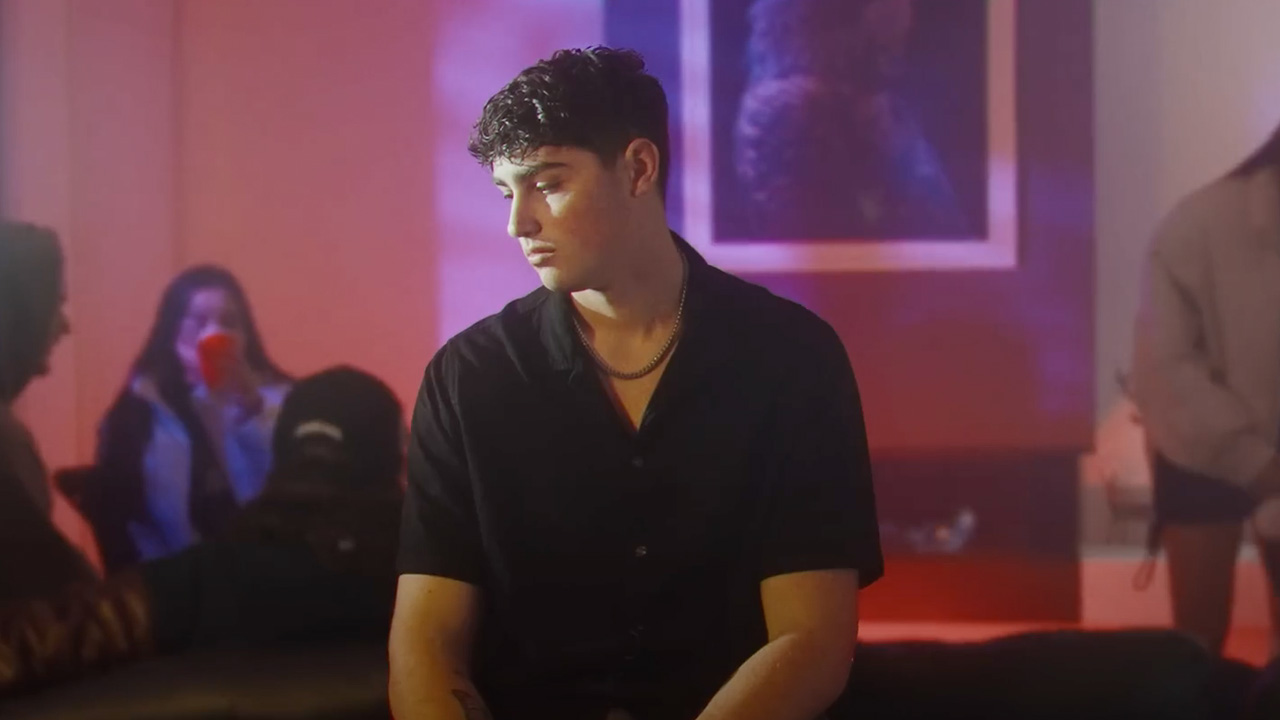 FEATURE: Oliver Cronin – Boys Don't Cry (Dir. The Last Addition)
The party is raging, the white walls are washed with pink and blue neon light, and despite the dancing and fun, there's something somber in the air that only Oliver Cronin can seem to feel. Thus sets the scene for Boys Don't Cry, a clip that never leaves its rich neighborhood house location, but still manages to pack a lot of emotion into its runtime. It's a song that contrasts emotional brooding lyrics with a bouncing pop rhythm, and director The Last Addition was intent on creating a similar contrast in the accompanying visuals. He remarks on the collaborative relationship between him and Oliver:
Oliver is super easy to get along with, we have a great relationship.  He's really fun on set and super down for anything which makes shooting seamless. He gave me some general ideas of where he wanted the video to go and I took them and expanded on them. It was really cool though as he really trusted my vision for this one and passed a lot of responsibility onto how I wanted it.
BTS by @kotasatoo
Coming from a predominantly hip hop background with clips like Mason Dane and T-Pain's DASH under his belt, Boys Don't Cry presented a unique opportunity for the director.
This was quite different from what I usually do, I typically shoot a lot of rap but it was nice being able to create and edit a video different to what I'm used to as it pushed me in exploring how to communicate key themes.
BTS by @kotasatoo
With only a week to pull together an entire shoot, Oliver and The Last Addition had to hustle hard to make it all work. Even with a suitable house available, production curveballs were fast and frequent.
Oliver has a really cool tight knit group around him of people who are always willing to help each other out, so it was cool to see a lot of familiar faces come through. Though to really get the numbers [of extras] up we just had to tap into our networks and really just ask as many people as possible (it helps that the scene is a house party as that's easier to get people interested). We honestly cut it so close to the wire in pulling everything together, we had mishaps with the locations, with extras, you name it. Everyone was amazing but even just managing that many extras can be quite challenging as it's a fine line of wanting them to have fun but also be ready to move around and be pulled into the next shots etc.
BTS by @kotasatoo
Oliver's reflections on the grim reality of young adulthood are accentuated through the use of a few camera techniques. On important verses the clip's aspect ratio swaps from 16:9 to the more cinematic 2.35:1, and for shots that predominantly capture the chaos of partying the crew used a number of VHS camcorders, unnaturally sped up and slowed down in the edit. Cutting from the fuzzy handheld home-video-esque footage to sleek modern 4k with smooth motion feels like the sudden internal epiphany you might have on a bad night out.
The lowpass filter was used to emphasize that drunk vibe at a party, you know where you get a little bit wavy and the music starts to sound a bit distorted. I really wanted the audience to feel the progression of Oliver getting more and more intoxicated as the clip went on.
BTS by @kotasatoo
The chosen camera for the project was a Sony A7Siii paired with G-Master lenses. The Sony's famed low-light performance paired with internal stabilization and slow-mo capability made it an obvious pick for a dark party scene predominantly shot on a steadicam.
We have a great steadicam operator Markus Sternecker who we work with constantly and he knows what we like, which makes it super easy when trying to communicate vibes through camera movement.
BTS by @kotasatoo
With the song and music video, Oliver breaks the cycle of boys not speaking out about their feelings and has created something stylish and meaningful in equal measure. And with a new trusted collaborator in The Last Addition, we look forward to seeing what they'll throw together next.
Here is the official video for 'Boys Don't Cry'
Music Video Credits: