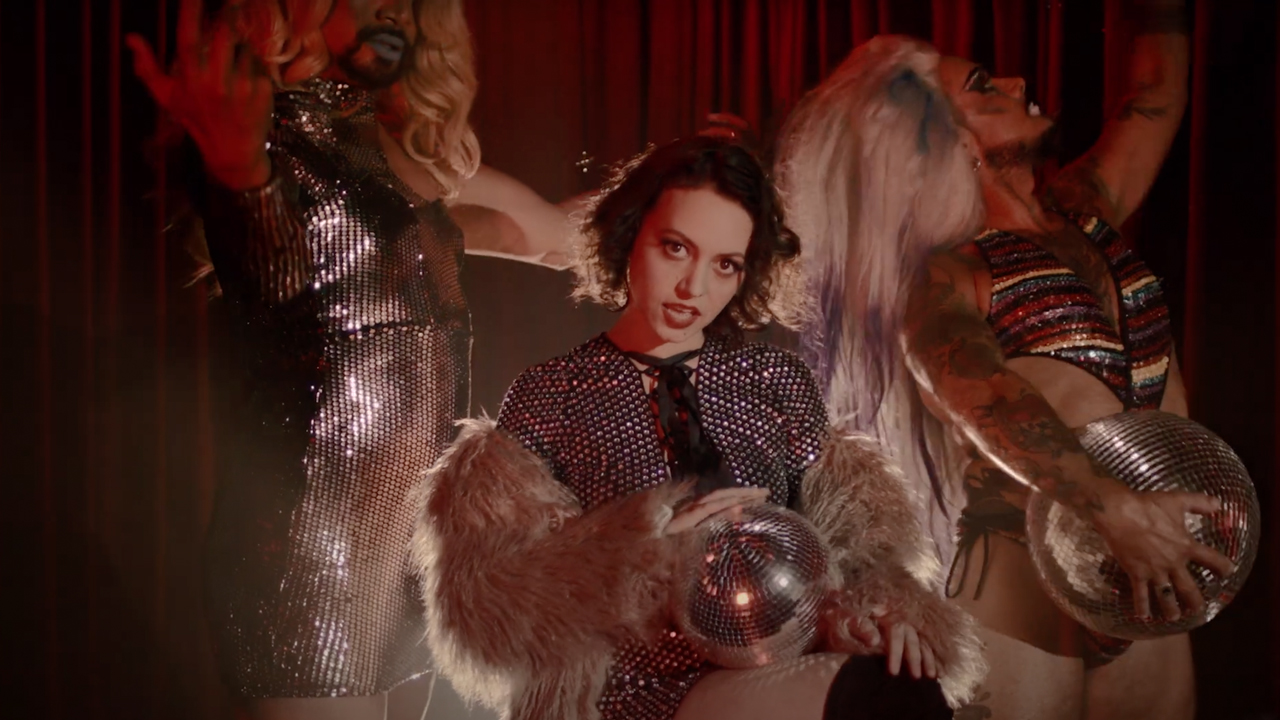 FEATURE: Sahara Beck – Crave Me (Dir. Natalie Sim)
Pop songstress Sahara Beck returns with her new track 'Crave Me.' The eccentric track is an indie pop dream which showcases Beck's powerhouse, anthemic vocals. Beck describes the track as a "lullaby of desperation" with multiple interpretations. On one hand, she sings to those she's given her everything to, on the other she sings to the music industry, her "biggest desire." Tucking into the unbearable highs and lows of these love affairs, Beck's slow-burning lyrics are striking and unafraid.

Sahara Beck – Crave Me (BTS by Rachael Dixon)
Director Natalie Sim brings us the colourful clip for 'Crave Me' that sees Beck on stage singing to an entranced audience, flanked by her drag queen posse. The music video harnesses the energy of the track and propels it forward with a fun-loving karaoke scene. This concept was born from Beck's desire to bring the spirit of a live show to audiences stuck at home. With great synergy between the track, lyrics and performance, Sim creates a delicate visual treat. She however, was weary of the execution of karaoke-style overlay – it had to be bold enough to engage an audience, but subtle enough not to distract from the visuals, she explains: 
"Text overlay is always a hard one … Especially making sure you use the right font, It can ruin the aesthetic pretty fast if you get that wrong! Our aim was to try to keep our shots clean in order to facilitate our karaoke overlay- making sure we didn't have much movement in our shots was also something we had to keep in mind.The clip being a karaoke video changes the whole world that the visuals sit in." 

Sahara Beck – Crave Me (BTS by Rachael Dixon)
The video clip was filmed exclusively at The Outpost, located within the Fortitude Music Hall in Queensland. The beautifully designed venue, complete with its own stage and operational bar adds to the underground karaoke bar aesthetic that Sim and her team sought to create. With a few additional touches, Sim and set designer Brayden Doig brought their vision to life with stunning precision. Sim elaborates:
"We brought in some salvaged Mirror Balls, sourced some candles and vintage champagne glasses and a hired Bubble machine. That was all we had with us. The venue already had pretty much everything we needed aesthetically." 

Sahara Beck – Crave Me (BTS by Rachael Dixon)
The clip begins and ends with humorous cameos from the karaoke night host and some boozed-up audience members, many of whom you may recognise. These moments create an important narrative arc for the clip and establish clear context from the outset. Sim unpacks her process:  
"The aim of our cameos was to set the aesthetic from the very beginning – costume, camera movement, the guy getting shooed off stage in the intro… All a part of building the aesthetic of the 70s style Karaoke bar. I love having bookends, it always gives the clip something a bit extra."

Sahara Beck – Crave Me (BTS by Patience Hodgson)
With great attention to framing and light, Sim balances each shot meticulously. There is notable cohesion in colour palette, wardrobe and choreography, making for an engaging and subversive live performance from Sahara Beck. Warm red light dances from shot to shot, bouncing off disco balls and Beck's shimmering ensemble and she twirls across the stage. Audience members draped in organza, sequins and fur sip champagne as bubbles float across the screen.

Sahara Beck – Crave Me (BTS by Rachael Dixon)
The glitz and glam of the clip is put into overdrive with supporting performances from the fabulous Briefs Factory dancers donned head to toe in glitter and stunning drag costumes. Staying on-theme with big hair, stilettos and sequin bodysuits, performers Fez Faanana and Mark Winmill drive home the disco fever 70's aesthetic, with a distinct modern flare. Remarkably, all costumes in the clip were entirely self-sourced, Sim explains:
"(Due to covid) we had very little crew….no costume designer or wardrobe manager! The costumes were mostly sourced from our extras, but we tried to keep the 70s theme. Sahara sent out a colour palette and aesthetic guide to everyone involved, and we had Huxley's School of Make Up on board."

Sahara Beck – Crave Me (BTS by Patience Hodgson)
The clip was produced during a very limited window where covid restrictions permitted filming. This made for a swift shoot day and called for a unified team with a comprehensive visual plan and understanding of cinematic intentions. Producer and DOP Alex Flamsteed had two Canon C200s set up, one on a Ronin gimbal and one tripod, swapping between the 35mm and the 50mm Canon Cine lenses throughout the shoot. Sim had to keep her crew working extremely tightly to meet health and timing regulations, which lit a fire under the production, she explains: 
"We moved very fast, in fact we shot the entire clip in about 5 hours. The venue was super organised even under all the strain they were experiencing through this period of no live shows. They were amazing to work with (shout out to Pearl and Ben in particular) and just very very supportive of us all. It's a bit of a blur actually thinking back to that shoot. I can't quite believe we managed it. I would say, that was definitely the most challenging aspect." 

Sahara Beck – Crave Me (BTS by Rachael Dixon)
Sim has brought a sense of refinement scarcely seen in a typical lyric style karaoke video. With a focused aesthetic, cohesive visuals and a resilient cast and crew, she has found a way to create a dynamic music video that matches perfectly with the style and feel of Beck's enigmatic track. It's a lighthearted glimmer of fun in a time when we need it the most. 
Here is the official video for Crave Me (Lyric/Karaoke Video)
Music Video Credits:
Production Company: MTMM. Director: Natalie Sim. DOP/Producer: Alex Flamsteed. 1st AC/Graphics/Editor: Julian Palma. Set Design: Brayden Doig. Colour grade: Anna Schiavi. HMU: Huxley School of Makeup. Filmed on location at The Outpost Bar, located within the Fortitude Valley Music Hall. Starring: Sahara Beck, Fez Faanana & Mark 'Captain Kidd' Winmill (Briefs Factory International), Patience Hodgson, Emily Wurramara, Squidgenini, Hannah Biddell, Brayden Doig (Boss Moxi), Julian Palma, Colin Lillie, Hannah Jonker, Alana Thompson, Jade Macbeth, Tahlia Spooner, Anthony Deamer.