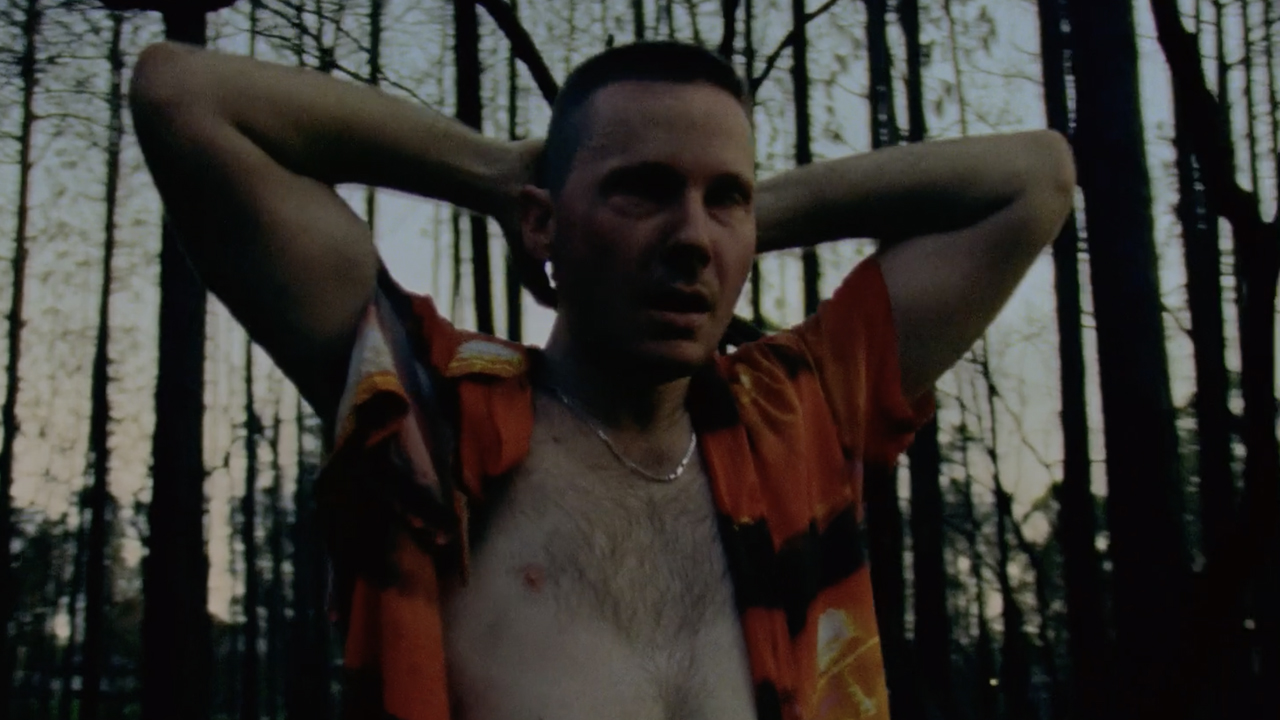 FEATURE: Wolf And Cub – Blue State (Dir. David Robinson-Smith)
With a song that turns back to the hard-edge punk of decades past, Wolf and Cub, along with director David Robinson-Smith, assemble a sharp and aggressive music video that acts as a cyclical representation of "Class Tourism." Blue State opens on our lead character, played by Dieter Smith, before it cuts to a title card that would not be out of place on a TV set in the 60s. This punk nostalgia is evident across both the song and the video as they weave together identifiable elements of past productions. The song itself centres on a heavily strummed guitar riff with classic Aussie, almost pub punk, vocals over the top.
When discussing concepts for the video, Robinson-Smith concluded "…that the song was about Class Tourism. The idea of middle/upper-class people dressing and behaving in a way that would signal a lower class…. Either for fashion, to gain opportunities that are in place to help the lower class, or for whatever personal insecurities that exist. I can't explain it fully, but I see it happening constantly."

Wolf And Cub – Blue State (BTS Photo by Jaclyn Paterson)
Luckily, Robinson-Smith was able to work closely with the band to discover the themes and flesh out the clip. When asked about the process of working with Wolf and Cub, the director responded "The band is very hands-on conceptually. I haven't experienced working with a band that thinks this deeply about the meaning of their output. Wolf & Cub really consider every single thing and then will go and think about it and come back with thorough answers as to what they think and why. It made the process a lot easier and less muddled."
Robinson-Smith explained that the imagery had to be appropriate to the story they were attempting, stating "choosing a screwdriver comes down to the theme of the video but also from our main character. We thought about what our class tourist would think was a poorer person's weapon. We looked at a few options, but something just seemed so creepy about the dirty screwdriver that we couldn't see anything else for Dieter (the actor) after that. Most decisions like this I just always came back to thinking about our theme of class and how it relates to that. Unsettling the audience was important as well, and I wish I could take credit for him deciding to put it in his eye, but Dieter just did that on the day, and we went with it."


Wolf And Cub – Blue State (BTS Photos by Jaclyn Paterson)
As the clip continues, we see the Tourist take notice of a new victim, a typical Aussie tradie (played by Marco Olic) head-banging to the pop punk in his mind. The tourist stalks him home, ramping up his mimicry and coveting the other man's spectacular car.
The visual elements immediately recall films much older, with heavy film grain and the 4:3 aspect ratio assisting this aesthetic. Inspired by Alan Clarke's BBC films of the 80s, Robinson-Smith sought to replicate some of that identity. The movies he watched were "straight to TV/Video, so by their very nature are cheaper and have a 'punk' aesthetic." Unfortunately, technical and practical limitations would hinder some of the replication. Shooting on film enabled them to capture the core aesthetic of the older movies but came with a trade-off.

Wolf And Cub – Blue State (BTS Photo by Jaclyn Paterson)
"I naively wanted to do the entire clip as long tracking shots like Clarke would do, but the reality settled that this wasn't to be (shooting on film with a very limited amount of stock/day time).  Ian (Cinematographer) and Jonathan (Steadicam) still did a great job of getting me a few of those moments."
For the shoot, Tyley chose an ARRIFLEX 416 camera and paired it with a set of ZEISS super-speed lenses. The combination was ideal for mounting to a Steadicam and capturing the shots they needed in the 16mm film.


Wolf And Cub – Blue State (BTS Photos by Jaclyn Paterson)
With Blue State, Wolf and Cub offers both a look back, a visual exploration of films from the 70s and 80s, while studying themes of social class and the people who intentionally shift themselves across class groups for some kind of gain. Robinson-Smith put it best when asked about the story, stating "essentially, the music video sees a Class Tourist in its most absurd form. Someone who begins by killing and becoming a lad then following a tradie and becoming them. Simple, but who knows where he'll go next."
The collaboration between David Robinson-Smith and Wolf and Cub is a powerful start and a sign of more intense and challenging clips in the future.
Here is the official video for 'Blue State'
Music Video Credits
Director: David Robinson Smith. Cinematography: Ian Tyley. Producer: Josh Mehmet. Colour Grade: Jaclyn Paterson. Production Design: Calum Wilson Austin. Steadicam: Jonathan Baker. Titles: Mac Archibald. Runners: Kiyanosh Sahebi & Shamini Singhal. Talent: Dieter Smith & Marko Oo. Special thanks: Kodak (Shot on 16mm).