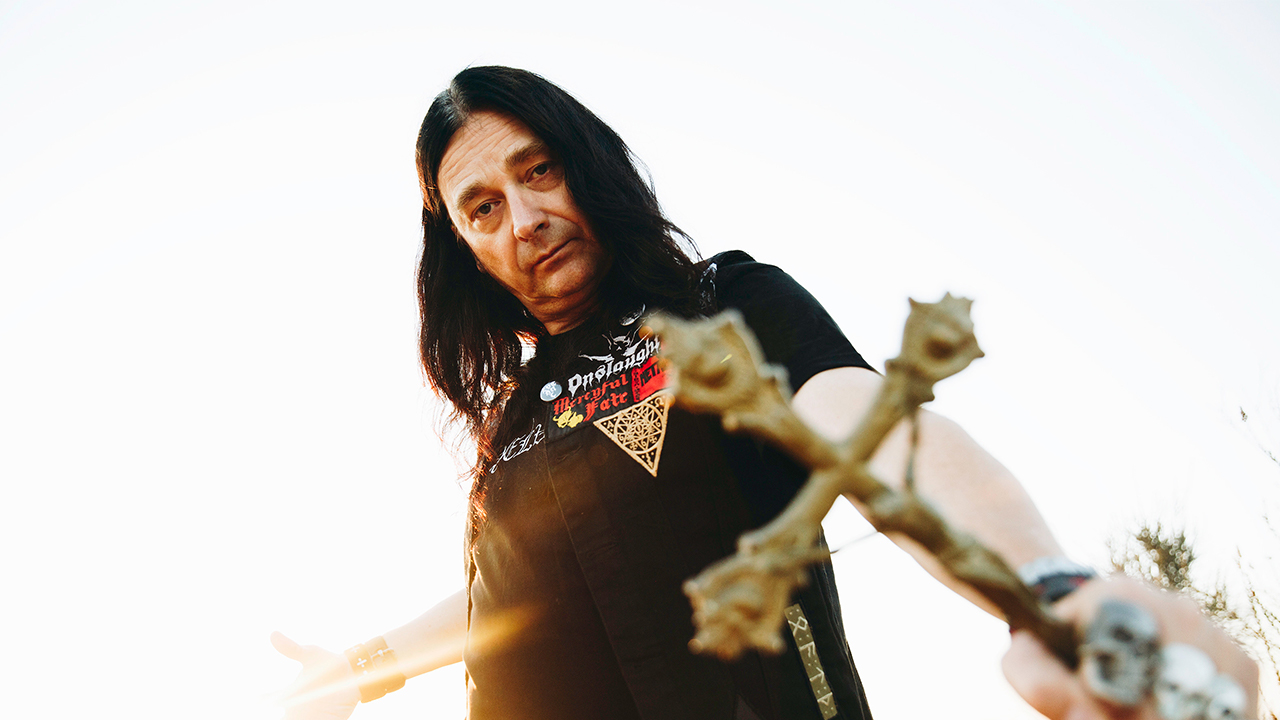 INTERVIEW: Jonas Åkerlund On Lords Of Chaos And His Music Videos
Jonas Åkerlund has been a music video icon for over three decades now. He began his career directing music videos for some local artists from his native Sweden and would soon begin to carve a name for himself directing videos for Swedish powerhouse pop duo, Roxette. From there he would go on to work with superstars the likes of Moby, The Prodigy, Metallica, Robbie Williams, The Rolling Stones, Rammstein, Lady Gaga, Beyonce, Madonna and so many more. A glance at Åkerlund's videography reveals just how many of the most memorable and iconic music videos can be attributed to him.
Somewhere between this film clip prolificity, Åkerlund has also found the time to direct concert films, featurettes and multiple full-length feature films, the most recently released of which is Lords Of Chaos. An exploration of the storied and oft-troubled Norwegian black metal scene of the early 1990s. In the mid 80s, Åkerlund was the drummer for Swedish power metal band Bathory, a band that would go on to be integral to the genesis of the black metal scene, affording him an incredibly unique and involved perspective on the topic.
We sat down with Jonas Åkerlund to talk about music videos and his new film Lords Of Chaos.

Photo: Jonas Åkerlund & Lady Gaga on "John Wayne" music video set
You've directed so many huge music videos throughout your career, many of which are seen as some of the most iconic and defining presentations of the form. What is it about directing music videos that you enjoy and identify with so much?
"I don't really know. I mean, to me, I'm so fucking old, so I was there when it started, you know. When music videos were a supplement for artists not being able to travel the world so they could send a little clip to show them performing their song. And that was exciting for a time, and then MTV exploded and that was exciting for a time. And then, MTV screwed it up and then Lady Gaga showed up and made it exciting again, and YouTube opened a lot of new doors for creativity."

Photo: Jonas Åkerlund directing Lady Gaga x Beyonce's "Telephone" in 2017
"I've kind of like just been hanging in there throughout all these different periods of music videos, but I think what I've always liked about the format is the idea of using images to tell a story that will affect you in some way with the music as the base and an artist telling the story, and how creative you can be with it and how free you can be with it in terms of what you want to communicate. I think that's what has been the real attraction for me and then the actual execution is always fun and I'm a big music lover and I have huge respect for artists. The edit part of it has always been my big passion, that's where I started to figure out images put together with sound effects and music. That's kind of like what I do, I see myself more as an editor than anything else."

Photo: Jonas Åkerlund & Deadmau5 (Credit: Darren Eagles/Netflix)
Some of your most iconic videos are those that really play with the form such as Prodigy's "Smack My Bitch Up" and "Telephone" for Gaga and Beyonce, is it important to you that you're always looking for new and original ways to expand on the form?
"Not necessarily. To me a music video can be very simple. It can be very powerful with just a band performing, it could be a performance song, just a performance-based video. Sometimes that is my pitch, I feel like all I want to do with this song is just see them perform. I want to see the band, I want to see the singer, I want to see the drummer. But the next time it could be something else, the next time we want to do everything we can, do something different and artistic. To me it's always a little bit of analysing going on for me, it's never like I think "Oh I think this would be cool." It's always that I want to figure out what the artists want to say, what the music is all about, where the artists just were and where they're going. To me, it's always a little bit of figuring stuff out. It's not like I just listen to the music and come up with an idea, it's more than that."

Photo: Jonas Åkerlund & Britney Spears
One stylistic factor evident in a lot of your videos is that nothing is done by halves. They are bold and in your face both in production and concept. This approach is certainly evident in some of your full-length films as well, was this the directive going into Lords Of Chaos too?
"The way I tell stories and the way I use the techniques that are available to film may sometimes come across as very direct and very in your face. I don't like the idea of holding back. Whatever the emotion is that I want to communicate, I feel like I want to do the best I can to make a big impression. I think that's part of the magic of filmmaking and editing and sound and all that's available for you when you make film, and I always want to use that and take advantage of it. But again, it's different from case to case. Lords Of Chaos is a very dark story that has a lot of warmth and a lot of heart and a lot of innocence, but it also has a lot of violence, and it also has a lot of humour to it. There's a lot of different aspects to it. I feel like if you push all those far, then you achieve something. If you compromise on it, then it becomes flat and it doesn't work for me."

Photo: Jonas Åkerlund on the set for Lords of Chaos
Lords Of Chaos has been in development for almost a decade. How did you come to be involved with the project?
"It has been definitely a long journey. I remember back when this actually happened. Especially in the early nineties, I remember hearing about it on the news and already back then, thinking that this story is very special, and it got stuck to me back then. It was a story that for some reason just kept staying with me, and then I realised there's a lot of other people who had this same feeling. And then of course, all the documentaries and all the books, there's all sorts of different material on this story and different perspectives too. Around ten years ago, I decided to really go for it and see if I could really make this happen. It took a little while to write it, it took a little while to get it made and in a way it's good that it took this time, it needed this time to get ready. It's a timeless story, so it wasn't that I rushed into it, but, I am from Sweden and this happened in Norway, and I'd come from the music scene that these guys came from as well, so, it wasn't like I was really close to it, but it felt like there was a lot of things in there that made it relevant for me to approach it."

Photo: BTS Still from Lords of Chaos (Credit: GunPowder & Sky)
You do have that involvement that I'd say all other filmmakers wouldn't have with this story, giving you an incredibly unique perspective on the subject matter of Lords Of Chaos, how did that influence the way you directed this film? Did you ever feel protective or were you more intent on presenting things as they were, warts and all?
"This was not my life, you know, the story is based on all the research that was available to me. And I was very protective of the story, but once in a while I had to remind myself that I'm also making a movie. This story is kind of old, it happened many many years ago, but there's still a lot of people that are affected by it, so I had to also respect all those people. It's been like a balance for me to have the freedom to make a movie, but also wanting to make a movie that is as real and close to the reality as I can and then also at the same time respect the people that were there and were very hurt by what happened."

Photo: Still from film Lords of Chaos
The Lords Of Chaos' soundtrack is composed by the incomparable Sigur Rós, you've worked with them before on the video for Óveður, was it your choice to bring Sigur Rós in on Lords Of Chaos and what's it like working with such a cinematic band as them?
"I always knew that I was going to have a lot of black metal music in the film. I always knew that I was going to have songs that were important to this era. But I also knew that there was an emotional aspect to it and I needed a score. I'm a big fan of Jónsi and Sigur Rós since many years back and I always wanted to work with them. And I basically just asked them to read a script, and they did, and they connected with the material. It's like a dream come true really, to have them work on this movie. And I really feel like when I watch this movie with an audience, I really feel how important these songs are in order to bring the audience to that emotional place. It's really fantastic the way they do it."

Photo: Jonas Åkerlund on the set for Lords of Chaos
With two full length films released within a couple of months in Polar and Lords Of Chaos, the features seem to have taken priority over music videos for you in the last year or so. Is that a trend you see continuing for the near future?
"I've always kind of liked the idea of going back and forth between different formats. I'm actually doing a music video right now, so I'm kind of back on it again. I'm not ready to stop making music videos but I do want to make more movies. But I'll probably continue making videos as long as anybody wants me."
Here is the official trailer for "Lords Of Chaos"
Lords Of Chaos is screening around Australia and the USA in late February and coming to the UK in March. Check local listings for details.