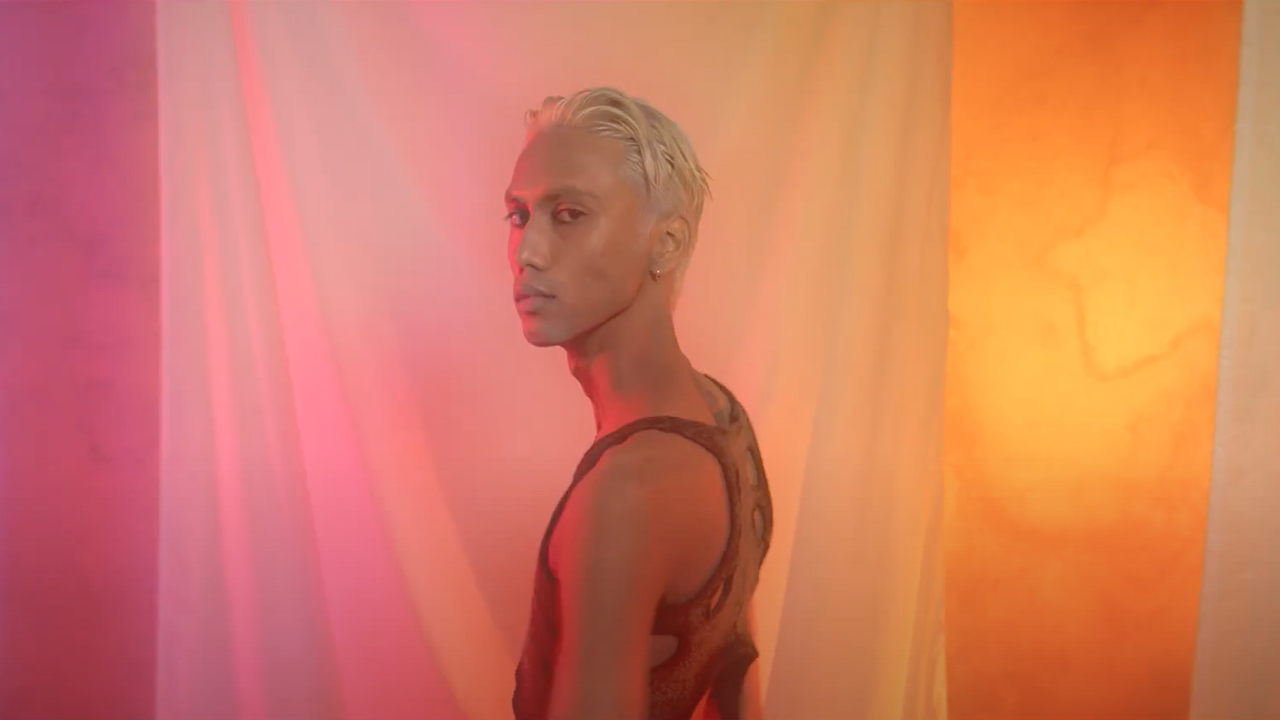 FEATURE: Kavi – D-TRIPLE-U (Dir. Karvesh Pillai & Yasmin Suteja)
Everything in the world of Kavi is meticulously thought out. From his sleek future club aesthetic to his heady production, it's clear the Malaysian-born artist leaves nothing to chance. In his latest video, 'D-TRIPLE-U', Kavi beckons us further into the fluorescent futuristic spaces that pave the KLUBKAVI universe, a place where he ultimately explores something more psychological than physical.
Candid moment with Kavi onset. Credit: Alex Quirk
Where his previous release, 'REALITY TV', offered up a euphoric love note to queer club spaces, on 'D-TRIPLE-U', Kavi faces a darker underside, one which can emerge after too many long nights, as the highs get swallowed by lows and dancefloor elation somehow gives way to lurking anxiety. In a video co-directed by Kavi (real name Karvesh Pillai) and Culture Machine's Yasmin Suteja, the pair explore this complex mental landscape in a paired back futuristic club setting.
"For me, making music is about so much more than just the music itself," Kavi describes. "I went into the conceptualisation of the whole Kavi project with the intent of giving my songs a universe to live in. All the music I've been making is inspired by the 90s-influenced techno I grew up going out to, and the futuristic pop sound of visionaries like SOPHIE and Charli XCX, so it was important to me to create a solid visual identity inspired by 90s futurism."
Kavi onset. Credit: Alex Quirk
Running your eyes across Kavi's visuals, it's clear that there's been a process of mixing and matching aesthetic ideas, evolving them into something referential yet unique.
"Brainstorming the 'D-TRIPLE-U' music video involved a deep dive into early-2000s Kylie Minogue videos, as well as Doja Cat's otherworldly visuals, and trying to find a middle ground between their aesthetics while making it mine."
"I grew up religiously watching Doctor Who with my dad and brother, and the music videos I make now are very much inspired by the show's visuals, from the interplanetary, industrial set design, to the use of hazy, glowing, minimalistic lighting. I have the TARDIS to thank for how I highlight futurism in my visual identity."
Set design in process. Credit: Kavi
As is the case with any non-narrative video clip, the role of visual storytelling is more crucial than ever. In 'D-TRIPLE-U', perhaps most evocative is the minimalist set design: from the stark, warehouse-reminiscent locations to the sparingly selected props, including a divided mirror that reflects a fractured version of Kavi back to himself. Shot at Culture Machine Studios in Marrickville (run by Suteja), the studio's cement walls provided the perfect "futuristic, dystopian bunker-rave" aesthetic against which to construct the world of the track.
"In building the set for D-TRIPLE-U, I wanted to visually recontextualise the nights out during which this song was written, in my own futuristic universe – from the floating mirrors reminiscent of the grimy, club bathroom mirrors I spent way too many existential, (literally) self-reflective mid-dance moments in front of; to the ethereal and otherworldly, rosy glow that cocoons the highs of a night out; and a dancefloor in an empty cement bunker drawing on the isolation that accompanied some of those nights, no matter how many bodies I was surrounded by."
Taking photos onset. Credit: Kavi
Shot by cinematographer Alex Quirk on a Sony fx3 and fx6 – cameras known for their ability to work well in low light situations – the choice allowed the team to capture the subtleties of lighting and soft glows that were crucial to the visual landscape of the clip. Equally important was the editing style, from rapid cuts and warps to digital glitches (quickly becoming a signature piece of visual language), that established the frenetic energy of the club – minus the actual club.
"Editing is so critical in determining the end-product energy of a music video, and I don't think it's a role I'll ever be able to completely give up in my journey as an artist," Kavi describes.
"The incorporation of rapid cuts was key in complementing the single's high energy as a dance track, while the addition of warps and glitches similar those used in the 'REALITY TV' music video was intended to both create a sense of consistency across the two tracks, and emphasise 'D-TRIPLE-U's overall futuristic atmosphere."
Alex Quirk has a moment in between lighting and cinematography. Credit: Kavi
Yet perhaps most crucial is Kavi himself, who at all times inhabits the very centre of this world. With no prior experience as a dancer, Kavi managed the not-so-easy feat of choreographing the clip – a task that unsurprisingly drew from the lived experience that informs the song. Taking the muscle memory of dancefloor sojourns to his bedroom mirror, Kavi crafted choreography that tactfully recalls the heightened emotional state of being in a club.
"I've never been a dancer beyond head-bopping on club dance-floors, so it was a very new – and exciting – experience for me. I wish I had influences I could unpack and write about, but it really came from lots of experimentation in front of my bedroom mirror at 2am on the nights the espressos I'd scull to get through set design research would keep me up. I just knew I wanted the choreography to be expressive and powerful, and to reflect the track's bursts of energy."
Yasmin Suteja. Credit: Kavi
But just as much as the project is about Kavi, it's evident that it also involves a clear looking outwards, a sense of wanting to build a greater community. The costume design points to the breadth of the world Kavi is trying to create, one that fosters inclusivity and a celebration of peers whose art he also holds in high esteem. Across 'D-TRIPLE-U', Kavi showcases three unique Australian designers, who each embody fittingly dystopian and otherworldly influences in their work.
"Jules Bramley and Ewan Bell, alongside Dallas Hurts, are incredibly talented designers whose pieces perfectly reflect the futuristic, rave-inspired elements of 'D-TRIPLE-U'. Subversive fashion is such a core aspect of the Melbourne queer club scene I grew up in and was heavily influenced by, and it meant a lot to me to know designers who allowed me to pay homage to it in this video."
"Given that creating the video for 'REALITY TV' needed to be very much a solo venture in lockdown, 'D-TRIPLE-U' is the first video I've worked with a team on, and it was important for me to work with, and spotlight, POC and queer creatives whenever possible. Beyond the underrepresentation of POC and queer artists in the creative industries, Kavi would not exist without these communities – the world that is KLUBKAVI is made for them."
Crew photo. Credit: Kavi
And this is perhaps the most important point of all. Because despite the fact that 'D-TRIPLE-U' was born out of times of mental anguish and interpersonal difficulty, the song outlasts these anxieties, and what remains, ultimately, is more of a celebration. 
Here is the official video for 'D-TRIPLE-U'
Music Video Credits:
Lighting and Cinematography: Alex Quirk (@alex_quirk). Co-Direction: Karvesh Pillai and Yasmin Suteja (@yasminsuteja). Assist: Nadia Razlan (@nadiarazlan). Production: Yasmin Suteja (@yasminsuteja). Wearing: Jules Bramley (@julesbramley), Ewan Bell (@_ewan_bell), Dallas Hurts (@dallas_hurts). Set design and build: Karvesh Pillai. Producer: Rino Darusman.