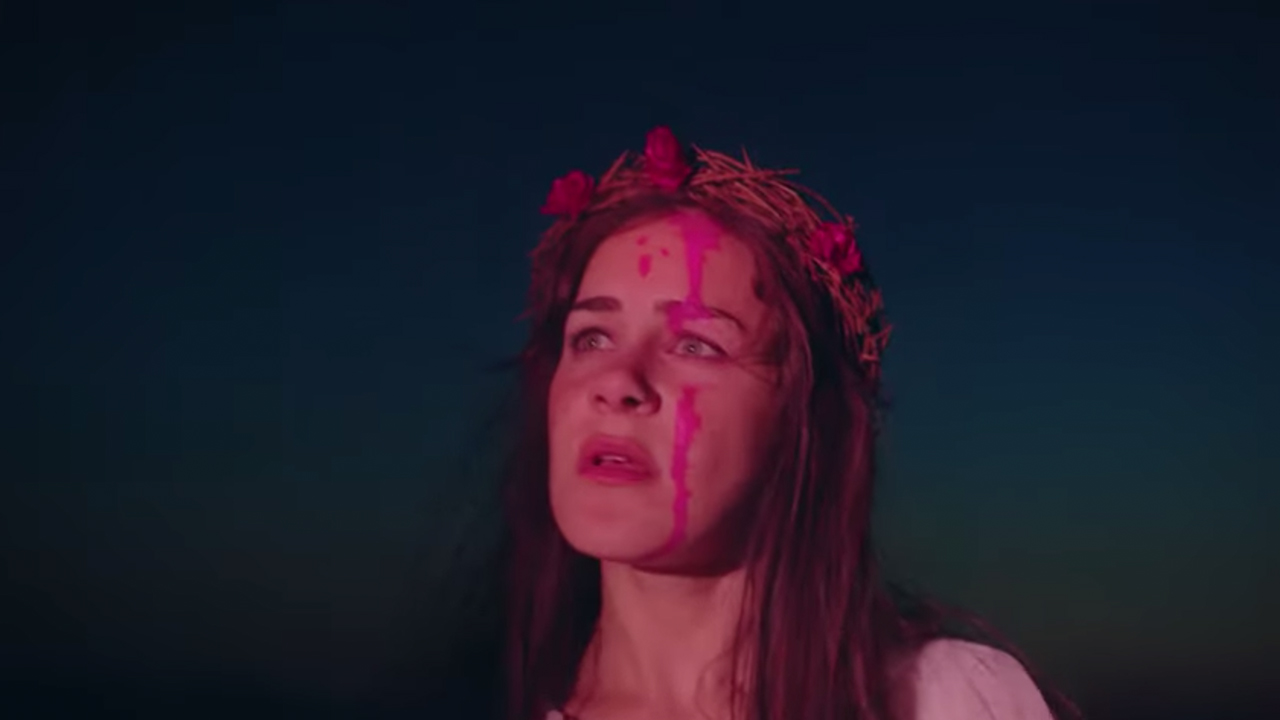 PREMIERE: Aunty Social – Trying (Dir. Jessamine Fok)
After life steered her away from her religious upbringing during her adolescence, Toronto electro-pop artist Daniela Gitto, better known as Aunty Social, found herself in a state of flux. Such is the story Gitto put to music in her latest track, 'Trying': "The lyrical content revolves around my loss of identity after separating from the Catholic faith. It left voids that my 16-year-old self had to fill and unfortunately it was filled with toxic things."
Director Jessamine Fok saw the story in the song and sought to capture this emotional journey that Aunty Social found herself on as a child, in a video that depicts Gitto amidst a search for meaning and belief, eventually finding it in this uncanny depiction of Jesus, bathed in pink light. Fok explains the approach: "I started thinking about what it was like to believe in God and the parallels it had with believing in the supernatural and extraterrestrials, having such a strong sense of faith in something that we can't touch/see/smell/hear. So, it evolved into this idea combining both of these notions, God and alien, of Aunty Social trying to find Jesus like a Roswell conspirator, but instead of searching for alien life, she's trying to find Jesus."

Aunty Social – 'Trying'
That feeling of disillusionment and searching is ever present in 'Trying', where Aunty Social's intriguing and intimate dark-tinged pop styling is very much on display. Jessamine Fok drew on the 80s industrial synth tonality of the song when devising the aesthetic for the video which often finds itself in dark gloomy spaces, filled with pinks and blues: "The song itself has kind of a pop-y, synth-y vibe to it, so we wanted to embrace that. Using the bright pinks and neon blue kind of achieved that, but also we wanted to make all the heavy, religious imagery lighter, more fun, almost childish. Pink was also Jesus' colour, and we only used it in combination with images of Jesus, as if he's the one that brings the party to each scene."

Aunty Social – 'Trying'
The religious imagery and iconography draws endless attention throughout the video, when combined with some awesome retro gadgetry, the production design brings so much character to the video, particularly within the protagonist's intense trailer shrine. This is something both Fok and Gitto attribute to the work of production designer, Evangeline Brooks. As Fok explains: "Evie did such a great job. We wanted to create sets (especially with the trailer) that looked like a teenage girl's room covered with posters of her favourite pop stars, but instead of celebrities, it's Jesus. Everything with Jesus' face had to be personalized like he was her secret crush. We both gravitated towards images that combined pink flowers and glitter with crosses and bibles. The retro gadgetry was used to tie in the Roswell element, like Area 51 circa 1967."

Aunty Social – 'Trying'
Gitto joined Fok in her praise of the production design: "I saw a theme of innocence and obsession ingrained in every set design which Evangeline Brooks, the set designer, captured perfectly. She designed the set to match my teenage innocence combined with a darkness that brewed in solitude and confusion. I could barely decipher that time in my life, but she excelled in transferring the internal struggle into imagery. Evangeline Brooks and the set decorator, Karen Selina N, spent over 10 hours straight setting up the trailer."
At the midpoint of the video, there is a scene of Gitto's character delivering a sermon to a crowd of plush toys, eventually taking them one-by-one to the ocean to dunk them into the water in a makeshift baptism. This scene adds so much depth to the protagonist's character, depicting a girl who is equal parts innocent and intense, imitating that which she has been forced to grow up with, unable to see just how bizarre it is in practice.

Aunty Social – 'Trying'
When asked about the motive behind this scene, Fok replies: "I think the goal was definitely to bring a sense of innocence to the whole video. Stuffed animals are such a symbol of childhood, so it seemed like the right choice. For the underwater shots, Cameron Roden (our cinematographer) actually built an underwater housing for his RED himself, so he had actually suggested that we get underwater shots like that. It worked so well and turned out dope!"
Gitto adds: "I was so impressed with the result. It was a particularly cold day and me and the amazing camera operator, Cameron Roden, went through 20 shots of ducking waves, losing balance and getting the angles just right. Also wearing the white gown and holding a soaked stuffed animal literally weighed me down like stones in my undies, it was crazy."

Aunty Social – 'Trying'
This particular scene and its execution give such a great glimpse into what has gone into this video. An aesthetically ambitious music video with a very strong and personal message delivered through stylised drama and impeccable production, accompanying a track that walks this undefinable line, blending deeply cool indie-pop airs with this intense personal streak that bares itself within the song's vocals.
Here is the official video for "Trying"
Music Video Credits
A Blue Hour Production. Director: Jessamine "Jooky". Producer: Paul Stavropoulos. Director Of Photography: Cameron Roden. 1st Assistant Camera: Benjamin Spier. Gaffer: Andrea Arrin. Production Designer: Evangeline Brooks. Set Decorator: Kerna Selina N. Editor: Jessamine "Jooky". Colourist: Kevin Wu at Artjail. Jesus: Corey Bonnepart. Special Thanks: James Peck.