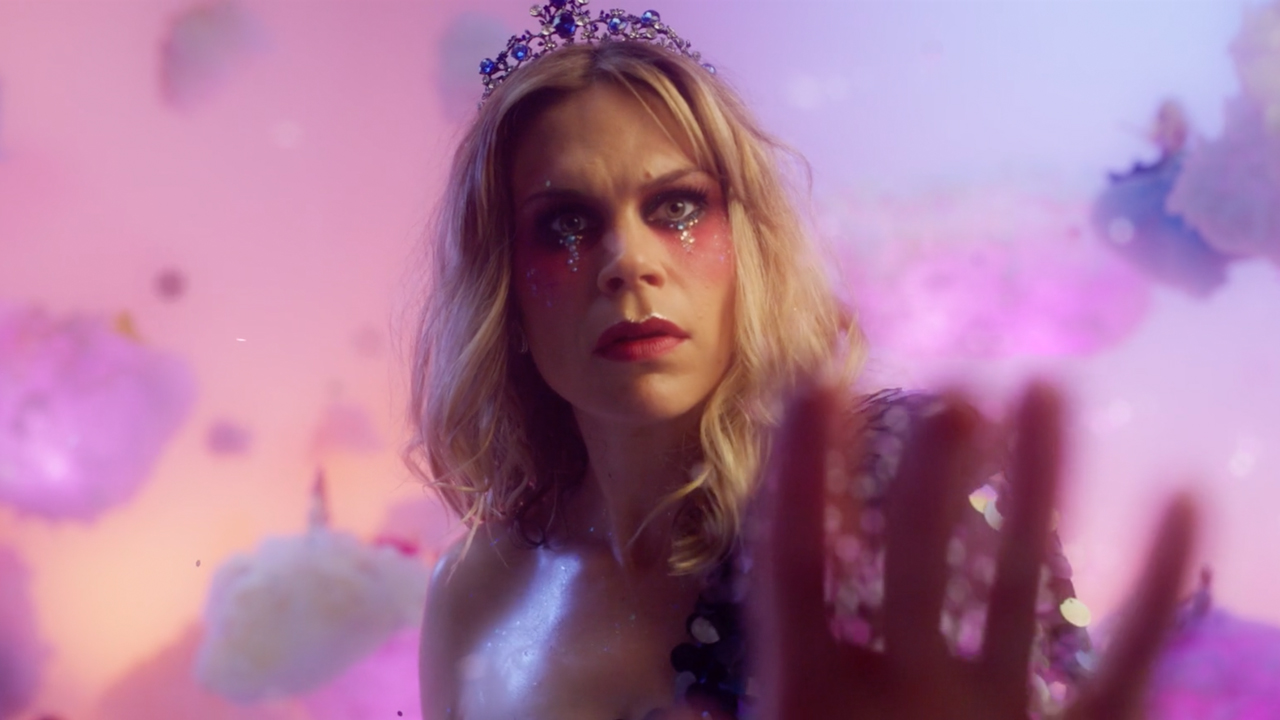 PREMIERE: Glittertears – Demisexual (Dir. Sarah Hickey)
I
n a clip destined to tempt us with the soft allure of nostalgia, Sarah Hickey brings us the debut music video for the newly resurrected Glittertears, which is equal parts a visual and musical project. From her perspective as filmmaker and front woman, she candidly shed light on the aural aesthetic
"When I describe the sound to people, I usually start by telling people how unashamedly uncool it is. But I guess it's more of a nostalgic replica of the

 

kind of romanticised pop that was listened to by love-hungry little girls in the early 90s."
 Sarah has tastefully drawn inspiration from influences both the past and present, which is hard to do well on-screen.

Glittertears – Demisexual (BTS Photos by Jake Simkin)
"I read a definition of nostalgia which initially triggered the concept of the clip: The pain from an old wound – a feeling of a place that we ache to go again. I think a lot of people can agree that there'd be something so beautiful to feel the innocence we once felt about the idea of love."
After five years without any musical output from its lead, Glittertears opens with a strong synthesis of audiovisual techniques. From its first frame Demisexual dazzles us with early 90s iconography, enveloping us in the vibrant pastel surroundings of a childhood bedroom before a harsh cut brings us to a flatly-lit and moody present day. An older woman reflects on her childhood innocence in the space where she grew up, as we continually transition seamlessly between the two worlds, we get a sense of what has been broken or lost.

Glittertears – Demisexual (BTS Photos by Jake Simkin)
"We can see from the older woman, upon entering the clip, that she's perhaps a little more broken and her view of the world is somewhat dull as well. There's a jadedness about her, and we wanted to flatten the vibe of the room in the present tense to reflect that."
Ironically, the soft and smooth childlike wonderland is delivered via hard math and machinery behind the scenes. Sarah's production company Monster and Bear partnered with ROBOTFACE and took advantage of their specialized BOLT rig to pull off smooth motion and shot transitions that would have been impossible otherwise. The BOLT allows the camera to travel along the exact same trajectory on each take, which produces footage suitable for match cuts and enabling eye-catching VFX. 

Glittertears – Demisexual (BTS Photos by Jake Simkin)
"When you start involving high-end VFX into any concept, there are a lot of parties to coordinate, so we were fortunate enough to get the guys from FKD Studio on board as well, who added any 3D mirror or glitter elements throughout. Long story short, these 3 and a half minutes took many many months to plan to precision, and that extends to a lot of collaborators who wanted nothing more than to aim big for this one."
Handheld shots are used sparingly, with the majority of the clip preferring to show us the magical realism that stabilization technology can provide when executed professionally. Throughout her interview, Sarah emphasizes collaboration as the engine that drove the project. For a clip with such precise vision, a lack of communication anywhere along the pipeline can create a disaster of incompatibilities. She talks about the monumental amounts of time and effort went into transforming the studios at Monster and Bear into a convincing bedroom. 

Glittertears – Demisexual (BTS Photos by Jake Simkin)
"I can't tell you how many days I spent with the production designer William Bobbie Stewart scouring for authentic 90s items to populate that room with. I drove all around Melbourne for anything that reminded me of my youth, and we really struck gold with some Facebook Marketplace angels who had a whole bunch of 90s toys in pristine condition that they lent to the production! Also… we had about 6 people working for 20-30 hours to build the most budget-friendly clouds you've ever seen. Don't look too closely, those things are made of gaffer tape, chicken wire, sugar and food dye!"

Glittertears – Demisexual (BTS Photos by Jake Simkin)
As the clip draws to a close the older woman defies reality and is able to break through into the pastel world again for a short time, though only for a short time. As an idealized version of herself drifts among surreal clouds, her present day self lashes out at her surroundings in a scene that's both cathartic and bittersweet. Is it possible to lose yourself in a glittery past without causing some kind of harm? 
"Initially we had wanted the grown woman to turn into a statue in a more dark and twisted way, but ran out of time in our shooting schedule to execute this way. I was fortunate enough to work with the post-production team on a very elegant solution to this, which was to have her float away as glitter… which kinda makes much more sense in hindsight anyway."

Glittertears – Demisexual (BTS Photos by Jake Simkin)
Like many passionate creators, Sarah is making every effort to continuously build a quality body of work and with this growth comes the confidence, from not only friends but colleagues and new collaborators to support her vision in creating a music video "that everyone is proud of in their own way". Given her unique perspective as both artist/filmmaker it's no surprise that creative process behind the clip, 'mirrors' the conceptual ethos around trusted relationships.

Glittertears – Demisexual (BTS Photos by Jake Simkin)
As the title of the video suggests, Demisexual puts forth the idea of spending our life and our love deliberately, which is a sentiment matched by the precisely choreographed camerawork, lighting elements and sincere performances. To be demisexual is to love those with whom we have an emotional connection, and who better to share that connection with than our childhood selves? 
Here is the official video for 'Demisexual'
Music Video Credits
Director: Sarah Hickey. Production Company: Monster & Bear. Key Talents: Anna Lindner, Maisy Lester-Bryant. Producers: Jessica Galea, Jessica Pearce. Production Manager / 1st AD: Madeline French. Cinematographer: Josh Mitchell-Frey. Production Designer: William Bobbie-Stewart. Art Dept: Sasha Dalton, Sarah Niccolazzo, Tess Dolan, Kristen Settinelli, Tim McCormick. Gaffers: Charlie Moukbel. Lighting Designer: Kayzar Bhathawalla. Motion Control Experts: ROBOTFACE (Tom David, Cam Stewart, David Gldsmith, Andrew Dale). VFX: FKD Studio (Ben Rappell, Ben Last).  Camera Assistants: Taylan Ceylan, David Park. Hair & Makeup Artist: Amanda Lissant-Clayton. Costume Design: Sally Cheng. Editor: Ryan Bird. Colourist: Sam McCarthy. Songwriters: Murray Pung, Sarah Hickey, George Carpenter.