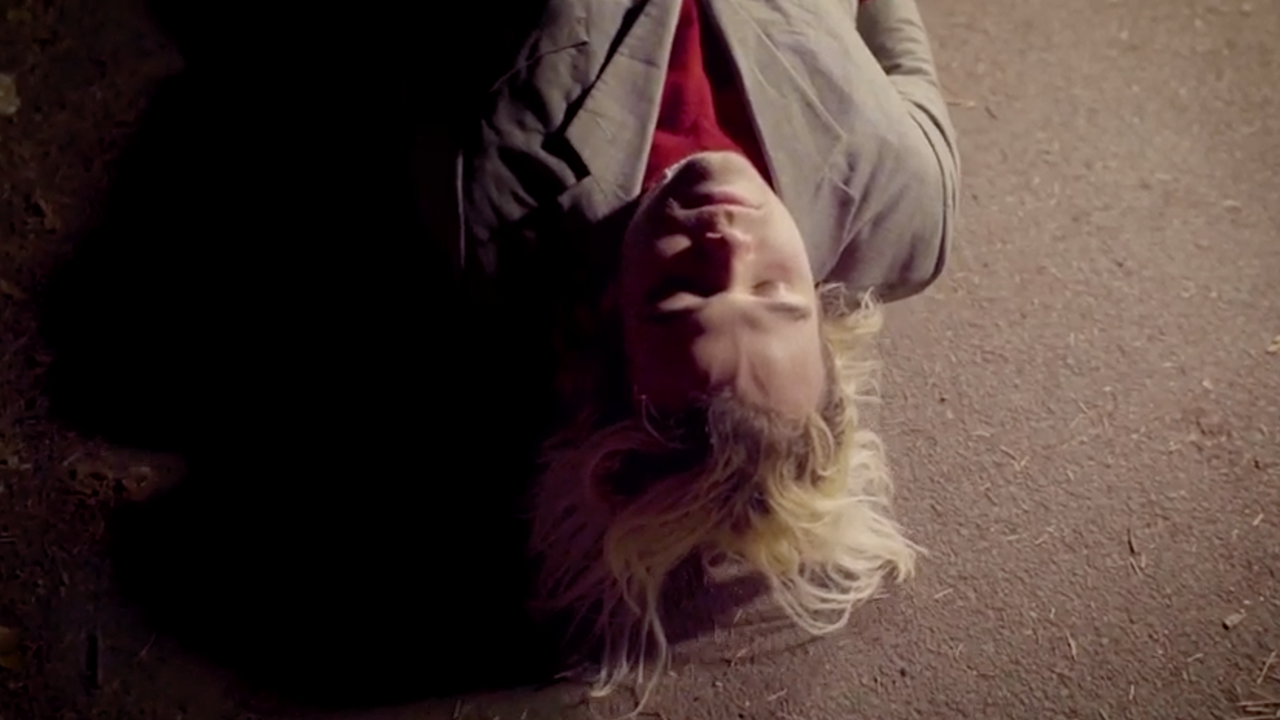 PREMIERE: Holyoak – Crumble (Dir. Brooke Trezise)
Glitchy minimalism and ominous moody vibes have become very much a staple of the Holyoak brand. 'Crumble' quickly finds its place in the Holyoak niche, beginning with chorus laden plucked tones over a heartbeat thump, sweetly accompanied by a cleanly produced vocal, free of the layering and effects that often soak vocals in music of this ilk. It is a refreshing take that hearkens back to Holyoak's past, playing in garage bands.

Holyoak – 'Crumble' (BTS Photos by Brooke Trezise)
When putting together the music video for 'Crumble', the Australian producer, now based in Berlin, teamed up with another ex-pat who calls Germany home in Brooke Trezise. Trezise's filmmaking is often centred around absurdist and colourful takes on the seemingly normal or even mundane. This trademark is immediately apparent in 'Crumble' as the video opens on Holyoak standing beneath an unsettlingly peaceful purple sky. The surrealism doesn't end there, as the video takes the shape of a montage of off-kilter imagery forming a progressing abstract about identity and a disconnect between the differing versions of ourselves that we present.
Holyoak tells of how it all came together: "The process of pulling together each shot started with a lot of music video reference/inspiration sharing between the two of us, followed by some serious Pinterest board building to make sure the vibe was just right. Luckily, we ended up liking many of the same things. Many of the shots are inspired by still frames of surrealist art we found and shared or came out of experimentation on the shoot day. The "meaning" behind the shots was definitely intended to be a cumulative effect, evoking the music's themes of alienation and disconnection through an overall mood of curated weirdness."

Holyoak – 'Crumble' (BTS Photos by Brooke Trezise)
Among the slightly unsettling themes in this video is a recurring motif of mirrors, presenting a question about how we see ourselves in comparison to the image we project to the world. While very clear in concept, shooting with mirrors is sure to present some challenges in practice. Holyoak elaborates: "The use of the mirrors was something that we knew we were keen to achieve and that we initially planned on achieving through more VFX work in post however what we used in the end are all the reflections that were captured at the time of shooting."
"The mirror shots were a lot of trial and error with the vast majority not making it in to the end video, including us unsuccessfully trying to throw mirrors through the air to capture reflections while flying many times! In general, the mirror shots that we used helped us in building this vibe of distorted reality that we tried to weave through the video in order to reflect the theme of disconnection in the lyrics."

Holyoak – 'Crumble' (BTS Photos by Brooke Trezise)
This mirror theme is expanded upon at times as the mirrors take the form of black holes against the natural backdrops, windows from which dancing hands emerge. This stark line between light and shadow is explored throughout the video in different shots, one in particular shows a woman's legs being dragged back into the shadow. An effect that is foreboding and fitting with the ominous nature of the song.
"The idea behind the use of darkness was both a reference to the mystery that a lot of the surrealist influences display and a pretty direct reflection of the dark subject matter of the song. The mirror shots are a good example of a classic surreal scene of a disembodied limb, but in this context moving, dancing, almost interacting with the real world but somehow still strangely disconnected. The owner of the arms, Emily May, did an incredible job of working with a limited part of her body in front of a green screen to give us a wide variety of movements to choose from and really managed to express the movement of the song through just her arms."

Holyoak – 'Crumble' (BTS Photos by Brooke Trezise)
While present throughout, Holyoak appears less as the focal point of the video like in your usual pop video, and more as a part of the population of surrealism that the video is based around. A great example of this is a recurring shot of Holyoak floating peacefully yet oddly menacingly across the ground.
"The evening we shot that was a real challenge, we had been shooting the entire day in close to zero temperatures and as dark fell it sunk a few degrees below, so we were all freezing. Finding the right surface was an initial task, something not too distracting but interesting enough to add to the overall texture of the shots. Then it was a matter of Oli (Holyoak) lying on several hardware store rolling platforms, trying not to have his hair tangled in to the wheels, and him being pulled and/or pushed along by our heroic helper Matt who actually managed to injure his back during the filming of the scene!"

Holyoak – 'Crumble' (BTS Photos by Brooke Trezise)
While the verses of the track are visually represented through these surrealist shots, when the song kicks into its pounding drone-drenched chorus, Trezise moves the viewer into an overwhelming world of sharp static-y CGI lines, at times taking the shape of Holyoak and at others feeling more like a visual EQ representation of the music. When asked about this effect, Trezise responds: "We kind of approached this in two ways; one in an analogue way using the mirrors and in a digital way in VFX in post-production."
"Originally, we were going to do more like pixel-shifting, more pixel orientated manipulation. But in the end, I found a piece of software that converts images into lines, and I thought this looked super cool and looked quite different. After I got into the pixel-shifting thing, I saw a lot of footage of it on Instagram and YouTube, so then I decided that I wanted to do something a bit different. And the Modul 8 stuff that we used in the end, I haven't seen around so much so it was kind of cool to do that. It's actually a live performance piece of software, but we've screen captured it to work in post-production."

Holyoak – 'Crumble' (BTS Photos by Brooke Trezise)
Holyoak's music certainly has that curious quality about it and he and Brooke Trezise have embraced the off-kilter nature of the song in this video. The combination of digital effects and paractical photography feels like a more than worthy representation of Holyoak's clean vocals over glitchy production. A very clear situation of two creatives being bang on the same page has resulted in a thoroughly intriguing and engaging watch.
Here is the official video for "Crumble"
Music Video Credits
Director: Brooke Trezise. Cast: Justine Latour, Oliver Holyoake. Dancing: Emily May. Costumes: Burnt Design.