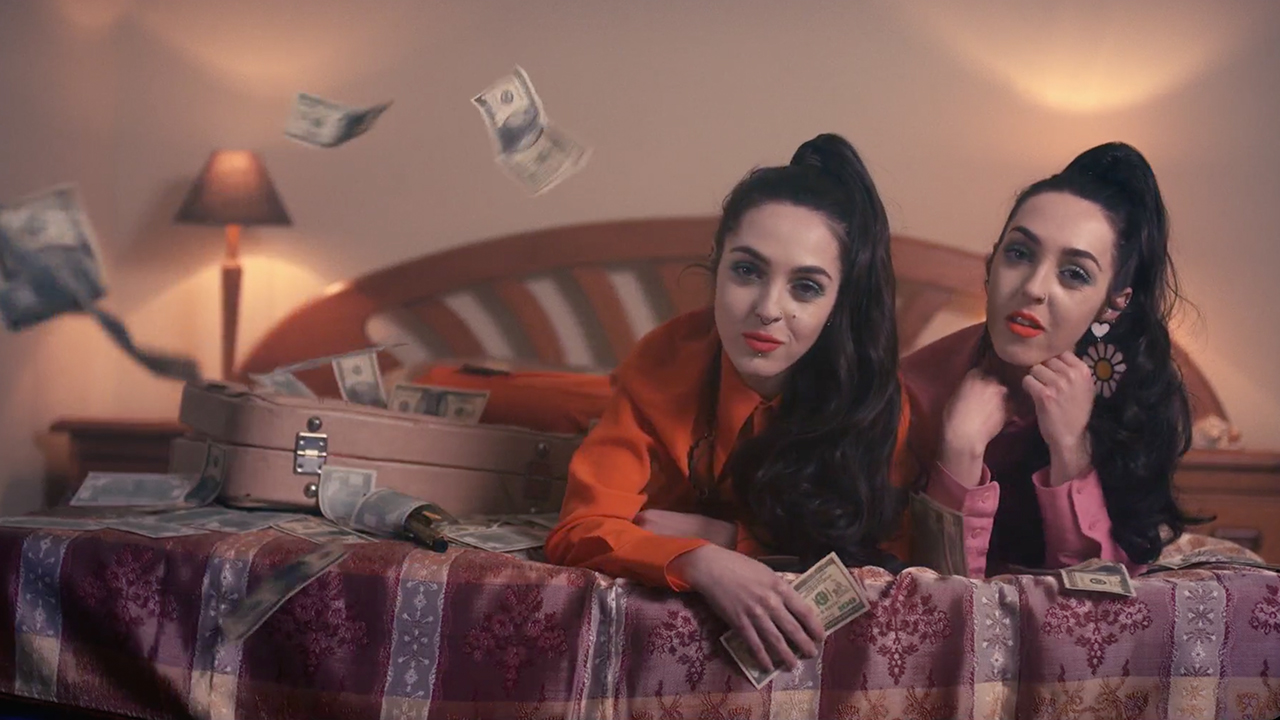 PREMIERE: No Frills Twins – Paper Love (Dir. Chloe de Brito)
F
or artists and creators, taking time away from the craft can mean a lot of things. It can be about rejuvenating and re-connecting with why you started to create in the first place, it can be about reflection on your methods and finding new ways to do things, it can also be about prioritising your life outside of creating and giving your energy in other places that need it. For the pop duo of Arna and Vanessa Rogers, better known as the enigmatic No Frills Twins, the years that have passed since their last official release seems to have been a combination of all of those things.
"We've spent these interim years between releases dealing with & overcoming some personal hardships." Vanessa and Arna continue: "We took the time to grow personally and musically, and have continued songwriting throughout it all. With more life experience and tapping into songwriting when we're going through significant things, our music has developed more maturity and authenticity. We also feel we're more in tune with how we want our production. It has evolved and will continue to evolve and that broadening is so exciting for us."

No Frills Twins – Paper Love (BTS thanks to Arow Agency)
That personal growth is certainly apparent in the new single 'Paper Love', an anthemic and electric celebration of love and real connection, enduring and unshakeable affection. The sentiment is resounding as a soulful and precise vocal performance is imbued with mass by the song's emphatic stadium-rock and gospel energy. It is a hands-waving-in-the-air sing-a-long kind of track that becomes buried in your spirit from the very first listen.
No Frills Twins elaborate: "'Paper Love' was inspired by the big change in our lives of moving to Sydney and only really having each other, which was not much but enough, and a lot to be grateful for. The song salutes a deep love and connection with a person in which it doesn't matter where you are and what you have – they are enough. We seldom write celebratory happy songs, so this track is rather special for us. There's no bells and whistles in this track, it's just a strong and honest song. It wrote itself quickly and effortlessly, and we find it's usually songs that we don't have to dig for or overthink that are the best."
There is a real sincerity about this track, like a channelling of vulnerability into strength. These themes of the song seem to have very much influenced filmmaker and long-time  No Frills Twins fan Chloe de Brito when concocting her video for 'Paper Love'; a thrilling celebration of partnership and unity that sees the Rogers sisters take on the characters of a vigilante crime duo, enacting Robin Hood justice on a wanted burglar by taking her for all she's worth. "This weird duality of love versus yearning for material wealth, both themes of the 'Paper Love' track," explains de Brito, "lead to a separation between the physical and character worlds. This greatly influenced this collision in styles."

No Frills Twins – Paper Love (BTS thanks to Arow Agency)
"Two worlds that coexist in this narrative have absolutely no symbiosis or appreciation for each other. My original idea was to cast an overtly grotesque antagonistic 'Miss Trunchbull' (Matilda) type character as the criminal, to act as a hyper-contrast to the criminal No Frills Twins. Overt archetypal characters that are seemingly depthless. Casting took an unexpected turn and as filmmaking often goes, the creative process led to a more restrained approach to the film's look. Shots that speak to the cosmetic aesthetics seen in contemporary fashion films with an expressionist flair. On set, this was quite an organic process and the DOP Jack Shepherd helped shape a nice cohesive aesthetic that combines the natural and manmade with a mixture of natural and lit vignettes."
This style that has been employed by de Brito and her crew seems heavily influenced by that 60s Hollywood New Wave approach, using very classical framing and imbuing it with expressionism, filling shots with emotionality and character to evoke some very clear reactions from the viewer. No Frills Twins as performers and people have this inherently colourful and unique identity, influenced by a vested interest in fashion and the arts. That sort of expression is so well suited to this filmic approach, as de Brito explains the process of meshing these two worlds together: "In early conversations with No Frills Twins and their team, it became apparent that they were hoping to evolve their looks and persona to a place that matches their new sound."
"I love the girls' quirky creativity and how much that shines through their fashion but could see so much potential in a broad, versatile styling aesthetic. My suggestion 'bold, block colours' became the driving brief for the whole 'Paper Love' release (stills included). My brief for this film was 'stay true to the girls' personalities, use block colours, with references to early '70s cuts with elements of current high fashion'. Stylist Megan Quigley made that brief her own and delivered us some absolutely stunning looks from local labels including Lala The Fashion Label and Anna Cordell. Our palette worked beautifully against the Australian flora."

No Frills Twins – Paper Love (BTS thanks to Arow Agency)
The setting of the video is stunning, and de Brito and her team have done so well to showcase it in all it's beauty. Shot in the unique landscape of the western Central Coast where gorgeous green properties sit nestled between gargantuan bushy mountains, de Brito takes that natural look of sunlight, wood and dust and creates a canvas on which the bold colours of No Frills Twins' outlaw-inspired wardrobe look somehow oddly out of place and perfectly at home. When asked about finding this location and making it pop on film, de Brito replies: "Back in high school, my friends and I would unite for a yearly trip to our friend's farm. I'd always sit out on the verandah and look out in admiration. I'd never been to a property this beautiful before."
"When I wrote the concept, it was the first and only place that came to mind. The cabin enforced this notion of isolation and an insular world with the perfect palette, set near Wyong State Forest with the most pristine and breathtaking bushland. We were lucky to not only shoot at this location but also to shoot here before the bushfires devastated the area. From the dandelions in the foreground of our hero shot (thanks Jack) to the amphitheatre of trees, the natural environment was a key feature in our story world."
"Australia has one of the loudest landscapes with such a vibrant personality. It plays a vital character to our existence and understanding of the world around us. I believe it is really important to pay homage to it where possible. Shooting there was a breeze. It was a place that was already incredibly comfortable to me – it radiates peace. We followed the natural light and shaped it."

No Frills Twins – Paper Love (BTS thanks to Arow Agency)
Particular attention can be paid to the shots of No Frills Twins emblazoned in orange and pink set against a 90s Australian motel décor, or the girls standing on the end of the cutest dock on the most peaceful little pond, or amidst a pleasant haze of warmth and light as the sun filters through the trees in a way that feels just so quintessentially Australian. Chloe de Brito could barely keep it straight as she gave us the skinny on how this peaceful bushy haze was achieved. With no generator available for the smoke machine, the fast thinking crew kicked into action: "Jack (DOP) and Ryan Andrew Lee (AC) had to vape for AGES, while we kicked dirt and threw leaves." De Brito laughs. "It was so indie and quite hilarious, five of us either vaping or running in circles around the girls throwing shit at them!"
There is a metaphor in this anecdote that is so suited to the track. The song's relationship cannot be folded up, they are unmoved by the stresses of the world. When this crew hit a wall, they adapted and it made for some of the most stunning shots of the video. There is an unshakable confidence there, something that is certainly apparent for No Frills Twins when asked about the process of working with Chloe de Brito on this video. Though Arna and Vanessa originally were unsure of the marriage between the song and the video, their enduring confidence in de Brito won them over, and as a result they have this amazing video and the beginning of something huge.

No Frills Twins – Paper Love (BTS thanks to Arow Agency)
"It was wonderful working with a director who truly believes in us. Chloe has actually been a long-time fan and even messaged us when she was 16 asking if her and her best friend could make a music video for us, before she had even entered this field. Chloe's passion and excitement for the project was the perfect welcome back from our long hiatus away. It felt like work and play in one, which is our favourite kind of work environment."
"When Chloe first sent the video concept through, we thought it seemed super whacky and incongruent with our lyrics, BUT we're all for doing something unexpected and unconventional. We love the reveal that we've thieved the thief and are in fact little Robin Hoods instead of robbers. We rescue stolen jewels/money and hopefully free the criminal from her paper-love because when our values are misplaced we can be robbed of true connection, love and a life that could be better lived. Even if the video seems inharmonious with the lyrics, we feel the cinematic "old film style" video pairs beautifully with the souring soundscape of our song. It's a mature comeback and a look into a new era for us."
Here is the official video for 'Paper Love'
Music Video Credits
Director/Producer/Concept: Chloe de Brito. Cinematographer: Jack Shepherd. Camera Assist: Ian Tyley. Camera Assist: Ryan Andrew Lee. Stylist / Wardrobe: Megan Quigley. Production Assist: Luke Fuller. Post Production: The Editors. Post-Producer: Liv Reddy. Editor: Lily Davis. Colourist: Fergus Rotherham. Criminal: Fern Kleinhans Sheriffs: Luke Fuller & Mitchell Sloan Special Thanks: The Sloan Family Wardrobe: LaLa The Fashion Label, Doodad + Fandango, The Church of Lilith & Anna Cordell.