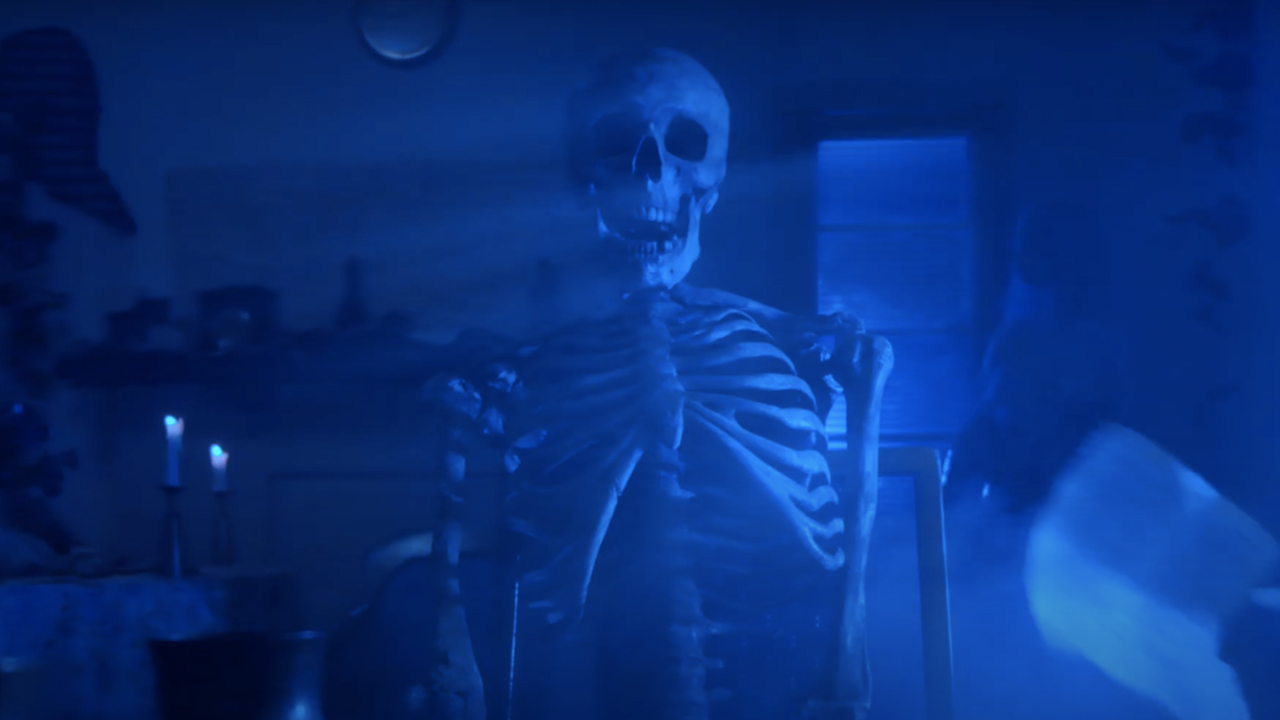 PREMIERE: PRETTY BLEAK – Living with Mice (Dir. Tom Thomas)
PRETTY BLEAK rock out in a Burton-esque haunted house for their new single Living With Mice, directed by Melbourne local and frequent collaborator Tom Thomas. Distorted guitars and equally filtered vocals fill the halls as the band rage and burn the space around them, like a prolonged 3-minute long mental breakdown with strategically timed lightning strikes for emphasis. Tom describes his relationship to the group:
"I've been making videos for the band dating back to 2017 (when they were a different band altogether). They all have a natural presence on camera and follow directions really well. Everyone pitches in their own ideas for things and its generally a fun collaborative experience working with them."

PRETTY BLEAK – Living with Mice (BTS Photo)
There's something classic about the monotone shots and VHS motif. Everything in frame is a shade of blue and the characters who perform to us through a flickering TV are pulled straight from a hallmark horror flick. Only a handful of shots aren't speed-ramped, lending an inhuman stillness or speed the band's body movements. This in contrast to the singing, which never slips out of time despite the many opportunities for it to do so. In several shots, vocalist Sam Thomas sings in sync with his image on the TV, driving home the precision that lies below the surface level chaos.
"Speed ramping served as a good transition between the slow mo and full speed segments, whilst also accentuating certain parts of the song, particularly where the crash symbols are hit in the first verse and leading into the sequence with the skeleton. The speed ramps used in tandem with the zoom transitions and sweeping camera movements was intended to give off an 'Evil Dead' kind of vibe."

PRETTY BLEAK – Living with Mice (BTS Photo)
The video was primarily shot on a Fujifilm XT-3 mirrorless DSLR which, Tom notes, was a cost effective option for shooting 120 frames per second and achieving the speed ramps that are to important to the look of the video. The camera's low weight when paired with a stock 18-55mm lens allowed it to operate comfortably when mounted on a DJI Ronin-S gimbal. The scenes that play on the TV were originally shot in 4K, then recorded off a laptop screen with a 1995 VX-1000 miniDV camcorder. When played through a CRT screen, it creates an authentically degraded picture perfect for a clip like this.
"[The Ronin] has a feature called 'virtual joystick' which allows you to control its movements using your smartphone, this is how I achieved the 360 pan around the table in the opening sequence. The gimbal also doubles as a tripod which is great for a fast paced video shoot where there's no time to switch between different equipment constantly."

PRETTY BLEAK – Living with Mice (BTS Photo)
Tom also describes the DIY nature of a lot of the practical effects, and having to borrow an industrial fan from work.
"My good friend Nathan Kovacs (who helped out extensively behind the scenes) was tasked with throwing the leaves and pages in front of the fan to achieve the effect. Additionally, a leaf blower was used for blowing the curtains, and the wine. The effect for the cart moving by itself was achieved with fishing line. It seems pretty simple, but the wheels on the cart were really dodgy, making it nearly impossible to control. That effect took more takes than anything else in the entire video."

PRETTY BLEAK – Living with Mice (BTS Photo)
The clip was shot during brief period after stage-3 restrictions were lifted in Melbourne. State restrictions allowed up to five guests at a time in front man Sam's house, which was just enough people to transform the space and begin filming. Wrapping paper was blu-tacked to walls and fake shirting boards made of foam stuck to ceilings. The fake skeleton, a centrepiece of the music video, was created and supplied by local Melbourne special effects studio SharpFX.

PRETTY BLEAK – Living with Mice (BTS Photo)
PRETTY BLEAK describe themselves as a mix of The Cure's dark pop and Nirvana's punk energy, with some shoegaze thrown in for good measure. Living With Mice is part of a planned series of upcoming singles being released with the intention of establishing the band's sound and brand.
"With the bands previous 2 releases we've worked to established a consistent visual style that blends both dreamy surrealism and 80's horror visuals. The fact that the song is dark and moody allowed me to lean further into the elements of horror and be much more overt in utilising the conventions of that genre. There wasn't much time for the set design to evolve organically as I was making it, so I had a fairly rigid idea for how it needed to look. My primary source of inspiration for the interior visuals was the prologue for A Nightmare on Elm street 4."

PRETTY BLEAK – Living with Mice (BTS Photo)
In a world where a news report can be the scariest thing you'll experience in a week, there's something comforting in a clip that takes us back to simpler chills. And like the classic horror films that Tom and the band are trying to replicate, we look forward to many sequels.
Here is the official video for 'Living with Mice'
Music Video Credits
Director: Tom Thomas. Production Assistant: Nathan Kovacs. Band: Sam Thomas, Sanji Aneja, Kyle Charleston, Brandon Gawith. Song Mix: Sam Thomas. Mastering: Samuel Sproull of Homesurgery Recordings. Special Effects Props: SharpFX.