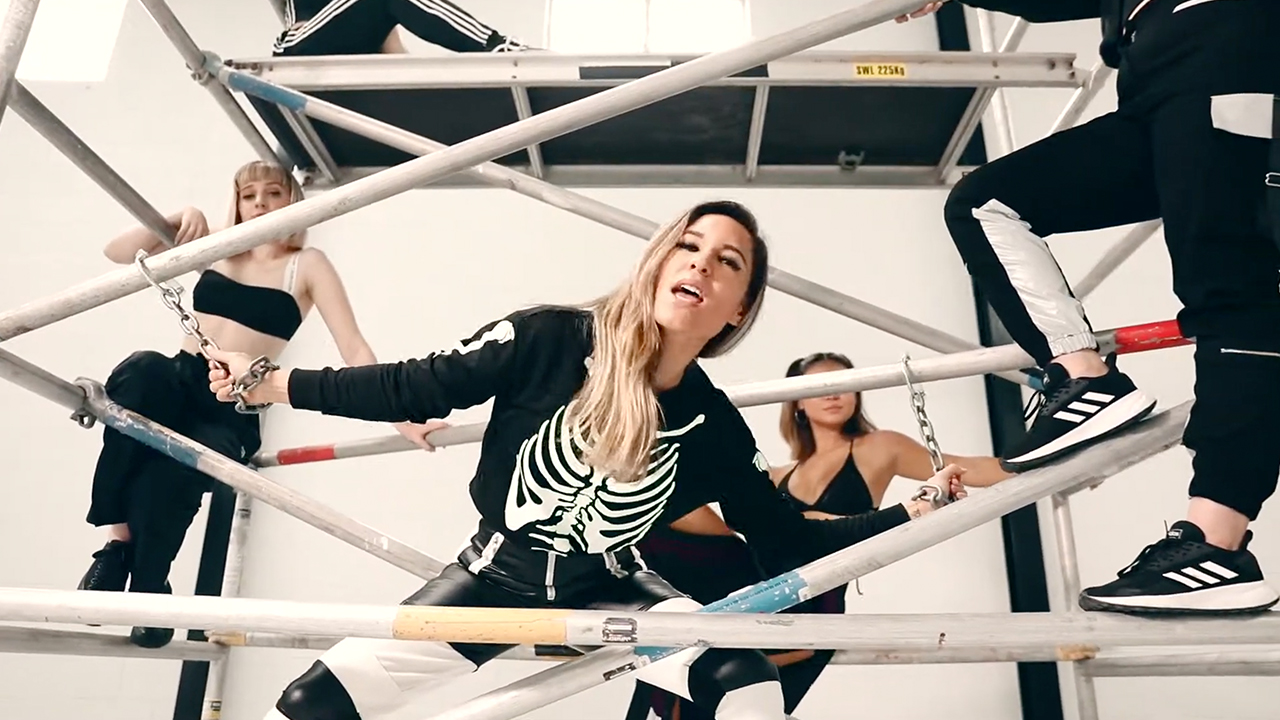 PREMIERE: SARAI – On My Way (Dir. Sarai Tearani)
A
rtist, choreographer, director, producer; SARAI is the very definition of a multi-talent. On her brand new single
'On My Way'
, SARAI puts all of those disciplines on show, and does so with such power and confidence that it truly heralds her arrival as a formidable force in the Australian pop scene.

SARAI – On My Way (Behind The Scenes)
"I love that empowerment that comes from trusting yourself." Tells SARAI, "The track started with a vibe; a groove and bass line that I felt really connected to. I also couldn't get the melody of the chorus out of my mind and I wanted to explore producing again as I had predominantly focused on other aspects of my music (ie. performing, dance, videos etc). I relate to powerful female artists like Rihanna and Banks and I wanted to create something with that type of grit and truth. I really felt the guitars and effects portrayed that mood."
There is certainly a strength in the production of 'On My Way'. A southern states hip-hop beat and droning bass tone carries the majority of the track, occasionally relenting for some sparse percussive refrains that can really only be described as pure badass. The robust assuredness that exudes from the music is well and truly maintained in the music video; a performance piece of SARAI and her girl gang as they dance with real poise and aplomb, decked out in some extremely cool and modern street influenced fits.

SARAI – On My Way
When asked about the choice do a dance-focused video, and collaborating with choreographer Tegan Haley, SARAI replies: "For me, dance is very much an equal expression to the music as singing, writing and producing. Dance gives us a language of emotion that cannot be sung, a literal embodiment of the vibe of the music and power of the lyrics. It feels very empowering to dance, to know and own your body, it definitely gets me in my flow state."
"Tegan is a gem. When we met it felt like an instant creative connection. Having collaborated with a lot of artists, dancers, videographers and producers, I've come to really appreciate working with people who are positive, professional, hardworking and humble. Tegan is all of those things and more which made it such an easy process. I loved the way Tegan expresses her groove and I really wanted that on the video. We worked back and forth creating blocks and piecing them together, but the process was short… Two rehearsals??"

SARAI – On My Way (Behind The Scenes)
The video is broken up into three acts. The first sees SARAI performing while chained to scaffolding, surrounded by her girl gang. Though it is not as if she is restrained or shackled, there is definitely a sense that this is the calm before the storm, that something explosive is about to be unleashed. The next movement sees the first group dance piece, the girl gang has been released and they are lighting up this awesome white warehouse space.
The final act sees the gang leaving the warehouse and taking their power to the world. Some beautiful shots of SARAI and her dancers amidst this gorgeous green drizzly scene, dwarfed by a giant black cliff as they deliver the crescendo dance of the video. This evolving narrative really draws the viewer through the piece, made great by the way the video is shot; with such a crisp camera feel and rich saturation of colours.

SARAI – On My Way
SARAI collaborated with DOP Ben Adams on the video, a team up which has bred a really polished looking final product, despite having to jump a few natural hurdles along the way: "I went to school with Ben so it was nice to reconnect and create a project together." Explains SARAI, "A lot of the time I start seeing the visuals before I've even finished the song, so by the time we were shooting I was fairly prepared. I had a pretty clear vision of the aesthetic and the mood but at the last minute, it rained – heavily! – forcing us to create a whole new set on the day. Leftover scaffolding became a type of metaphorical wall, a spontaneous idea that worked so well, and shooting in the rain was pretty liberating. It became an opportunity that gave character and authenticity to the video."
"The energy from Ben and everyone involved was so positive we just took opportunities and wove them into the vision. That is always such a highlight, when you work with innovative people who can create and capture spontaneous moments because sometimes you just don't know what will and won't work until you're doing it."
Here is the official video for 'On My Way'
Music Video Credits
Directed & Edited by Sarai Tearani Cinematography by Ben Adams, Blank Ave Studio Choreography: Tegan Haley & Sarai Tearani