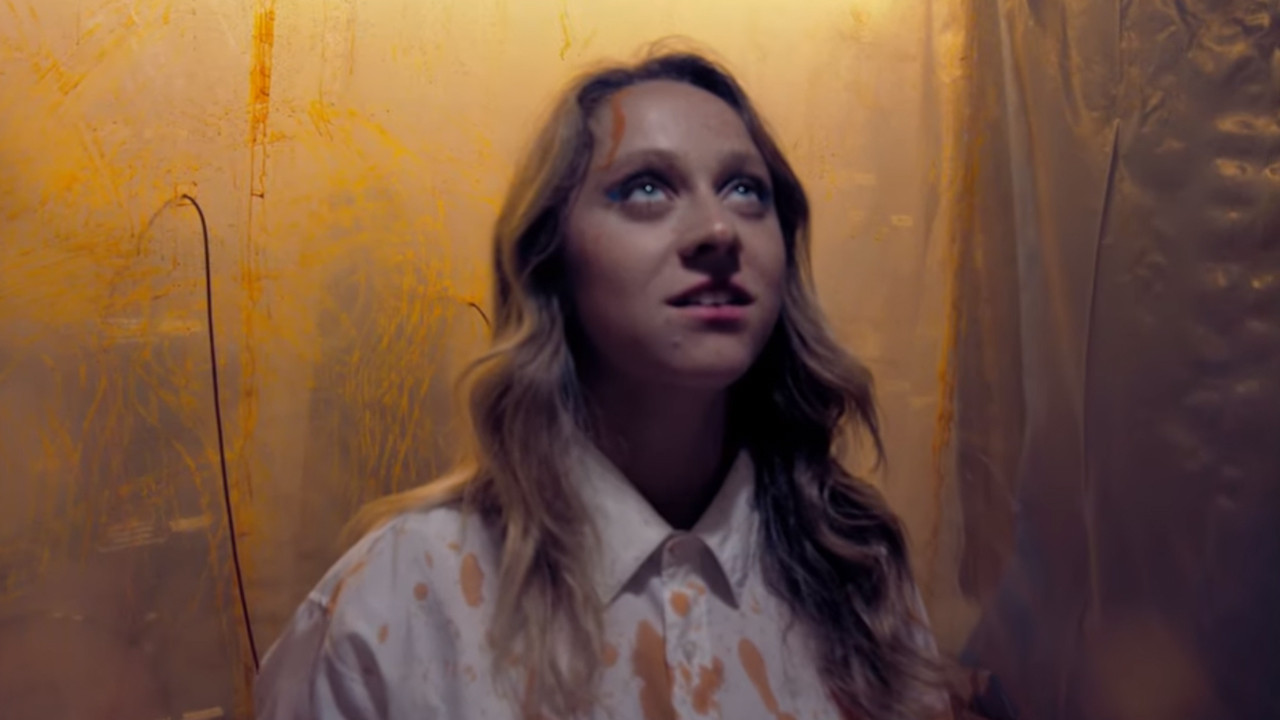 PREMIERE: Slim Jeffries – Nine To Five (Dir. Jordan Kaye)
I
t's amazing the way current events can colour the way we perceive things. When something all-encompassing and extensive is happening as it is right now, it's impossible to not draw comparisons to the media we're absorbing, especially when that media is a psychological sci-fi music video centred around isolation and insanity.

Slim Jeffries – Nine To Five (BTS Photos by Lucille Bone)
For Melbourne grunge punk band Slim Jeffries, their video 'Nine To Five' which features the band quarantined behind sheets of foggy plastic as subjects for the experiments of an increasingly maniacal scientist, the newfound relevance of this subject matter prompted them to bring forward the release of the video: "We actually shot this video back in December before any of this corona craziness started happening. It's pretty strange looking back at the video now because we are all in quarantine and going a bit mad – it feels very relevant. We can't practice or write together at the moment and can't do gigs so it is sort of like being stuck behind that plastic sheet again. Wild how the meaning of the video feels like it's changed with the context of what is happening in the world but that's the beauty of art."
The video for 'Nine To Five', directed by Jordan Kaye, does a great deal to capture the energy of Slim Jeffries 90's influenced sound both in concept and execution. The song opens with a nostalgia inducing flanged out arpeggio and vocals that call on familiar grunge phrasing, but delivered with a fantastic Australian punk deadpan, met with some welcome crunching dynamics in the heavy breaks. The video takes on this grunge feel too, even in concept it pays a little tribute to Silverchair's iconic video for 'Freak', however for Slim Jeffries, that wasn't the main influence they were drawing on: "While the song (and most of our music) is definitely inspired by that 90s grunge sound, the video itself was inspired by a more recent Idles music video. They have an amazing track called 'Mother' and the clip is all set in one room with some really beautiful styling that Joe (Talbot – Idles frontperson) just slowly destroys over the course of the song. We wanted to do something similar – create a space with a clear contained message in how it was styled and then tear it up and start again."

Slim Jeffries – Nine To Five (BTS Photos by Lucille Bone)
It was when the band's influences crossed over with the real-world experiences of director Jordan Kaye that everything began to take shape: "The concept fell naturally into place and is something I think about on the reg – Being trapped in an office for an eight hour working day horrifies me. I suppose using the word trapped is a bit intense, but to hell with it, that's what it feels like sometimes. With the concept in place from day dot everything flowed on after that. I'm a huge fan of thrillers so adding intense elements were really important in creating tension and the aesthetic was built from that. I knew the colours were blue and orange as they resonated with me the most in accordance with the song."
These thriller and horror elements are certainly apparent, not only in the decisively delivered characterisations of the video's mad scientist protagonist (wonderfully portrayed by Cece Peters), but also in the direction. The use of light and shadow, claustrophobic off-kilter camera angles and erratic shifts in the video's speed all help to convey the worsening mental state of the scientist. The location is also impeccably styled by Jordan Kaye and his crew, setting the scientist against a monochromatic production design and of course the plastic sheets behind which the band are sealed. These blandly coloured surrounds would eventually become a canvas for the scientist to douse in toxic orange-brown goo.

Slim Jeffries – Nine To Five (BTS Photos by Lucille Bone)
"We shot this at my studio in Melbourne," advises Kaye, "which made it relatively painless in terms of huge potential mess. Being there just meant I could almost do whatever I wanted. The room was completely sealed merely by tape so we (kind of) knew that the paint wouldn't leak out, it took over 12 hours to setup. Thanks to my epic production crew! It was hectic though. I mean, spraying paint out of a highly pressurised fire extinguisher inside a room with taped up translucent drop sheets is outrageous… The final shot, the spraying of the paint came down to the final minutes of what we had scheduled, after our fire extinguisher exploded at a nearby service station (I would love to see the security cam footage)."
"It was tense times, the film didn't make sense without this final scene. We were all-hands-on-deck outside the studio and the extinguisher exploded again, I had to drive home with my producer and get a compressor to try another technique… We got the fire extinguisher working, finally, I jumped handheld on B cam for the first time of the day, my DOP and 1AC were on A cam and we're all dressed in head-to-toe painting suits. It looked ridiculous. I gave direction and we just went for it, it was surreal. A one shot wonder that just worked so perfectly and the intensity was so real, we couldn't stuff it up… And it worked! Huge credit to my sick crew once again. Also, my B Cam is still covered in orange paint… Worth it."

Slim Jeffries – Nine To Five (BTS Photos by Lucille Bone)
Given that this was basically Slim Jeffries' first video, (aside from a self-confessed "batshit crazy video we put out ages ago as part of a dear friend's filmmaking course at uni"), we wondered how the band felt about spending the entire clip barely visible behind opaque plastic sheets, and they reply quite frankly: "Music videos would probably be better in general if more bands spent them behind opaque plastic sheets. We were really keen to make sure Jordan's creative vision wasn't ruined by our crappy acting and smudgey mugs. Thankfully we were able to get Cece on board for most of the screen time and she absolutely killed it. Rocking out behind the plastic sheet is exactly where we belong."
Cece Peters' performance as the mad scientist at the center of the video is excellent. Committed and confident, Peters portrays the descent into madness with at first subtlety, and then welcome helpings of horror film melodrama. Peters, alongside Slim Jeffries, Jordan Kaye and what sounds like a wonderful working organism of a crew can all be commended for their efforts in creating this genre piece.

Slim Jeffries – Nine To Five (BTS Photos by Lucille Bone)
Slim Jeffries reflect on the process fondly: "One thing we really wanted to do when putting this video together was involve other people as much as possible in the project. We got Charlie Perry, a great mate of ours, on board to produce it and he then helped get us in touch with the whole production crew. Cece Peters is also a mate and we are really grateful that she was keen to jump on too. Involving other people's ideas and perspectives on our music is something that is really important to us so it's great that we were able to find some heads who liked the song and were keen to bring Jordan's vision to life."
Here is the official video for 'Nine To Five'
Music Video Credits
Writer, Director & Producer – Jordan Kaye Co Producer – Charlie Perry Starring – Cece Peters 1AD & Editor – Timothy Heinrich Cinematography – Syaheed Ismail 1AC – Liam Fouracre Set Production – Jaime Brohier & Shelbie Lloyd Gaffer – Adrian Newman BTS Photographer – Lucille Bone