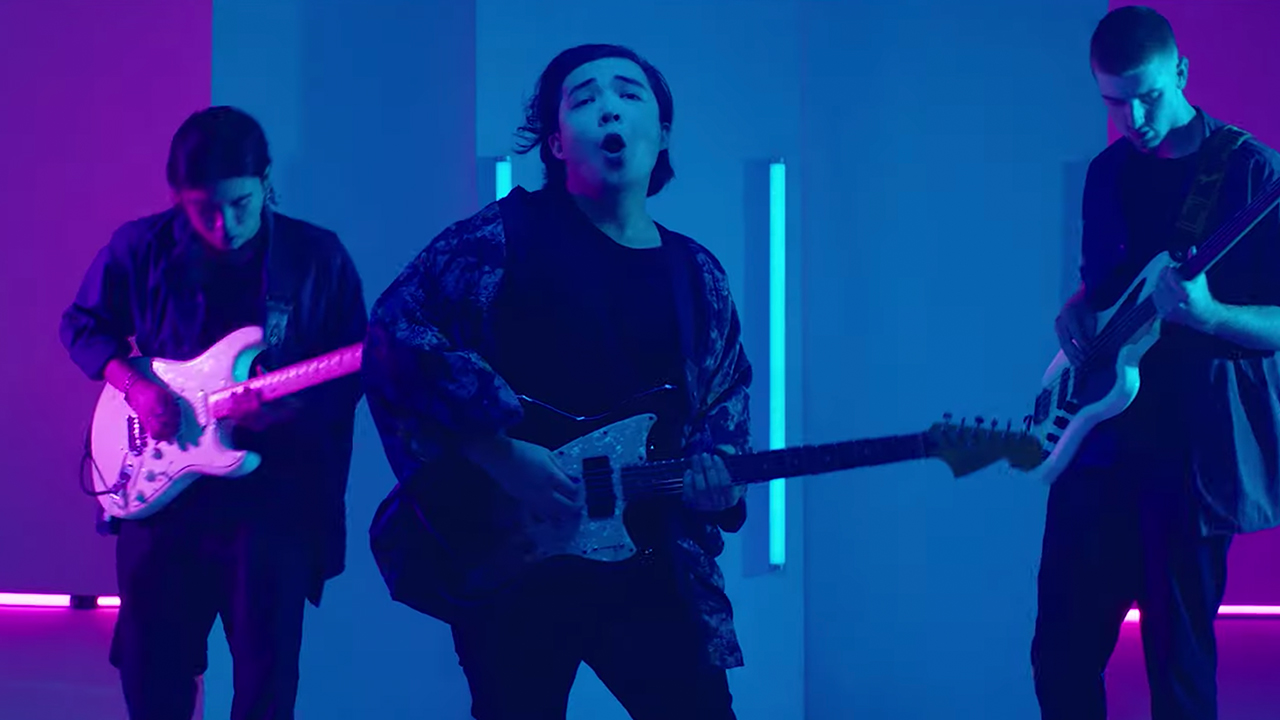 PREMIERE: Vauus – Boy (Dir. Mark Day)
F
or Mark Day, the songwriter and producer behind new electro pop rock outfit Vauus, there has really only ever been one goal with what he's putting out:
"When I started writing for this project,"
Day explains,
"the main goal was to make music that people can dance to. I like music that's joyful on the surface but then more thoughtful the deeper you dive into it. The songs usually start with me messing around, just finding an addictive drum and bass groove then just improvising until I figure out what the feeling or message of the song is going to be. I write and record pretty much everything myself."

Vauus – Boy (Behind The Scenes)
"'Boy' was conceived when I was just messing around on Ableton at my parents' house, playing with those silly 808 drum sounds mixed in with the bass and guitar lines. I played the main groove on repeat for 5 hours, jamming over it until I came up with that lead guitar and that's when I knew that this was the whole song… I guess once I find a feeling through whatever sounds come out, I just think of how it would sound on a dancefloor, and how to make it a song where if you heard it live, you'd turn to your friend and say, 'how did he do that?' I usually mix all of my songs as well, but this time I was lucky enough to get to work with Malcolm, the drummer and producer behind Northeast Party House. He was really good to work with and helped give it that punch you need for a dance song."
That certain carefree approach is certainly evident in 'Boy', a song which captures a summery vibe with its jangly surfy guitars and a beat that is as much dance as it is rock. The production is so crisp in that modern take on synth pop, Client Liaison, sort of way, which fills the song with this infectious upbeat feeling. And it was that feeling that Day, a filmmaker in his own right, was intent on capturing in the song's music video.

Vauus – Boy (Behind The Scenes)
"The song is about being young and in love, and the contradiction of overthinking everything but also throwing yourself into life. I tried to think of a place that I'd been in my life which emulated that feeling. When I finished high school one of my friends had a free house for the summer so a group of us just hung out there pretty much everyday. There was lots of fun and debauchery but also a lot of drama and growing up. I also think that the Australian millennial experience that I've had and have shared with so many people hasn't really been shown in its most honest form in film yet and I wanted this video to reflect this feeling that is so familiar to me… I'm currently developing a television show about this world, so I wanted this video to be like a prologue to the series."
The video's narrative scenes follow a group of teenagers through the fun times and the hard times, the connection, the getting together, the breaking up and the coping of that tumultuous period that is the end of adolescence. Though there is a narrative it isn't so much a strict story as a collection of charged moments. We asked Day about his approach to this kind of concept with DOP Joel Famularo, how much of these scenes was meticulously plotted and how much was just setting the actors loose in this mindset and filming what comes out. He replies: "First up, Joel is a legend and was a really important part in bringing my vision to life. People don't thank their crews enough in interviews so I want to say that everyone that came onto our set was amazing and really gave 110%, especially our production designer Gemma Baker."

Vauus – Boy (Behind The Scenes)
"Joel and I talked a lot about how we wanted to capture the feeling of the song. I guess it's trying to balance a serious raw look at an experience as well as the joy and playfulness of being with your friends with no real responsibilities. We shot most of the narrative elements of the video on anamorphic lenses which to me lets the characters sink into their environment. I wanted you to feel like the characters' mindset of questioning and freedom was heavily influenced by their environment which deteriorates as the boundaries between them do."
We had two meetings with all the actors beforehand where we talked for hours and built these long in-depth backstories. I wanted them to feel immersed in their roles so when we did improvise, they felt sure of their actions and what they were doing. As a filmmaker I like to really plan everything as much as possible. I think that when you have a solid framework of what needs to happen in a scene, it creates more freedom for the performers… I also think the environment of a set heavily influences the film that is being created. I wanted them to feel like friends so although the shoot day was long and stressful, everyone was always calm and joking around. I think all the actors really brought their A Game, a special mention for this goes to Nicholas Jaquinot for really throwing himself into his character and onto the floor after eating all those Fruit Loops as well as keeping the energy up for everyone the whole day."

Vauus – Boy (Behind The Scenes)
Aesthetically, the video moves between naturalistic footage of the group of friends and then the hyper-stylised performance and dancing scenes. The stylised shots use rich pink and blue colours to create an effective break from the narrative scenes, which benefit greatly from the attention to realism in the way they are shot. Day even works in moments of VHS footage to make everything feel even more like friends looking back through haphazardly shot video footage from parties and times gone by.
"Visually I was really inspired by the cinematography in 'Euphoria' as well as other music videos capturing a youthful experience like the video for 'The Suburbs' by Arcade Fire. It was trying to marry the stark daytime scenes with the heightened neon night times when everyone's intoxicated. I guess you assume that most people will be sober when they watch the video so it's trying to come up with the best way of translating the feeling of the song and the story to the audience."

Vauus – Boy (Behind The Scenes)
"The handicam was Joel's idea, and I think it really helped in both giving the actors something fun to do on set as well as creating a sense of intimacy between the characters and the audience. Like someone showing you all the silly videos of their friends that they have on their phone. For the awesome neon lights, I have Stephen Loats, our amazing gaffer to thank. He had this app that helped him control all the neon tubes that he learned how to use the night before we shot. By the end of the first day he was an absolute pro at using them."
Here is the official video for 'Boy'
Music Video Credits
Director: Mark Day Band: Vauus, Alex Lim, Josh Bartlett Starring: Sean Miranda, Elin Passanisi, Abwi Deng, Tanya Alers, Nicholas Jaquinot & Amy Leigh Raffe Production Companies: Another Life Pictures, LP Creative Producers: Mark Day, Lawrence Phelan Director of Photography: Joel Famularo 1st AC: Oliver Gross 2nd AC: Ben Davies Production Designer: Gemma Baker Production Assistant: Rachel Morley Gaffer: Stephen Loats Best Boy: Andrew Stasiak 3rd Electrics: Daniel John Make Up Artist Studio: Sabrina Day Make Up Artist Location: Roxy Canedo 1st AD: Ciandra Moore Stills Photographer: David Freeman Editor: Mark Day Colourist: Joel Famularo Studio Location: Monster and Bear Studios