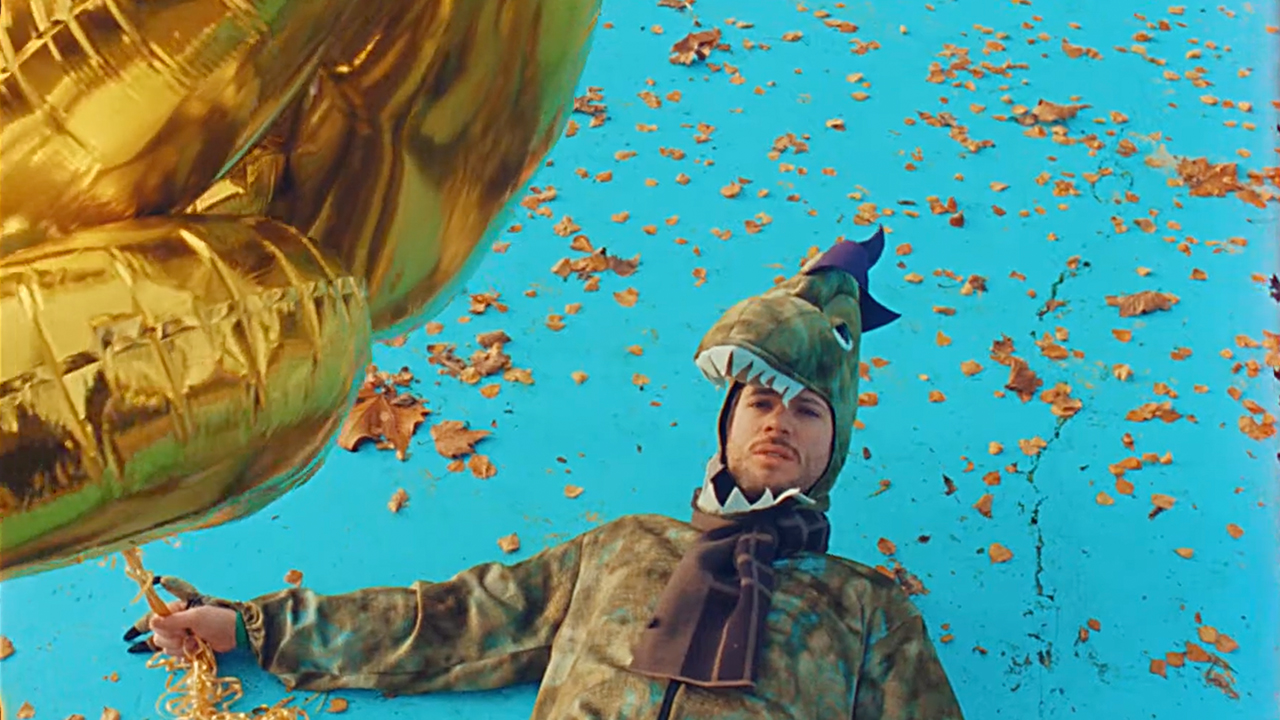 PREMIERE: Video Blue – What Have You Got (Dir. Freddie Leyden)
W
hen we say something has gone the way of the dinosaurs, we're implying that a certain societal or communal impermanence has lived out its shelf life, vanishing from existence. Funnily enough, recent times have left humanity reflecting on their own shelf life, questioning not only the longevity of existence, but also whether we really even deserve the existence we have.

Video Blue – What Have You Got
This existential anxiety is not reserved for the grand picture of humanity as a whole, but also something that is felt on a personal level. The pressure to succeed, to constantly be working towards something, to not be letting everybody down, and just what that actually means for a day-to-day lifestyle, it can be truly harrowing. In 'What Have You Got', UK alt-pop artist Video Blue dissects the ongoing stresses of life by encouraging a self-imposed clarity, Breathe Easy.
The song's lyrics are delivered in an impassioned and evocative spoken word style, making a resounding mark on the dreamy electric piano base that Video Blue has laid for them. The poignancy of the spoken word track is certainly not lost on Video Blue, however when asked about the choice to go that route and how that effected his writing style, he replies rather frankly: "Process didn't differ much at all to be honest. I used to refer to it as spoken word, but really it's just a song. Sure, it's 'spoken' but it's lyrical and has a structure with a chorus/refrain ('breathe easy'). There are early demos, and I definitely tried to sing it at one point, but it just made sense to take the song about being brave and be brave and speak it. Felt naked but very liberating."

Video Blue – What Have You Got
Though it was a natural decision to create 'What Have You Got' in this style which certainly stands out against the rest of his body of work, mostly populated with dreamy guitar-laden indie pop, to then make 'What Have You Got' not only the lead single off the new record 'Night Painting' but also the album's opener, that decision was certainly a bold one. On this, Video Blue ruminates: "Choosing to have 'What Have You Got' as the lead track and the one to have a visual accompaniment made sense exactly because it wasn't entirely indicative of my typical sound. Having said that, I do try and achieve a broad pallet, within any given body of work; scratching my pop/ambient/beats/words – itches! There's hopefully a power in that as an opener, as it positions itself in a direction I've not previously been in, certainly with recorded music, anyway."
When director Freddie Leyden came in to create the visuals for 'What Have You Got' he sought to represent the experiences of anxiety explored in Video Blue's lyrics, but in a creative and non-literal way: "Listening to the song I could feel the stresses and anxieties that informed it." Explains Leyden, "I think everyone can relate to a time when spiky thoughts can whip you up into a frenzy. When it's happening you feel sore, other and isolated in your head, but deep down we know this is the deal, we must carry on and push through it. I tried to embody that feeling, I didn't manage to give it a human form but a dinosaur (man in a dinosaur suit) felt right. It was instinctual to choose a dinosaur. I like the openness of the symbolism, it carries many connotations."

Video Blue – What Have You Got
The connotations most heavily felt are that of the impending doom of the dinosaurs. Especially as our protagonist looks fearfully to the sky, weary of passing helicopters, seemingly aware of the inevitably of his end but seeking a strength to endure. The dinosaur clings to these golden balloons as if living some sort of symbiotic existence, protective but ever-so-slightly resentful. It is a portrayal that at once feels rather comical and silly, but on deeper reflection tells a very touching story about a being attempting to push back against their own limitations.
The video is given a real warmth by its aesthetic. Film flickers on the screen as soft flares of light take us through transitions, everything moving in that classic home movie accelerated pace. Leyden elaborates: "It was shot entirely on a 70s clockwork film camera, all analogue no batteries, it needed to be wound up by hand between each shot. Captured by the talented cinematographer David Bird. Shooting on film definitely informs the process, no second takes! The light flares and burn transitions were burnt into the film on the day."

Video Blue – What Have You Got
The way Video Blue delivers this impassioned sermon about a most relatable and reality-pinned experience, which is then accompanied by this characterisation in the form of a plush dinosaur suit, really brings heart and pathos to the whole project. As the dinosaur's balloons escape his grip and float away, his momentary distress is soon replaced by a loose and limber freedom, and we experience the dinosaur's relief. A simple concept with an uplifting message, delivered in such a wonderful way. Breathe easy.
Here is the official video for 'What Have You Got'
Music Video Credits
Directed by Freddie Leyden. Cinematography by David Bird.