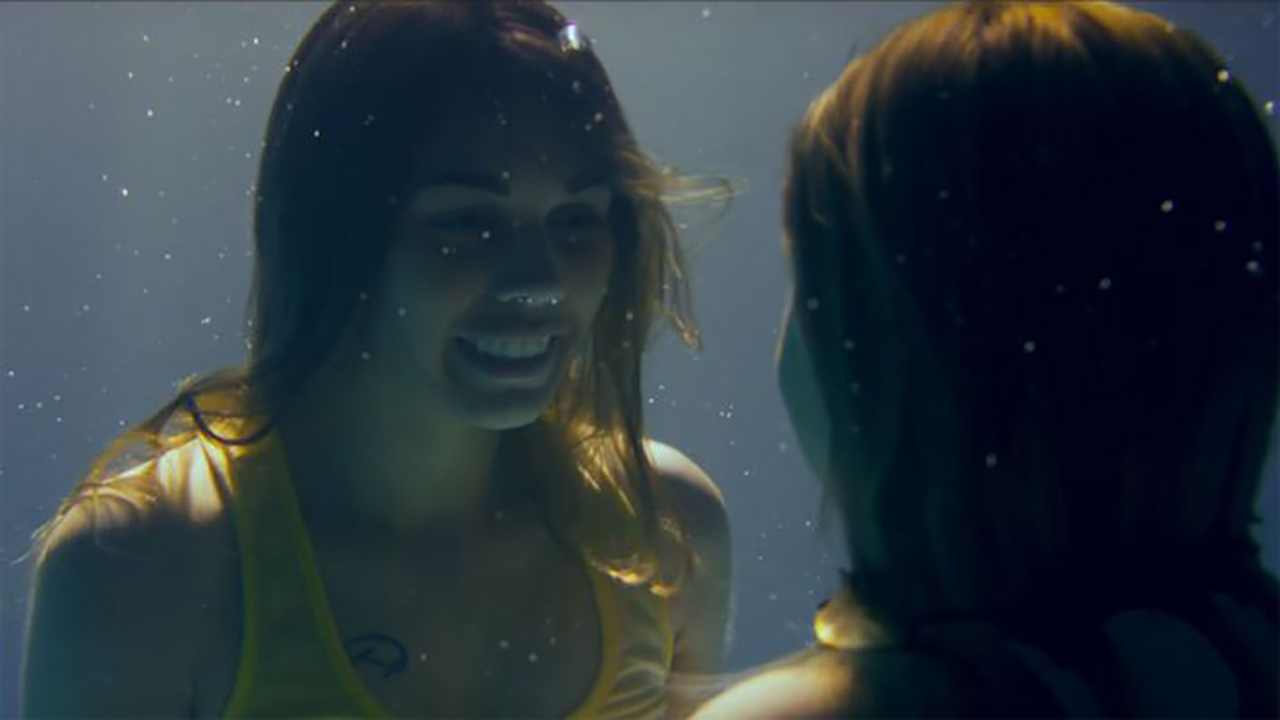 The Preatures – Yanada
A new style for the band works well as they tie in themes of the new album. Though they've been popular in Australia and abroad for a number of years, releasing two albums and two EPs, every video until now has been a variant of a live clip. There's no disparagement, but it's nonetheless exciting to see them delve into narrative and poetic cinematography.
Following two teenage girls through a gorgeous forest, the vibrant colours of their clothing pop against the deep greens creating celebratory sense of joy and wonder. The narrative has elements of the supernatural which more than likely tie into the indigenous culture that The Preatures have embraced very well with great respect. Building upon that foundation of communion with nature, the connection of the two girls grows beyond them to symbolise spirits and community coming alive as they dive underwater in the river, which is where the video truly takes off. There's something very dreamy about floating underwater, singing and smiling with friends.
The use of colour in tandem with the crisp cinematography, catching the sunlight for the above water beginning, and narrowed for the below surface portions, grounds the video in what could become a distinct 'Preatures' style. It could all simply be a clever way to create engaging visuals as the edit steps to the forefront at the end with mirrored split screens, that turn the underwater otherworldliness into a kaleidoscopic adventure synced with the climax.
Here is the official video for "Yanada"
Behind the scenes of "Yanada"
Here is an insightful look into how the video was made. As with all underwater videos there are many technical and safety considerations that need to be implemented.
Music Video Credits
Director: Nik Lachajczak. Producer: Alison Page. Cinematography: Nik Lachajczak. Underwater Cinematography: Pawel Achtel, Stefan Jose. Editor: Scott Walmsley. Gaffer: Nick De Laine, Daniel Michaud. Gaffer Assistant: Garfield Darlington. Set Designer: Joel Coleman. Production Assistants: Guy Simon, Tjanara Taibot, Sam Dyball. Buddy Diver: Sharnie Connell. Stylist: Kaila Matthews. Make-up Artist: Gillian Campbell. Catering: Donna Lee. Costume Designer: Sandra Bonney. BTS video: Kelly Stoner. Colourist: Yanni Kronenberg. Wardrobe: Kaila Matthews.
Cast & Extras: Cassandra Lynwood, Caitlin Reid, Matilda Brown, Shyia Madden, Jaiki Pitt, Tamina Pitt, Kyle Shilling, Guy Simon, Shauna Simon.
Special Thanks: Coffs Harbour Aquatic Centre.